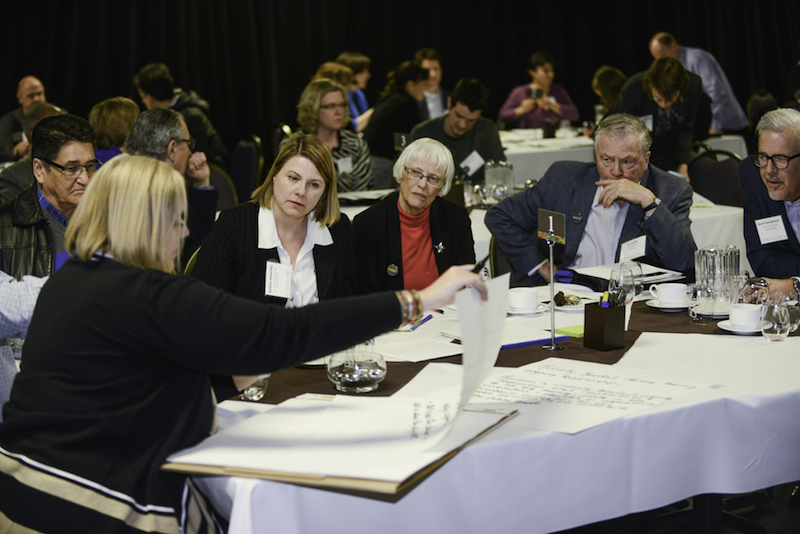 Graduates envision university's future success at Alumni Forum
Harnessing the insights of our alumni
March 11, 2014 —
On Monday, March 10, President David Barnard, VP (External) John Kearsey, and Alumni Association President Heather Reichert, welcomed over 60 alumni to contribute to the university's strategic plan at the first ever Alumni Forum. Alumni attending the Forum represented graduates from 15 faculties, spanning 64 years.
The Alumni Forum, to be held every three years, provides a valuable opportunity for the university to listen to graduates, giving alumni the opportunity to contribute to the university's Strategic Planning Framework, a document that is updated every five years and guides all major decisions the university makes, from research to student life.
The Alumni Forum is one of over 50 input sessions held over the past two months as part of a broad consultative process with our entire university community about the strategic direction for the U of M.
The feedback shared by alumni at the forum will be consolidated with the feedback from other stakeholders, and will form the basis of the first draft of our next Strategic Planning Framework.
The draft plan is posted online for people to provide comments and suggestions. Alumni, as well as the entire university community, are invited to add their feedback before the plan is further refined for presentation to the university Senate and Board of Governors this coming fall.