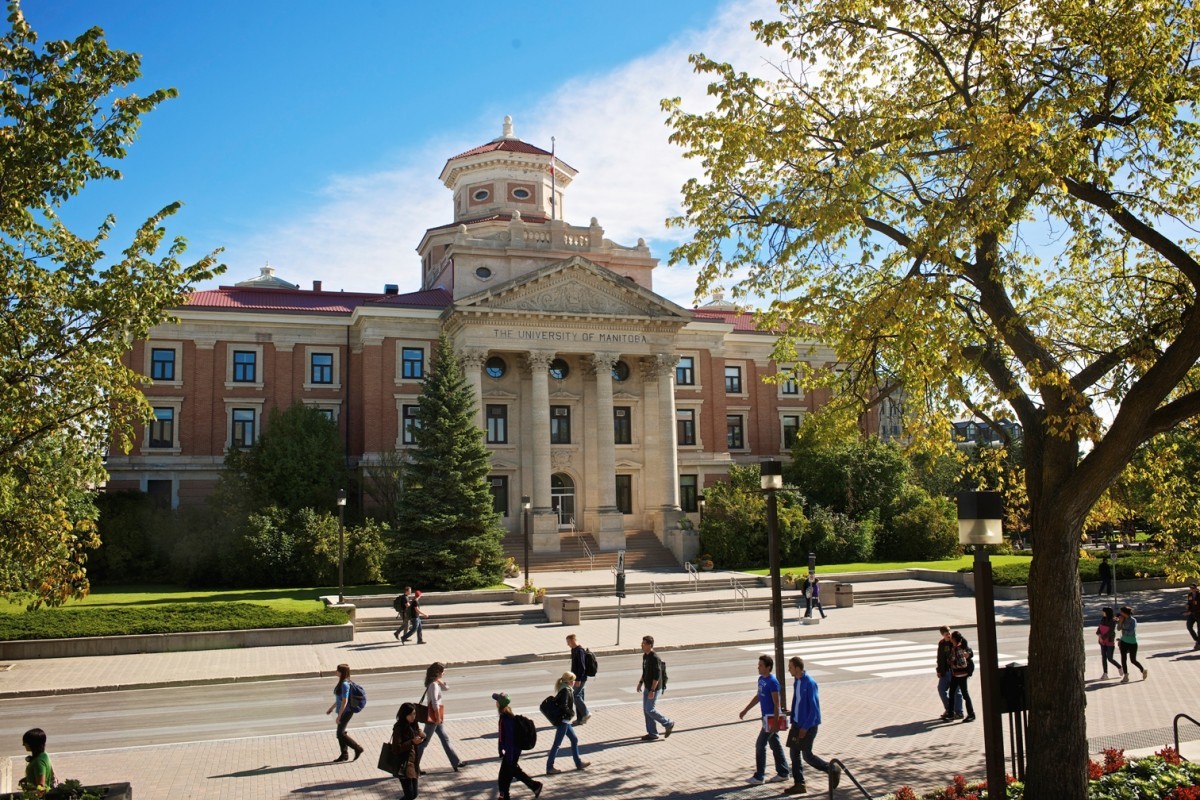 Forging our community leaders
March 20, 2015 —
The University of Manitoba is proud to recognize that nearly half of the 40 Under 40 leaders selected by CBC Manitoba are University of Manitoba alumni, staff and students who are making exceptional impacts on our community.
Manitoba's university sector  is responsible for creating our province's current and future leaders, individuals who will drive Manitoba's vibrant scientific, artistic and economic culture forward.
More than 80 per cent of people who graduate from Manitoba's universities stay here. These are our doctors, engineers,  researchers, teachers, social workers, computer programmers, artists, writers, actors, entrepreneurs. In the past 10 years, the University of Manitoba has graduated 48,801 leaders. Brandon University, 6,988. Manitoba's universities are committed to enriching our communities with researchers, innovators, thinkers and creators.
The University of Manitoba is proud of the leaders we have helped forge, and some of them are being recognized by the CBC.
Our 18 recipients include:
ALUMNI
Heather McCormick, PB Dip Ed/06, B Ed/97
McCormick is co-founder of Manitobah Mukluks, director of education and training at the Centre for Aboriginal Human Resource Development for the Aboriginal Community Campus and Neeginan College of Applied Technology. She was a past board member for the Social Planning Council of Winnipeg and Adult Secondary Education Council and has recently joined the board of directors of Aboriginal Health and Wellness Centre.
Matt Henderson, B Ed/08
Henderson is an innovative teacher who is passionate about how and what he teaches, designing ground-breaking curriculums. He received the 2014 Governor General's History Award for Excellence in Teaching and a Government of Canada History Award.
Matt Erhard, BComm(Hons)/05
At the age of 29 Erhard took over ownership of Summit Search Group, a professional recruitment and executive search firm. Within the first year of ownership, he was able to grow the business and place well over 50 candidates in successful roles with new organizations.
Kreesta Doucette, BSA/98
Doucette founded Food Matters Manitoba when she was just 30 years old. The organization was Canada's first registered charity focused solely on food security. Doucette has worked in Kenya with women's farming groups, community farm initiatives and addressing the food needs of people living with HIV. She also has spent 10 years volunteering in the inner city, growing and harvesting food.
Chris Loewen, MBA/12
Loewen is a venture developer at Protegra and founded the site www.ourbutterfly.com, an online service that connects youth, volunteers, mentors and donors to see youth ideas developed in the community. He's also volunteered with CEO Sleep Out, Resource Assistance for Youth's coldest night of the year campaign, and is the director of the C.P. Loewen Family Foundation.
Bathelemy Bolivar, M. en Ed/06
Bolivar is a teacher and author with degrees in arts, science, education and business. He launched the Haitian school Without Borders in 2011 and has authored four books of French poetry. Bolivar is on the Board of Société Franco-Manitobaine, the Peer Review Committee for Creative Writing (Canada Council of the Arts), Amicale Francophone du Manitoba and Regroupement des Haitiens du Manitoba.
Sebrina Woligroski, BA/13
Woligroski is a leading advocate for women's and LGBT rights in Winnipeg. She facilitates sexual health and anti-violence workshops for newcomers at the Sexuality Education Resource Centre. She also helps at the WISH clinic, co-organizes the Red Tent (a safer spaces project for women) at the Winnipeg Folk Festival and hosts workshops on sex-positivity.
Andi Sharma, M. P.Admin/13, BComm(Hons)/10
Sharma helps Manitobans deal with food security issues including helping families get access to culturally appropriate, affordable and healthy foods. She works for Manitoba's Northern Healthy Foods Initiative, which helps Manitobans deal with food security issues. She is also an established researcher who works on new funding models for advancing food security.
STUDENTS
Jason Syvixay
Syvixay is currently completing the requirements for his master's of City Planning. As managing director of Downtown Winnipeg BIZ, he launched and manages the annual CEO Sleepout, which since 2011 has raised over $600,000 to support employment programs that have generated over 50,000 hours of work for 137 homeless Manitobans. He serves on the Winnipeg Poverty Reduction Council's Task Force to End Homelessness, as treasurer of the Winnipeg BIZ and as a director on the boards of Graffiti Art Programming's Studio 393, Food Matters Manitoba and The Wasichana Fund Inc.
Kyler Harper
Harper has spent the last three years at FortWhyte Farms stewarding all of their animals (including 300 chickens, six heritage pigs and 20 rabbits). He's also an ambassador for the organization, teaching students about local food, nutrition and healthy lifestyle choices. He's helping lead young people to healthier eating and sustainable living while studying in the Faculty of Social Work and Human Ecology.
Travis Dreger
Dreger has started two businesses while finishing his degree at the U of M's Asper School of Business. The 22-year-old created Quality Concepts last year. It builds screened-in areas for homes to keep bugs out. His second business, Passages.life, is an online service that improves the way people are remembered online when they pass away.
Mihskakwan James
James Harper is a mentor for a program called Restoring the Sacred, which helps support Aboriginal youth from northern Manitoba as they adjust to living in Winnipeg. He volunteers as a peer cultural leader at Ka Ni Kanichihk and visits inner-city schools to do presentations showcasing Aboriginal culture.
He does this all while finishing a degree in mechanical engineering at the University of Manitoba with a specialization in sustainable modes of transportation.
Rebecca Dielschneider
Dielschneider is a researcher at CancerCare Manitoba who focuses on cancer of the immune system. She's working to develop new therapies for incurable leukemia. The 25-year-old has already published a manuscript on new treatments effective in treating aggressive leukemia. That work has led to a clinical trial for the treatments. Her work has yielded new techniques for killing leukemic cells while sparing healthy cells. The results could have broad implications for the treatment of leukemia and other types of cancer.
Jessica Dumas
Dumas is the chair of the Aboriginal Chamber of Commerce and owns her own business. She led the development of a restorative justice program in several First Nations in Manitoba, helping build relationships between the RCMP, courts and Aboriginal communities. She has spent the last 15 years actively volunteering, and has say on the board of the Aboriginal Council of Winnipeg and the Lieutenant Governor's Youth Experience Program.
FACULTY
Allison Dart, MSc/10, MD/02
Dart is an assistant professor in the department of pediatrics and child health who is one of Manitoba's only pediatric nephrologists. She provides highly specialized care for children in Manitoba, Northwest Ontario and parts of Nunavut. She leads a program that provides life-saving intensive-care dialysis for children who are critically ill. Dedicated to her patients, she travels to northern Manitoba communities to treat children closer to their homes.
Mark Belmonte, PhD/08
Belmonte is a researcher and professor in the depatment of biological sciences working to bolster the province's agricultural economy. Belmonte works with next generation molecular and plant laser microdissection techniques and has helped put Manitoba on the world stage when it comes to agricultural research. He has published 39 articles in academic journals.
Niigaan Sinclair
Sinclair teaches indigenous literature, culture, history and politics. He was the co-editor of Manitowapow: Aboriginal Writings from the Land of Water and is an extremely active commentator on Indigenous issues. His creative and critical work has been published across Canada. He regularly speaks on Indigenous issues at schools and universities.
Todd Duhamel
Duhamel is a professor in the Facultyof Kinesiology and Recreation Management who is the principal investigator at the Institute of Cardiovascular Sciences at St. Boniface Hospital. Duhamel researches the role of physical activity in promoting cardiovascular health. He's managed to secure more than $4.9 million in research funding and started the ENCOURAGE project, which promotes physical activity in primary health care at Seven Oaks Hospital, and incorporates the Winnipeg Regional Health Authority, Winnipeg in Motion and the Reh-Fit Centre.