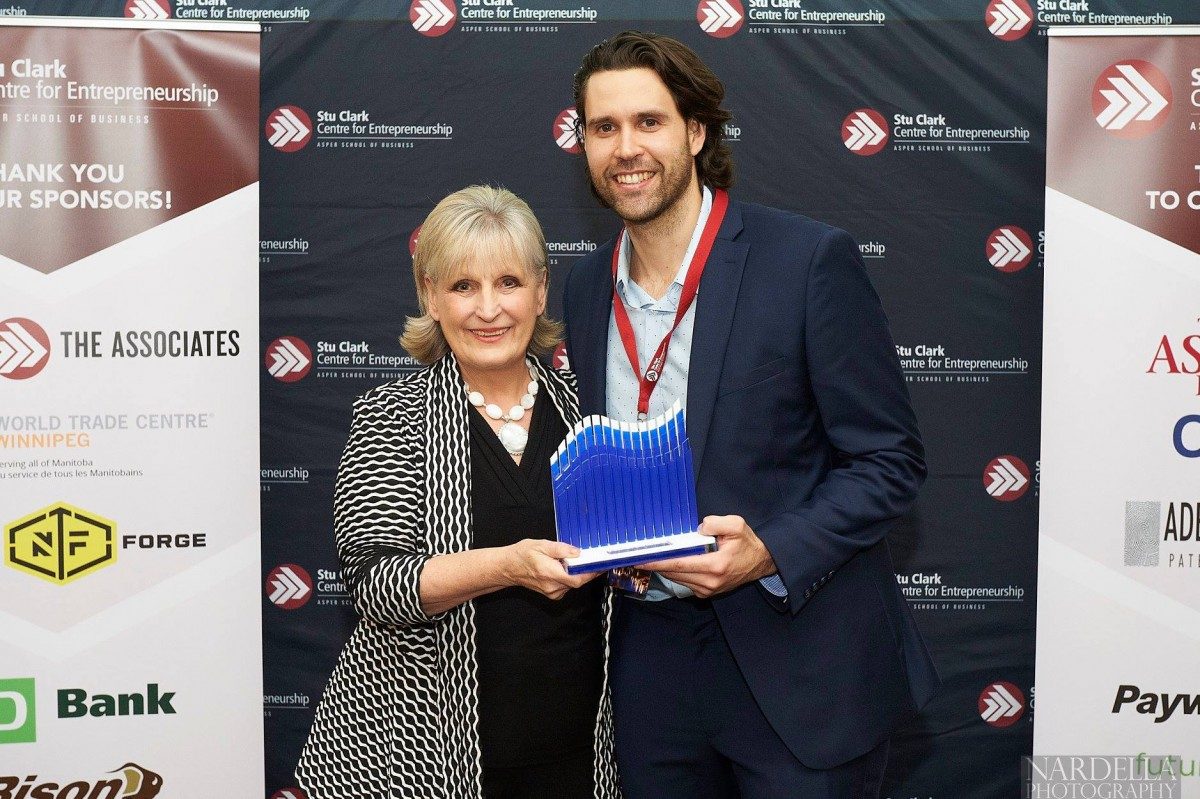 Finding their spark
Students & alumni thrive under Stu Clark's legacy and continued leadership
June 28, 2019 —
Young entrepreneurs are some of the best at sparking big ideas. But turning an idea into a marketable and profitable venture requires training, mentorship and support from leaders in the business community.
Stu Clark [BComm(Hons)/76, LLD/11], one of Canada's most prolific oil and gas entrepreneurs, knows that support for young entrepreneurs is key to bringing big ideas to life. Clark has long been passionate about integrating entrepreneurial education into the commerce curriculum. That's why he created an incubator for ideas – the Stu Clark Centre for Entrepreneurship (SCCE) – in the heart of the I.H. Asper School of Business.
Just last week, Clark announced a $10 million gift to the University of Manitoba to expand opportunities available to future entrepreneurs and open a graduate school, The Stu Clark Graduate School at the I.H. Asper School of Business.
To date, Clark has donated $19.3 million to the University of Manitoba.
To highlight the importance of funding entrepreneurial education, UM Today spoke with current and former SCCE students about how Clark's generosity impacted their careers as entrepreneurs.
Keegan Slijker, a student in the Native Studies department in the Faculty of Arts, is the founder of Fitness Up North which organizes youth basketball camps in Canada's northern communities to improve physical literacy. He won 1st place in the Business Plan Competition and the people's choice award at the 2019 Manitoba New Venture Championships, hosted by the SCCE.
Last August, Josh Zaporzan [BComm(Hons)/16] became the CEO and co-owner of athletic apparel company Longball Athletics. While at SCCE, he and a team of Asper students developed the MedicHero app, which won first place at the 2017 Apex National Business Plan Competition.
ENTREPRENEURSHIP IS AN AMBITIOUS CAREER PATH TO TAKE. WHAT HAVE YOU FOUND TO BE THE MOST REWARDING AND MOST CHALLENGING?
ZAPORZAN: The most challenging part is the steep learning curve with every new business. Time management is crucial and it is hard to be disciplined enough to complete tasks in a timely manner. Patience is also a challenge – every entrepreneur wants their business to grow fast and in the technology-driven environment we live in we've been conditioned to expect things instantly. Businesses don't grow over night and it's imperative to ensure you build a proper foundation before you scale. As entrepreneurs, we face challenges everyday but what makes a good entrepreneur is being able to face these challenges and learn from mistakes.
SLIJKER: The best is being your own boss. I love arranging my schedule how I like and getting to choose who I work with. The most challenging is ensuring the continuity of your business. As a start-up, you have to direct your attention toward so many different things, and you want to be the best at what you do. It's not easy to manage, develop and facilitate so many different components of your business all at the same time, but it sure keeps things interesting and challenging.
DO YOU FEEL YOU HAD AN ADVANTAGE GOING INTO ENTREPRENEURSHIP, HAVING BEEN THROUGH THE SCCE?
ZAPORZAN: Absolutely. The SCCE gave me the confidence needed in order to be an entrepreneur in the real world! I was able to meet many inspirational people and leaders in our community who became friends, business colleagues and mentors. These connections are major components of my success: I learned quickly that I can't do things alone and having a strong support team is crucial for surviving as an entrepreneur.
SLIJKER: I've always had an interest in entrepreneurship, but I never really knew how to go about starting a business. The SCCE validated my ideas, which made me believe in myself and gave me the confidence that Fitness Up North is something that can really take off.
Venture coach Christos Vasilarakis [BComm(Hons)/15] helped me write a comprehensive four-year business plan which helped me assess and mitigate risks, improve my revenue and retention rate, and gave me a financial forecast for my business. I agree that the SCCE is a great resource to learn who to connect with. The Centre's director, Debra Jonasson-Young, has a large network and helped me connect with interesting firms in the business community.
WHAT'S THE BEST ADVICE OR LESSON YOU LEARNED THROUGH THE SCCE?
ZAPORZAN: The biggest and most important is the entrepreneurial mindset required to get through every business day, whether good or bad. I've learned that in order to be a successful entrepreneur, hard work, determination, persistence and a positive attitude are a must to survive and thrive daily.
SLIJKER: As a first-time entrepreneur, you won't know everything. You'll run into unexpected situations, or things don't go as planned and you might need some guidance handling it. I've learned it's very important to make your own decisions, but it's also wise to seek advice and/or guidance if needed.
WHY DO YOU THINK IT'S IMPORTANT TO FUND ENTREPRENEURIAL EDUCATION?
ZAPORZAN: We live in a world where the future belongs to creators and innovators, and that's why studying entrepreneurship is important. It's an excellent foundation for the types of creative, innovative ideas we need to succeed in this world and it benefits everyone as it teaches people to cultivate unique skills and think outside the box. Entrepreneurial education also provides individuals with the skills and knowledge to come up with, and pursue, business ideas. This includes helping individuals to learn about core business areas such as finance, sales, marketing, management and accounting, not to mention broader skills such as effective communication, and confidence.
SLIJKER: Entrepreneurs can help grow the economy, solve social problems, create jobs and their innovations may improve our standard of living. I think it is very important to fund entrepreneurial education, as you never know who might have the next big idea. I believe a lot more people are capable of being entrepreneurs but they may just need a little help or guidance to get started.