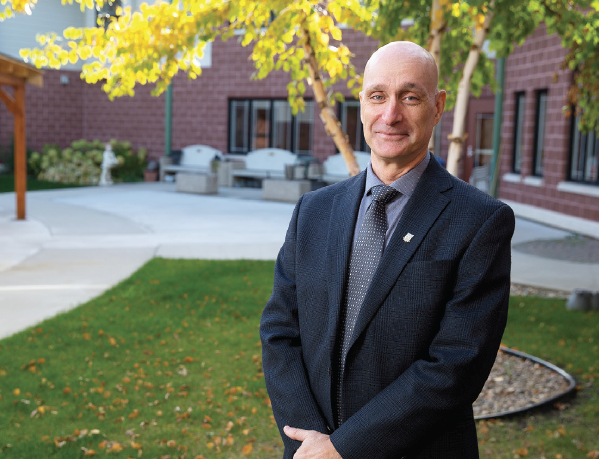 Driven by data
February 2, 2018 —
When Malcolm Doupe was a graduate student, he got his first glimpse at how databases can be probed to reveal new evidence about people's health.
For his master's thesis in kinesiology at the U of M, he created formulas to estimate people's muscle mass loss as they age, then applied the formulas to data from national surveys. "That's what got me into big data systems," says Doupe, now an associate professor of community health sciences in the Max Rady College of Medicine.
Doupe [BPE/89, MSc/94, PhD/05] is still fascinated with using computers to dig into data sets, exposing patterns and correlations that can be used to inform health policy. He's a senior research scientist at one of the foremost places in Canada for such investigation: the Manitoba Centre for Health Policy (MCHP).
But the scientist, raised on a farm in Hamiota, Man., often reminds students not to get lost in percentages and projections. "Never forget that we're talking about real people," he says.
In most of Doupe's work, those real people are seniors—a rapidly growing population. His doctoral research predicted the future use of home care services and personal care homes (also known as nursing homes) by older Manitobans.
Now a nationally recognized expert on elder care, he has visited nursing homes across Canada and abroad. "I have been in facilities where I've said, 'How do I get my name on the waiting list?' And I've been to others where I've sat down and cried about things that are going on. These are clinically complex environments, but they are also people's homes."
In 2016, Doupe led a major MCHP study of Manitoba elder care data. "Manitoba already has a high supply of nursing home beds compared with other provinces," he says. "Do we really need more of them, or do we need an alternative?"
Examining anonymous health data, Doupe's team compared two groups: about 5,300 seniors who moved into personal care homes and about 900 seniors who moved into supportive housing in the Winnipeg Health Region between 2006 and 2011.
In government-subsidized supportive housing, seniors have their own apartments and typically receive help from staff with meals, laundry, housekeeping and personal care. At about $15,000 annually per tenant, the province's subsidy for supportive housing is much lower than its subsidy of about $60,000 annually per resident at personal care homes.
The study revealed that about 10 per cent of seniors admitted to personal care homes were very similar to those admitted to supportive housing. They had relatively minor problems with independent living and could have functioned in supportive housing.
The higher cost to the individual for supportive housing appeared to be a factor. Many in the 10 per cent came from low-income neighbourhoods. Another factor was that a supportive housing tenant usually relies on an informal caregiver (often a family member) for help. The study showed that many seniors in the 10 per cent had an informal caregiver who was burnt out or ill.
"Out of this comes a very rich discussion," Doupe says. "We can expand supportive housing, but without also addressing the cost inequities and taking some strain off informal caregivers, it may be difficult for supportive housing to reach its potential."
In addition to studies for MCHP, Doupe has a sizable independent research program. He recently spent three months in Norway, where he advised academics on using databases for research purposes.
In Manitoba, he says, it's rare for a senior to "travel backwards" in the system if he or she has gotten healthier. In Norway, a nursing home and a supportive housing facility are often located next door to each other. "People can travel back and forth," he says.
Among Doupe's many projects, he is the Manitoba lead for Translating Research in Elder Care (TREC), a national research initiative that empowers front-line staff, such as health care aides, to identify problems and test solutions.
He recalls a TREC research project at a Winnipeg personal care home. "The staff wanted to reduce residents' behavioural outbursts at mealtimes. They realized that the way the staff communicated, calling to each other during mealtimes, was upsetting residents. It was a simple thing to do differently."
Simple, perhaps, but it enhanced residents' quality of life. Doupe is committed to research that translates into real-world improvement, resulting in greater dignity, respect and choice for older adults. Flashing back to grad school some 25 years ago, he remembers a decision that set his course.
"I promised myself that I would try to do things that helped make a difference."
---
What makes people healthy?
This question is the primary focus of pop­ulation health experts at the Manitoba Centre for Health Policy (MCHP). Since 1990, the internationally recognized team of researchers, graduate students, and analysts have been figuring out how we can best use our health-care resources and what factors deter­mine our well-being, like income and education. They are expert at bringing various constituencies—both government and non-government—together on projects that have far-reaching impacts to the health of people around the world.
Home to the Manitoba Population Research Data Repository, the centre offers the widest range of data in Canada for population health research. The repository—developed, housed, and maintained at MCHP—is a unique resource for research and public policy analysis which uses de-identified data from administrative records of Manitobans (personal data collected for other purposes stored by a variety of government departments).
Knowledge translation is a key priority of research activities at MCHP. The award winning Need to Know Team which brings together a multidisciplinary group of researchers with policy planners and service providers to ensure that research asks relevant questions and translates into system improvements. Recent studies for the province have addressed topics such as emergency department wait times, children's mental health and the health-care costs of smoking.
MCHP is based in the department of community health sciences at the Max Rady College of Medicine, Rady Faculty of Health Sciences.
Story originally published in ResearchLIFE Winter 2018 Edition. Read the full magazine online.
Research at the University of Manitoba is partially supported by funding from the Government of Canada Research Support Fund.