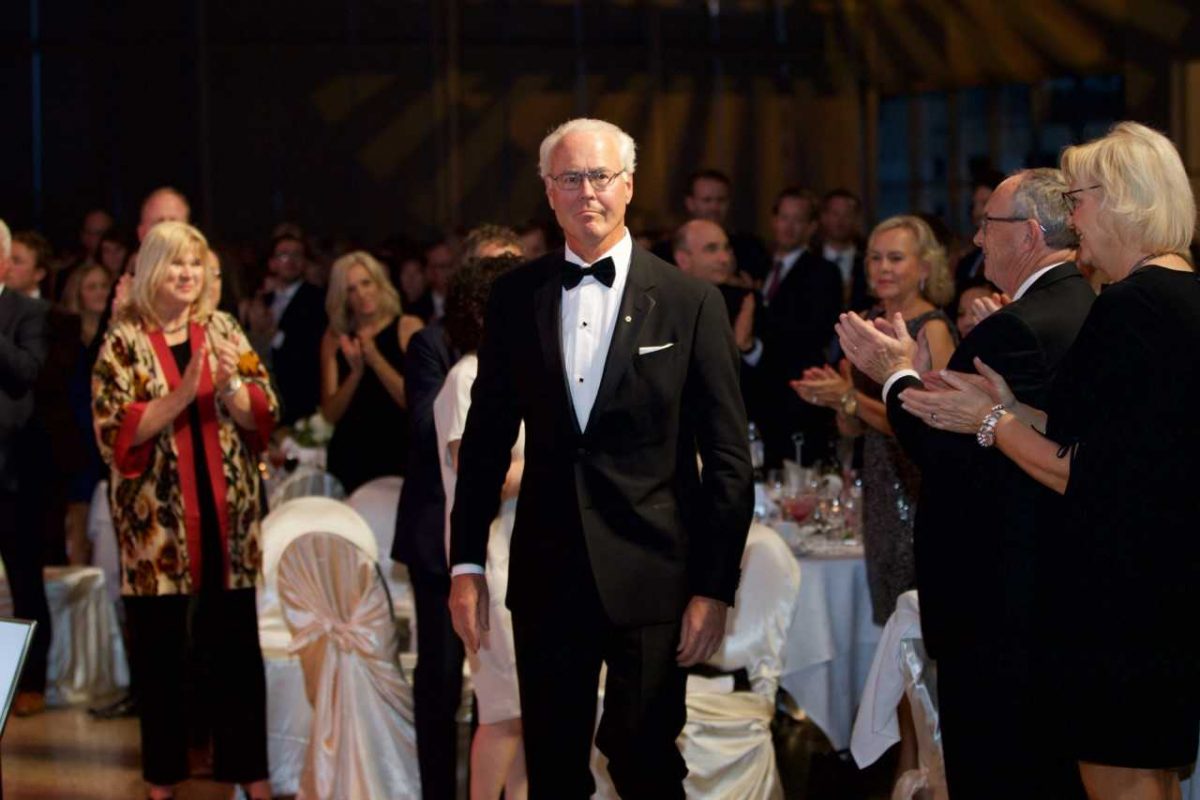 Dr. Hartley T. Richardson honoured at International Distinguished Entrepreneur Award Celebration
$3.5 million raised for Hartley T. Richardson Student Support Fund
May 23, 2019 —
Tonight, at the 2019 IDEA dinner in the RBC Convention Centre, Winnipeg business and community leader Dr. Hartley T. Richardson, President and CEO of James Richardson and Sons Ltd., was presented with the University of Manitoba's 2019 International Distinguished Entrepreneur Award.
He is the third Manitoban to receive this award, alongside Israel Asper and Albert Cohen, who forged their successes while living here in Manitoba.
"Hartley Richardson is a living example of what IDEA stands for and recognizes in individuals," said Arni Thorsteinson, Chair of the IDEA Committee and President of Shelter Canadian Properties Limited. "He sets an example for all of us through his dedication and passion for his work, and he is truly influential in business and philanthropy throughout Canada."
The packed house of 1,500 (the largest ever at an IDEA awards ceremony) broke into rousing applause when an announcement was made regarding the status of the Hartley T. Richardson Student Support Fund, created in his name. The goal of the fund was to raise $2 million towards the creation of bursaries to increase opportunities for Asper School of Business students.
At the event, Victor Dodig, Chair and CEO of CIBC, referring to Hartley Richardson as a "nation builder," announced that the Hartley T. Richardson Student Support Fund had raised $3.5 million, far exceeding its goal.
"This is a clear indication of the admiration and support that exists in the business community for such a respected figure as Hartley Richardson," said Harvey Secter, outgoing Chancellor of the University of Manitoba. "The fund was established to honour his visionary thinking, recognizing that we are all citizens of the world and that we have much to learn from – and offer to – others."
The fund was created to celebrate Dr. Richardson and his tireless contributions to the community. As a demonstration of the enormous goodwill felt for Dr. Richardson, many of his peers and colleagues stepped forward with contributions.
Annually, starting in 2020, the Hartley T. Richardson Bachelor of Commerce Bursary will provide students in financial need with a renewable award to help cover the costs of tuition, books, and fees. Additionally, the Hartley T. Richardson International Travel Bursary will offer funding to at least 10 students per year so that they can participate in life-changing international academic exchange programs.
"I am greatly honoured to have been acknowledged as the 2019 IDEA recipient," said Dr. Richardson. "It is humbling to be recognized by my alma mater and also to witness the generosity of my peers and esteemed colleagues in financially supporting an educational fund in my name. Through joining the prestigious group of past IDEA recipients, I hope to continue to inspire others and serve the Manitoba community."
"You all have the ability if you have the right attitude," Dr. Richardson advised students as he received the award.
In his closing comments, he added: "Tonight will be a memory I will hold dear for the rest of my life."
Dr. Richardson attended the University of Manitoba and received his Bachelor of Commerce (Hons) in 1977. He is the seventh family President of James Richardson & Sons, Limited, one of Canada's largest private, family-owned corporations. Founded in 1857 and headquartered in Winnipeg, the Firm has expanded and developed into an international multi-enterprise with current operations and interests in agri-business and food processing, oil and gas exploration and marketing, real estate, insurance, and financial services.
Dr. Richardson received an honorary Doctor of Laws from the University of Manitoba in 2004 and the University of Winnipeg in 2012. He was appointed to the Order of Manitoba in 2008, and also appointed a Member of the Order of Canada in 2007, promoted to an Officer within the Order of Canada in 2013.
Dr. Richardson currently serves as Chair of the Assiniboine Park Conservancy and Co-Chair of the TransCanada Trail Foundation. He is Past-Chairman of both the Business Council of Canada and Business Council of Manitoba. He sits on the Carlyle Group Canadian Advisory Board, The Trilateral Commission, and the World Economic Forum Global Leaders of Tomorrow. He serves as a Director of General Hydrogen Corporation, a Director of Tundra Oil & Gas Partnership Ltd. (formerly Tundra Oil & Gas Limited), a Director of the Canadian Council of Chief Executives, Asia Pacific Foundation of Canada, the Business Council of Manitoba, BA Energy Inc., and Neuromed Technologies Inc.
"The University of Manitoba is fortunate to have an alumnus like Hartley Richardson, whose family shares a uniquely symbiotic relationship with this institution," said University of Manitoba President and Vice-Chancellor Dr. David Barnard. "So many members of the family have graduated from our institution, and their story coincides with ours, from our common roots in agriculture, through our inspiring growth and diversification decade after decade, all achieved alongside the evolving maturity of our country."
Since 1984, the University of Manitoba and its Associates of the Asper School of Business have presented the International Distinguished Entrepreneur Award to outstanding entrepreneurs who have made an exemplary contribution to global economic life.
Dr. Hartley Richardson joins past distinguished IDEA recipients including Sir Richard Branson, Stu Clark, Paul Desmarais Sr., David Foster, A. Linda Hasenfratz, Akio Morita, Ross Perot, Heather Reisman & Gerald Schwartz, Dame Anita Roddick, David Thomson, Prem Watsa, and last year's recipient, Arianna Huffington.
Dr. Gady Jacoby, Dean and CPA Manitoba Chair in Business Leadership, I.H. Asper School of Business, noted: "Thanks to Hartley Richardson's friends' generosity, many students who do not otherwise have the means will be able to receive a world-class business education from the Asper School of Business. The freedom for these students to focus on their studies will prepare them for success, and will only help drive the cultural, social and economic prosperity for our province and country."