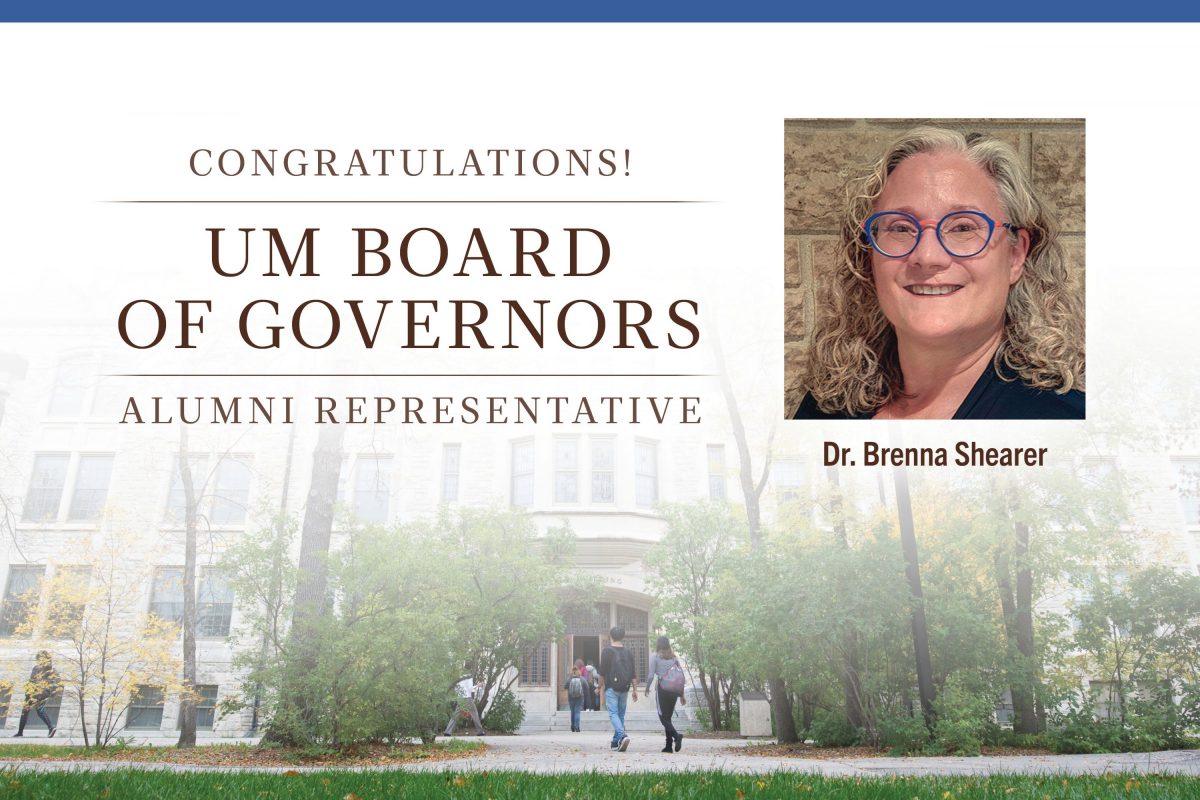 Dr. Brenna Shearer elected to the Board of Governors
Alum and Chair of Shared Health Inc. to serve as voice of alumni in UM governance
May 24, 2023 —
The votes have been counted and UM alumni have selected Dr. Brenna Shearer [BMR(OT)/86] as their next alumni representative for the UM Board of Governors.
"My UM degree started my love for knowledge, learning, and continuing education, provided skills that supported management and leadership opportunities, and set me on the path of a successful career," she says. "I'm excited for the opportunity to use the skills I have developed throughout my career and give back to my university."
More than 2,000 votes were cast, and Dr. Shearer was chosen from the list of three candidates.
Much of Dr. Shearer's career has been dedicated to public service, and she says she wanted to join the Board of Governors because she saw this as an opportunity to use her skills to further the mission of the University.
"I'm thrilled to work with other board and committee members to contribute to a high functioning board that meets the needs of a growing and robust academic institution," she says. "I sincerely thank everyone who supported me, provided encouragement and helped to make this new role a reality."
Dr. Shearer is a UM-trained Occupational Therapist with a Bachelor of Medical Rehabilitation and holds an M.Sc. and Ph.D. in Health Care Administration. She is also an accomplished UM post-secondary instructor, lecturer, program coordinator, graduate coach, and published researcher, and she participated in the design and delivery of courses and programs in the Colleges of Rehabilitation Sciences, Pharmacy and the I.H. Asper School of Business.
As a healthcare administrator with 30 plus years of senior management experience, she has worked with many non-profit boards and enjoys being an active and engaged board member and giving back to her community.
"I have benefitted from the contributions, time and expertise of others, and I am so very grateful to those who have helped to open doors, provided mentorship and have demonstrated respect along my journey," she says. "I am looking forward to giving back to this community that has supported me from the start."
Dr. Shearer will serve as the Board of Governors alumni representative for a three-year term beginning June 1, 2023.