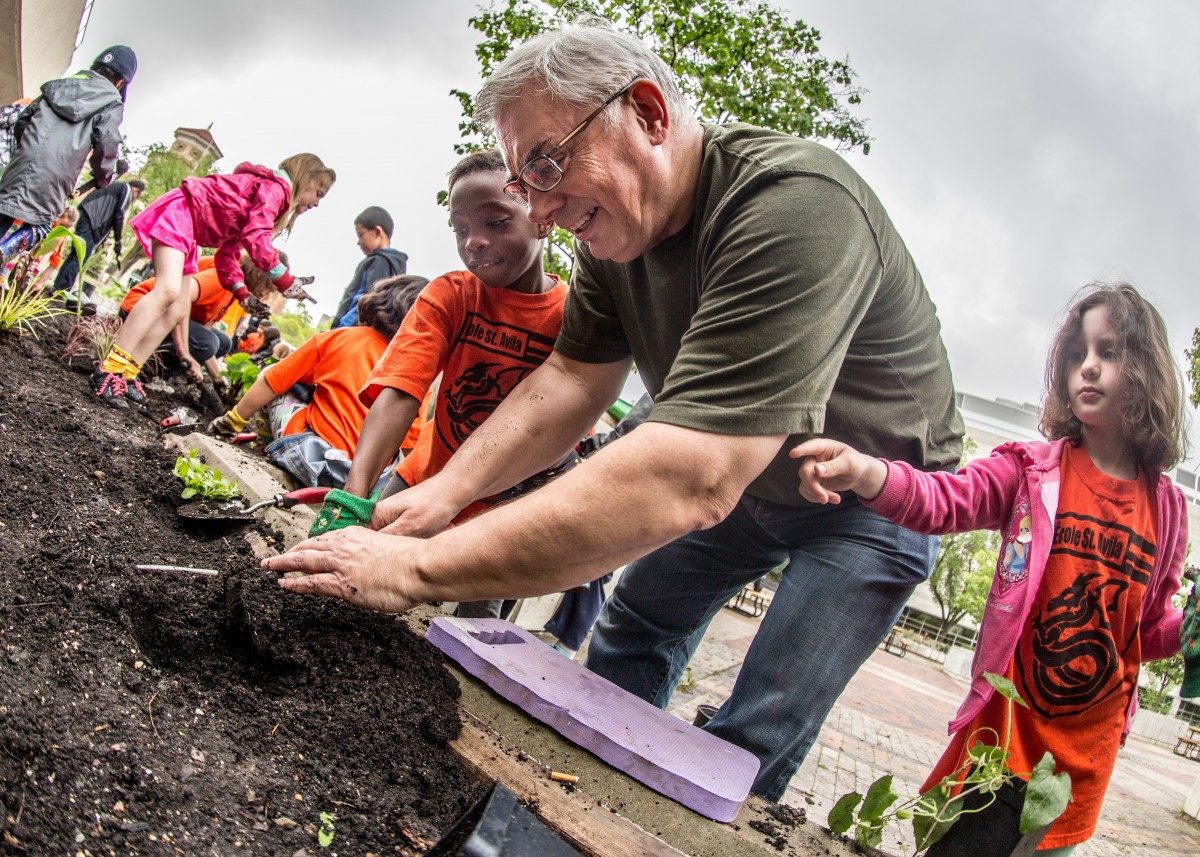 Dear David, thank you
June 30, 2020 —
Members of the UM community have been expressing their thanks and best wishes to President David Barnard, who leaves the UM on June 30, after 12 years of leadership.
UM Today is printing excerpts from some of the farewells flooding in to the eleventh president, who will continue his relationship with Western Canada's first research institute as President Emeritus.
Dr. Arnold Naimark, the ninth president of UM wrote to Dr. Barnard to say:
Dear David,
It has been a pleasure to be a faculty member of the University during you tenure as President and Vice Chancellor. You have provided strong leadership in sustaining and advancing the fundamental mission of the University with tireless dedication from the beginning to the pandemically-complicated end of your term – and you have done so with unfailing dignity, amiability and collegiality.
As I mentioned to you recently, under your leadership the University has not only maintained a record of continuing improvement in the conduct of its affairs but it has also been transformed in becoming a true alma mater to the indigenous peoples of Manitoba – leadership that has had important national dimensions.
We thank you and Gursh, who has been a charming and gracious part of your presidency and its success, and look forward to future associations in which, as in the past, the cause and the company are good.
Bravo!
Arnold
Chancellor Anne Mahon expressed her regards to President Barnard through this note:
It has been my pleasure to get to know you during my first year as chancellor. You have patiently taught me so much about the workings of the university. Your knowledge and experience are vast. I have particularly appreciated your sincere desire to connect with the Indigenous community on behalf of the university. I have seen first hand how much this means to you.
Dr. Catherine Cook, UM's first Vice-President (Indigenous), said these sentiments:
President Barnard has been a great listener, bridge builder and ally in efforts to work towards Reconciliation. He showed humility in learning about Indigenous matters, cultures, and the perspectives and experiences of Indigenous students, staff and faculty. He led a passionate campaign to bring the National Centre for Truth and Reconciliation to our campus. Dr. Barnard made Indigenous achievement and excellence a priority and made efforts to better link the Indigenous community and the university community to ensure that common goals could be achieved. As we continue on to develop our process of authentic engagement with Indigenous communities, I believe this university has shown itself to be a leader in these fields, and we will continue this work to build real and respectful relationships and partnerships.
Jeff Lieberman, chair of UM's Board of Governors, said this about Dr. Barnard:
David found new ways to engage with our community and I congratulate and thank him for all he has done for us. At the national level, he has been a champion for this institution, and has advocated for the transformative power education and discovery have on our society. He led with strength and humility, moving towards a bold vision but always listening to the voices of others. I'm certain his legacy will be felt here for generations to come and on behalf of the Board, I thank him for that.
Dawn Nedohin-Macek,Chair of the Alumni Association Board of Directors from 2017 to 2019, said the following to Dr. Barnard during a recent Alumni Association call:
On behalf of the alumni and Alumni Association board members, past and present, I want to say thank you….
Events such as Visionary Conversations showed your commitment to the community; opening the door for anyone who wanted to come to here about the most recent and exciting – and sometimes controversial – research on issues that impact us all: poverty, climate change, political turmoil. The panels were thought provoking and inspiring.
The interaction with alumni changed as the University – under your guidance and leadership – updated the magazine, the web site, Homecoming events, new buildings, new faculties, new facilities and the largest capital campaign the University has ever undertaken. Within this last year you lead the incredible effort to move towards online learning and ensuring we are all safe in the middle of the COVID-19 pandemic. The success of all these changes, and the staff well-being and commitment to the university is driven through your leadership. These changes would not be suggested, implemented, and completed without strong servant leadership. Your leadership.
I know I am not alone in saying we will miss the beautiful poetry you brought to every event. Selecting and delivering the right poem to convey and support your messages brought something extraordinary to every event.
One of the biggest changes and constant messaging you have made throughout your term is the increased inclusion of Indigenous perspectives across the university including the appointment of a Vice-President (Indigenous) and housing the National Centre for Truth and Reconciliation.
You have all encouraged us to take our place, to be trailblazers, leaders, rebels, visionaries, and explorers. As John C. Maxwell said, "People do not care how much you know until they know how much you care."
We wish you and your family the very best, and we are confident no matter where life takes you next you will be most welcome.
Associate professor of history Mark Gabbert, in remarks submitted to the Senate on June 24, 2020, said:
David, it's hard to believe that in a couple of months it will be twelve years since you first chaired a meeting of Senate.Of those who were in the room on September 3, 2008, only a handful are still in Senate today. Like me they may remember that your first official word in that meeting was "colleagues". As I did, they might have thought, well this is a very encouraging opener. As it turns out, I doubt there has ever been a meeting where you were in the chair and have not explicitly reminded us, as well as yourself, that we are all "colleagues"….
You have continuously called us your colleagues and, more to the point, you have treated us like colleagues. You have been able reliably to convey your continuing warm regard for us and this has made it much easier to say what we think in these sometimes difficult discussions….
This achievement of yours is a matter of both personal character and commitment to principle. It is not a quality that reveals itself in some metric, or in the details of a strategic plan, or the results of a fund raising campaign. Yet this rare quality is absolutely essential to healthy academic life. I'm sure I speak for my colleagues here today when I say that this has been a major contribution to our work together and that we are enormously grateful for it. We shall certainly miss you, David; and we shall think of you with great affection and respect. We wish you the very best in all your future endeavors.
Rita Mui Goodridge, who has been the President of the Hong Kong Alumni Association for the last 30 years, wrote this:
Dr Barnard, congratulations on your success and the impact you have made in your 12 years
tenure as President of University of Manitoba….
I believe everyone would agree with me wholeheartedly that you are likely the most
committed to HK and the alumnus here. On every one of your many visits to HK you have
inspired us and reconnected us to our university which we all had fond memories of. Your
HK visits were also instrumental to connect the past and new generations of graduates to
the HK alumni….
You have been generous with your time and your sharing updates with the Front and Centre
campaign and you also made great efforts to bring some of our prominent and successful
graduates to contribute to the Front and Centre campaign.
We are also grateful and thankful that the University had given us the recognition and
encouragement to continue what we are doing in HK as UM alumni….
All of us here in HK wish you the very very best. We are 100% sure your next venture will be
just as rewarding.
Dr. Harvey Secter, Chancellor Emeritus and 13th Chancellor of the University of Manitoba, thanked Dr. Barnard as well:
The leadership shown by President Barnard has been exceptional. His dedication to improving the well being of the university and enhancing its capacity will have lasting impact on all Manitobans.
As a life-long resident of the province and former member of his team, I'm pleased to join in congratulating David and thanking him for his years of service.
Tanjit Nagra, former UMSU president, wrote this message to David:
It was a pleasure to work with you in my role as UMSU president, even though we weren't always on the same side, I truly enjoyed working with you.
David, you were a leader who listened and learned from students, supported research and innovation on our campuses, and you took important steps forward that will benefit generations to come. All the best to you David (and Gursh)!

[Watch Tanjit Nagra's recent interview with Dr. Barnard.]