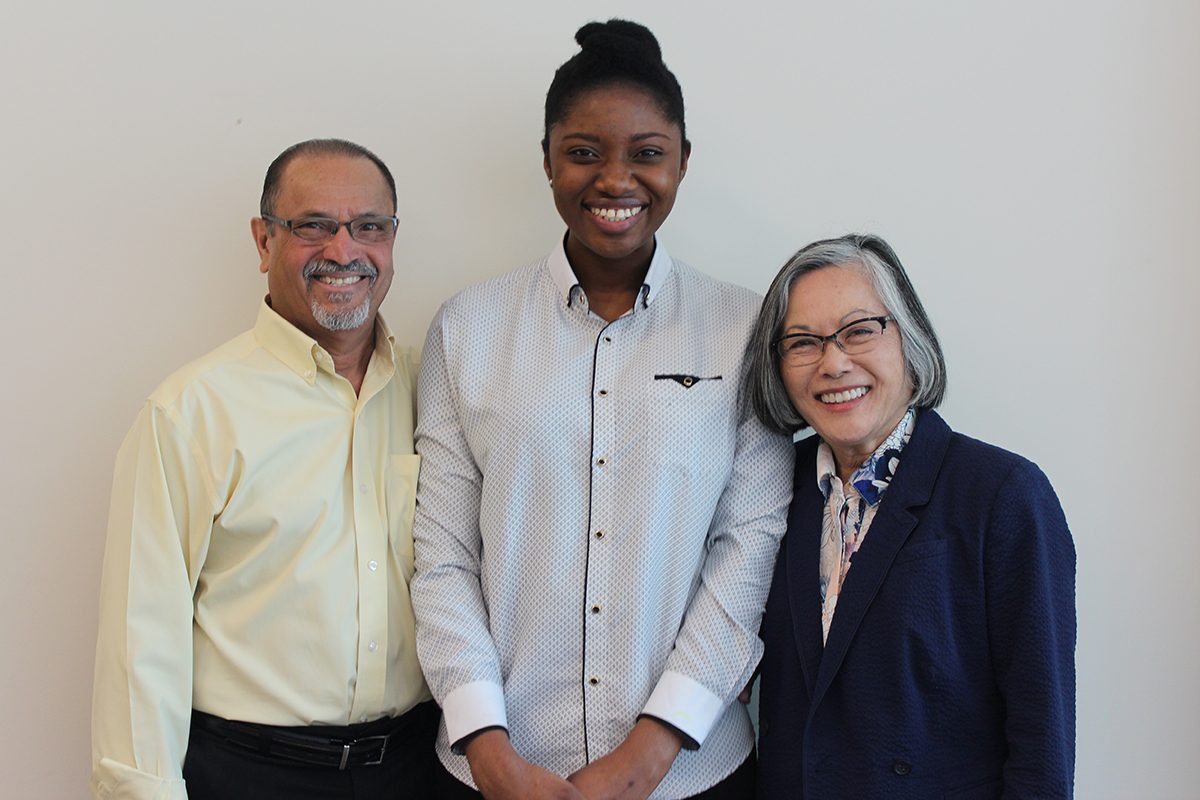 Date with a Donor: Building Peace
April 2, 2018 —
Global conflict can tear communities apart, and challenge our dreams of peace.
But it can also bring people together and motivate others to take up the cause – as it did for Patrice Yamada [BN/75] and Peri Venkatesh [MN/91].
In 1985, family friend and U of M political studies student Rahul Aggarwal was killed in the Air India bombing. When a fund was established in his memory, Yamada and Venkatesh made their first gift as a couple to the university.
They also made a promise to each other to continue advocating for peace through their giving.
Supporting a student in peace studies seemed a natural fit: Venkatesh is a U of M retiree, having taught for 17 years in the Faculty of Nursing, and helping students succeed is never far from his mind.
Together, he and Yamada established the Manavathé Graduate Student Bursary for students working towards their master's degree in Peace and Conflict Studies.
Bella Oghieakhe is the latest recipient. She met up with Yamada and Venkatesh on campus to talk about the impact of donor support and the importance of peace studies in today's international climate.
PATRICE & PERI: YOU'VE TOLD US YOU'RE AN INTERNATIONAL STUDENT. WHAT BROUGHT YOU TO CANADA AND THE U OF M?
BELLA: I've lived in Manitoba since 2013 when I came from Nigeria. There was a religious ethnic riot in the state where my family was living. We left for the capital city, Abuja, but shortly after we arrived there were terrorist bombings. Our day to day living was affected; I wasn't able to continue my studies because of the security issues. Everything changed, so I just had to leave.
I decided on Peace and Conflict Studies because my dad is a diplomat. There is this proverb that he says: 'When two elephants fight, it's the grass that suffers'. He is always looking for a nonviolent means of existing. The Peace and Conflict Studies program just seemed very ideal and I was very passionate about it.
PERI: Maybe you can use your knowledge, when you finish your program, to help out in Nigeria.
You could be a diplomat too, with all of that background.
PATRICE: There's no end of where we need you, you just have to choose where you're going to be happiest.
WHAT IS YOUR RESEARCH FOCUS?
BELLA: I took two courses, Young People Affected By Violence and Indigenous Peace Building Process, which made me really interested in youth in the Indigenous community. There's a disproportionate amount in conflict with the law and I was able to visit a few remand facilities to see exactly what was going on.
It was really eye-opening. I'm interested in ways of reframing and redressing the educational system, or maybe even the social and justice systems, to help people who have been affected disproportionately.
PAT: We were very fortunate to go to Turtle Island Community Centre to spend a day with an Elder. We learned that the sacred teachings of the Indigenous community, the land, and the things lost in colonization can still be used to heal.
PERI: If you get a chance, you should go there. It's a great learning experience.
BELLA: When you talked about healing, I did my practicum at the N.E.E.D.S. Centre and put together a project about storytelling through art. We got a bunch of newcomer youth to make art that depicted things they were affected by and how they were able to overcome them.
One boy had an experience with bullying. He drew a very powerful piece on how small he felt when he was bullied and how he was able to overcome it through basketball. Some people that bullied him ended up becoming his friends because he was so good at basketball.
PERI: That's something we don't look into sometimes. Often we focus just on external conflict but internal conflict is important as well.
PATRICE: And art will unleash that; it's a way to heal. Oh, it takes my breath away! It sounds like your program has really enriched your life and given meaning. But you bring a very special window to that as well because you're a newcomer too so you can relate.
IS THIS WHAT YOU WOULD LIKE TO DO AS A CAREER?
BELLA: In three months, I'm going to apply for a career in Corrections because I would love to get some experience there. In the meantime, I'm looking forward to volunteering again at N.E.E.D.S. and I want to learn Arabic because we have a very large Syrian population. As for long-term goals I hope to one day work at the United Nations.
PATRICE & PERI: TELL US ABOUT YOUR EXPERIENCE AS A STUDENT HERE. HOW DID HAVING FINANCIAL SUPPORT CHANGE THINGS FOR YOU?
BELLA: Being a student and managing finances is very difficult – there's tuition, and then we have things like groceries and insurance and housing, all those things are going up. There's a lot of fatigue, stress, anxiety. I got the point where I was thinking "Ok, how am I going to juggle this semester? Do I work nights? Who would babysit?" Because my husband works nights.
When I got the letter saying I'm a recipient of your donation I was like "oh God, thank you!" I don't have to worry about tuition until I graduate which is just the biggest relief because I can focus on raising my daughter, making dinner and studying!
BELLA: WHEN I THINK ABOUT MY FUTURE, I WANT TO BE SUCCESSFUL IN MY CAREER AND HELP OTHERS. CAN YOU EXPLAIN WHAT SUCCESS MEANS TO YOU, AND GIVE ANY ADVICE?
PERI: For me, everything you do, do it with passion. That's the road to success. If you have an interest in it and invest yourself in it, you're still satisfied even if you didn't succeed because you've done it. That's what it is.
PATRICE: For me, it would be: how do you get your values through to where it actually counts? When I was working [as a nurse], I was most passionate about patient care and so as a manager it was important for me to treat my staff well because then they would treat my patients well. I was proud that I had the best team in the world.
BELLA: WHEN I DID SOME RESEARCH ABOUT YOUR FUND, I FOUND OUT MANAVATHÉ MEANS HUMANNESS. WHAT HUMAN VALUES DO YOU FEEL ARE IMPORTANT?
PERI: Kindness is really an important thing. You need to be kind and generous.
PATRICE: For me, it's community. Not just thinking of me, myself, but everybody around you. How we can all help another. Humanity is about humans.
BELLA: IS THAT WHY YOU WERE INSPIRED TO HELP STUDENTS LIKE ME?
PATRICE: Absolutely. If we can enable students to more easily acquire the knowledge and the experiences they need, that's a good thing. Then they're free to make the world a better place. There's no price tag on goodwill or kindness. This was an investment in the future. We're so happy to have met you, Bella, and to have learned that good will be done long after we are gone.
PERI: Person by person, indirectly, we are influencing the world. We like to think we have had a hand in your education – a little bit at least, even a drop. We can be satisfied that we have done something to better the world and I think that's really what's important.
The Faculty, Staff, and Retirees Campaign is a year-round initiative which raises funds for all areas of the university, including graduate student support, to help students like Bella.
Peri and Pat supported the University of Manitoba for over 30 years through smaller gifts before establishing the Manavathé Graduate Student Bursary. At any amount, you can join Peri and your fellow retirees and colleagues to make an impact.