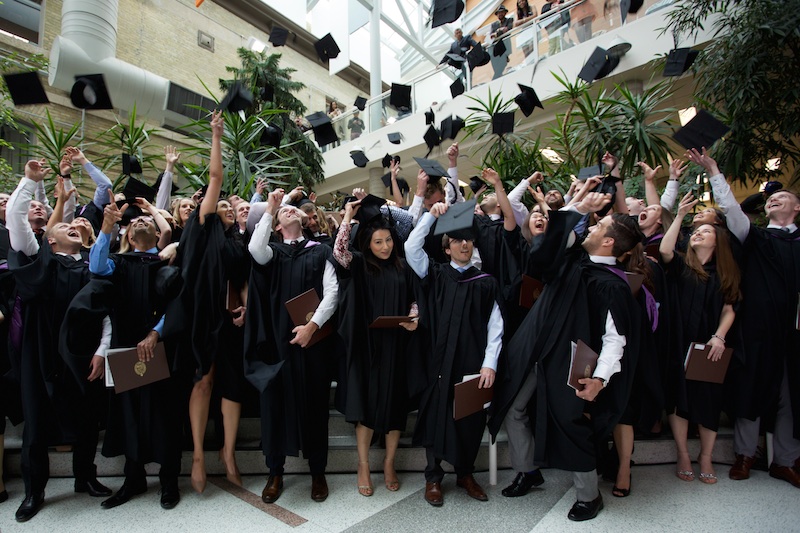 Congrats Manitoba's newest doctors, honoured guests Drs. Henteleff and Pope
May 13, 2016 —
The University of Manitoba convocated 106 new doctors on May 12. The Class of 2016 is comprised of 61 male and 45 female students and four self-identified as First Nations, Metis or Inuit.
An overwhelming 71 (or 67 per cent) or of the 106 new MDs have chosen to stay in Manitoba to complete their residency training, of which 39 graduates will be entering the University of Manitoba family medicine residency program.  Of those, two will be in the Family Medicine Bilingual stream, 12 in rural stream, eight in the Northern & Remote stream and 17 in the urban Winnipeg stream.
Dr. Paul Henteleff, honorary degree recipient
Four decades ago, Dr. Paul Henteleff started an important conversation about a tough topic. As one of the first physicians in Canada to recognize the need for end-of-life care, he pioneered an honest, delicate way for doctors to speak with their patients about their needs, their wishes, their fears.
During a long career as head of the palliative care unit at St. Boniface General Hospital, Dr. Henteleff came to realize many patients, as he says, didn't want to go down fighting an impossible fight. And so, in the twilight years of his own life, he has become a supporter of physician-assisted death for those desperate to end their suffering when palliative measures fail.
His courageous stance on this controversial issue is matched by his compassion, humility, and steadfast leadership. He has helped thousands of patients and their families, and mentored a generation of caregivers who are inspired not only by Dr. Henteleff's expertise but by his dedication.
The son of a prosperous entrepreneur and a doting nurse, Dr. Henteleff grew up in Stonewall, Manitoba. He was a happy boy scout, content to while away hours making clay models and carving wood. Inspired by his sophisticated New York aunt, he dabbled in the arts and briefly studied sociology and philosophy—all of which would later influence his perspective on death and the dying.
He always wanted to be a doctor. Pursuing medicine at the University of Manitoba, he won prizes and scholarships—and the heart of a Dutch girl who had come to work for a year at the Medical College. As he went about raising six children with his wife Nel, he settled into life as a family physician, working part-time with Dr. Jack MacDonnel, a pioneer in the field of geriatrics. Gradually, Dr. Henteleff moved into administration, helping design Manitoba's personal care home program that today cares for roughly 10,000 people across 130 facilities.
In 1975, Dr. Henteleff joined the team at St. Boniface General Hospital—the first hospital in Canada to develop a program for patients nearing the end of their lives. He quickly became the unit's heart and soul. Never a religious man, he nonetheless developed a spirituality that saw life as a pilgrimage.
And in exploring that journey, he collaborated on the first study of depression and suicidal thinking in terminal illness. This widely cited research urged us to see the dying as they are, not as we wish them to be. Dr. Henteleff focused on the human being rather than the disease.
He taught generations of students to do the same, advancing health policy while overseeing the palliative care system in Manitoba.
Dr. Henteleff retired at 60, only to become founding president of the Canadian Palliative Care Association and head of what is now Palliative Manitoba. He helped to shape the direction and progress of end-of-life care across Canada, earning international respect and accolades along the way.
It is through his commitment that palliative care is a core service in our province's hospitals, helping about 1,300 patients each year. And it is through his leadership that Manitoba has a robust research program that is making an impact nationwide.
In his words, "dying can be a pretty grim business," yet, there is nothing somber about this newly remarried man who has brought light to his patients in their darkest hours.
Dr. Henteleff is a scientist, physician, and administrator who has created a legacy of care.
Dr. William Pope, distinguished service award recipient
Dr. William Pope believes each one of us has a unique gift we can offer the world. And we find that gift through education.
A dedicated physician and administrator for decades, Dr. Pope's love of learning came from his parents, who both had university degrees—a rarity back in the 1930s. He was just a young boy when he knew he wanted to be a doctor, driven by a curiosity to explore and a deep desire to help people.
To this day, he says the greatest determinant of success in our life is whether or not we are making a difference in the lives of others.
After doing his undergraduate medical degree and anesthesia residency training here, he was a fellow in Harrow, England, where he researched the health risks of exposure to inhaled anaesthetics. His findings had a far-reaching impact: they would lead to new guidelines to protect pregnant women, both patients and those working in operating rooms.
Dr. Pope went on to become head of adult anaesthesia at the Health Sciences Centre and program director in anesthesiology. As the latter, he created the first formal undergraduate education curriculum in this specialty, which was eventually adopted across the country. He was also the chief oral examiner in anesthesia for the Royal College of Physicians & Surgeons of Canada, and later the University's undergraduate associate dean.
He says he feels fortunate to have enjoyed a career in medicine that allowed him to not only care for generations of patients but train other doctors in new approaches in a field that has evolved tremendously over the years.
Dr. Pope himself has continued to evolve. A life-long learner, in 1990, he decided to come back to school and earn his law degree here at the U of M.
This newly acquired expertise was valuable when he was recruited as executive vice-president of medical services at St. Joseph's Hospital in Hamilton, Ontario.
When he returned to Manitoba, he took on the role of assistant and later registrar and CEO of the College of Physicians & Surgeons of Manitoba, the regulatory authority for physicians in our province. For years he helped navigate an evolving landscape of medical education and practice.
It was Dr. Pope who convinced the Council of the College that international medical graduates should be assessed, registered and licensed to work in Manitoba. Because of his pioneering efforts, our province became one of the first in Canada to institute an in-province, comprehensive clinical assessment for international medical graduates that other provinces viewed as the gold standard. Since 2001, the College of Medicine has accredited more than 300 internationally trained physicians to practise in Manitoba.
Also because of Dr. Pope's efforts, Manitoba became the first in Canada to register and license physician assistants. He then supported the College of Medicine in establishing Canada's first physician assistant master's training program—a program which, every year, attracts hundreds of prospective students from across the nation to apply to our University. And last year, the entire graduating class accepted jobs here in Manitoba.
Dr. Pope's contributions to the well-being of the community extends beyond medicine. A tireless volunteer, he sits on several boards of organizations—many involving the arts. A man of science, Dr. Pope believes that the healthiest communities are also infused with culture and creativity.