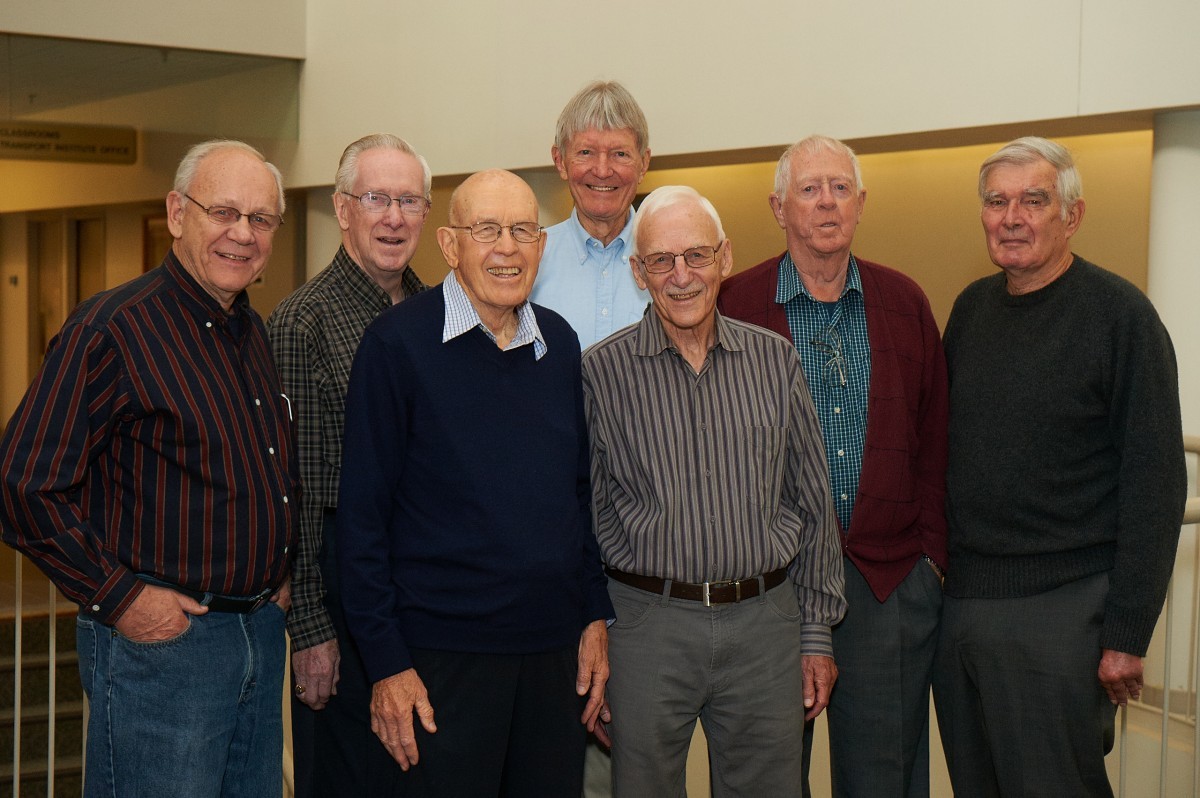 Class of '54 reunion memories
January 26, 2015 —
The Commerce Class of '54 held its 60th reunion from September 19 to 21, 2014. Seven graduates were on hand to celebrate the occasion: Charles Grierson (Vancouver); Keith Fewster and Fred Wise (Calgary); Ken Clark (Toronto); Rich Allden, Peter Martin, and John Mundie (Winnipeg).
Our reunion started on Friday evening at Nicolino's restaurant. We enjoyed a scrumptious meal – and a great deal of reminiscing — in a private dining room.
On Saturday, we spent the morning at the Asper School of Business. Emily Ashley, Alumni Relations Officer for the School, showed us two symbolic senior sticks dating back to 1944 (seven years after the formation of the School) and the financial report for 1954. The current Senior Stick, Dale Camuyong, gave us a tour of the Drake Centre.
The highlight of the morning was a presentation by Dr. Barry Prentice, Professor of Supply Change Management and former Director of the Transport Institute. Barry gave a fascinating presentation on the topic: "Cargo Airships: Value to Manitoba and to Manitoba's Reputation for Innovation, Sustainability and Manufacturing Prowess". His talk, detailing the development and potential use of airships to service remote areas of the province and elsewhere, totally captured our imaginations.
In the afternoon we attended the Bison football team's season opener against UBC at the new Investors Group Field stadium. (The Bisons won!)
Saturday evening was the Homecoming Dinner in the Manitoba Room, University Centre. Michael Benarroch, Dean of the Asper School, joined us for the event. After an excellent meal and an address by the President of the University, Dr. David Barnard, we enjoyed great entertainment by faculty members of the Marcel A. Desautels Faculty of Music. Even the benefactor for the Faculty, Mr. Desautels, took part in the program by delivering a powerful performance. He sang as well at age 80 as any operatic tenor. It was a memorable night.
On Sunday, we attended the President's Luncheon at Marshall McLuhan Hall. This was a special brunch arranged for the 55th, 60th, 65th and 70th anniversaries of the classes of '44, '49, '54, and '59. John Mundie had the honour of delivering grace.
Afterwards, a bus took us to the official opening day of the Canadian Museum for Human Rights at the Forks. We will remember our walk-through of this unique, architectural and magnificent building for years to come.
Thanks for the memories!