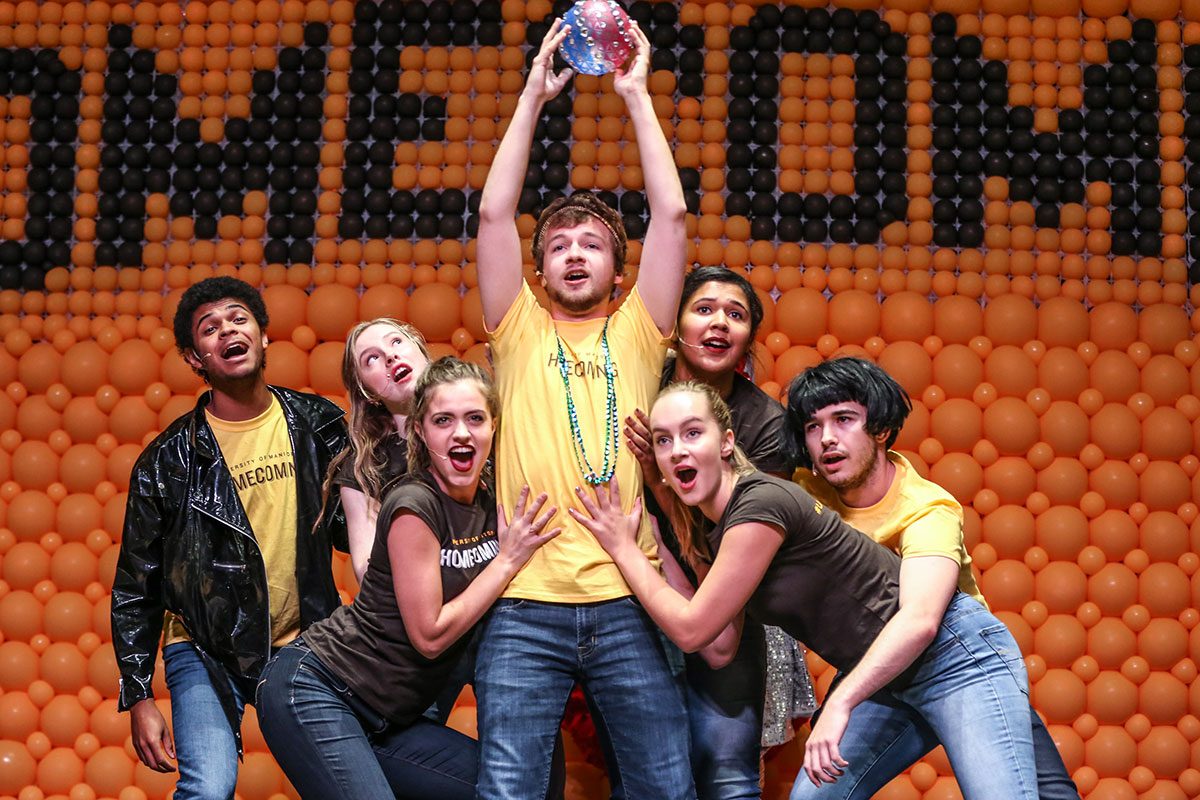 Homecoming 2017
Alumni celebrate their alma mater during weeklong festivities
September 21, 2017 —
University of Manitoba alumni returned to their alma mater last week to reconnect with friends and celebrate the faculties that brought them together. During the more than 30 events that took place from September 11-17, U of M grads were able to build upon their memories of campus by seeing exciting new developments firsthand and celebrating the achievements of current students.
Most notably, on Thursday evening, alumni and U of M community members were invited to explore state-of-the-art rehearsal spaces at the grand opening of the new addition to the Taché Arts Complex. The 60,000-square foot building will provide much-needed space for the Desautels Faculty of Music
When the former music building opened in 1966, it had a capacity of just 60 students—today there are 260 enrolled in the faculty. During the grand opening U of M alumnus and honourary degree recipient Marcel A. Desautels and voice professor Robert McLaren wowed the standing-room-only crowd with a duet performance of 'O Sole Mio,' which received boisterous applause and a standing ovation.
Also honoured that evening was philanthropist, arts supporter and U of M honourary degree recipient Dr. Bonnie Buhler, who announced a $1 million gift to support graduate students in music. "The idea that I can support young musicians by freeing them from some financial burdens so they can focus on fulfilling their creative potential is an opportunity I couldn't let pass," Buhler said. "It is a privilege to help these students who have spent their lives sacrificing so much to develop their musical talents. It's an honour to play a part in their journey."
Attendees had the opportunity to tour the new spaces, including the Multi-Media Lab showing scenes from Chopin's Heart, a film featured at the 2016 Cannes Film Festival with score composed by alumnus Steven Webb [BMus/11]. Rehearsal rooms featured performances by students, faculty and alumni, including alumna Tracy Dahl, the University of Manitoba Singers, conducted by Elroy Friesen, and the University of Manitoba Wind Ensemble, conducted by Jacquie Dawson.
New to this year's Homecoming celebrations was the Brown and Gold Brunch, held on Sunday. Alumni in attendance had a chance to connect with old friends and colleagues, as well as current students seated at each table to hear about their areas of study and their thoughts on the exciting developments taking place on campus. Dr. David T. Barnard, President and Vice-Chancellor, hosted the event.
"As we come together for Homecoming, I ask us all to reflect on the immense value of the community this university creates," said Barnard. "I believe we are more aware than ever that at the heart of our many successes is a community of people—diverse people who are empowered to thrive in a culture of respect. Together, we support the transformation of tens of thousands of students, and ultimately of this province, our nation and the world."
The Autonomous Agents Laboratory was on hand as well, showcasing their award-winning robots. The teams of undergraduate and grad students are fresh off of a very successful trip from the FIRA HuroCup robotics competition in Kaohsiung, Taiwan where they won two gold and one silver medal and finished fourth overall. Demonstrations of their two humanoid robots garnered oohs and ahs as well as laughter from the audience while they performed tasks such as archery, weightlifting, long jump and basketball.
Support for Indigenous students was highlighted at the Indigenous Achievement Homecoming event on Wednesday where students had the opportunity to connect and engage with U of M alumni, faculty, staff and community leaders during rounds of speed networking.
"Networking with Indigenous alumni was inspiring. I appreciate that the university puts events like this on – it makes students feel like they matter," said Christine Hallett, an Indigenous student in her second year.
At Saturday's annual Homecoming football game, the Bisons took on the University of Calgary Dinos. The Bisons fell to the Dinos, 76-17, but despite the tough loss and the damp weather, the energy of the crowd remained high. The Bisons unveiled a new uniform, which is a throwback to the 2007 season and a Vanier Cup champion. Players from that team were on hand to celebrate their 10th anniversary during a special halftime announcement.
Faculty reunions are often considered to be the heart of Homecoming. This year there were more than 20 events held on both campuses and across the city, including a number of graduating classes of 1967, such as Home Economics, Agriculture and Kinesiology, who were celebrating their 50th anniversary. In particular, the Faculty of Engineering celebrated its 110th year—a significant milestone honouring the history of grads who have had a transformational impact on almost every industry in every corner of the world.
These faculty-specific events provided alumni with a chance to catch up with old classmates and reminisce about the times that brought them together. They also served as a great opportunity to share stories with fellow alumni from different graduating classes and hear from current faculty members about the exciting development of the Stanley Pauley Centre. Thanks to a combined gift of nearly $10 million from alumnus Stanley Pauley, construction is underway for a building for the Faculty of Engineering that will bear his name.