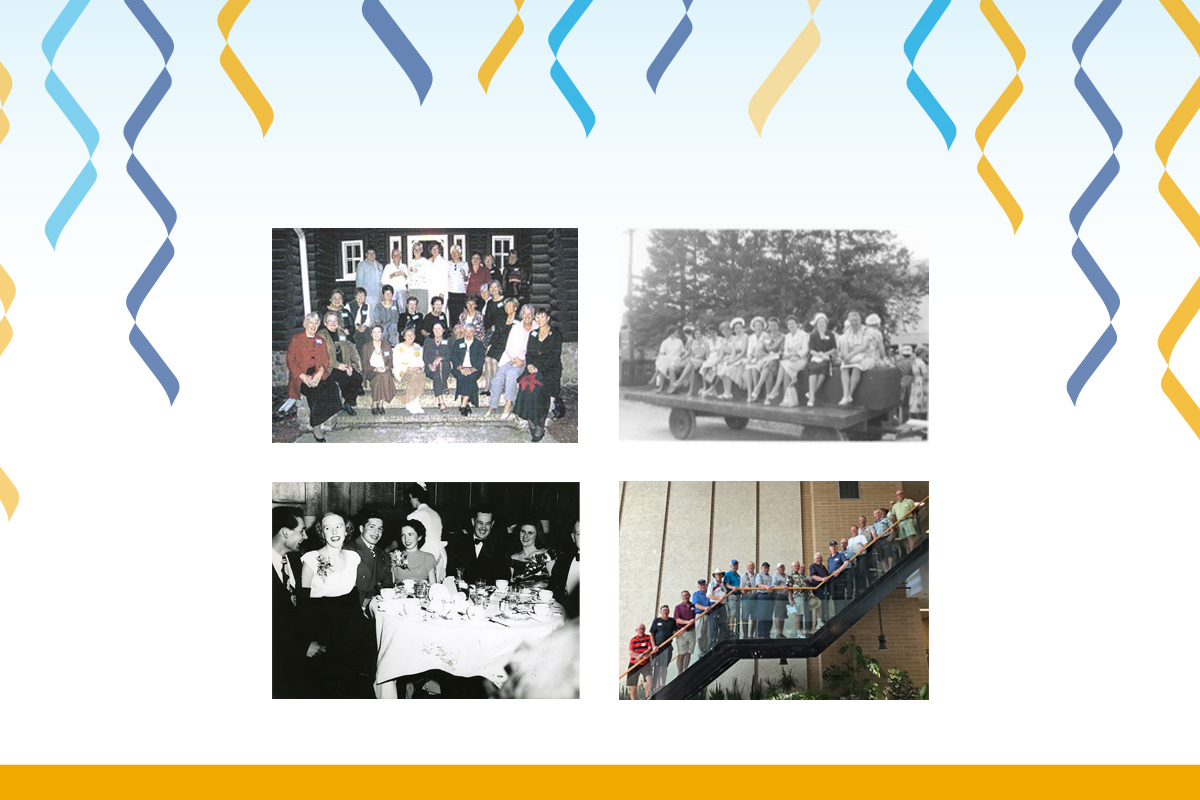 Celebrating a milestone
Two UM alumni reflect on their time at UM and why they are each planning a 60th reunion
June 23, 2023 —
If you graduated in a year ending in a '3' or an '8' – congratulations – you are celebrating a milestone anniversary of your UM graduation! Homecoming 2023 is taking place September 19-23 and could serve as the perfect backdrop for a gathering, big or small.
Whether or not you are celebrating a milestone anniversary, reunions are a special opportunity to connect with former classmates, recall your shared experiences and memories and revisit your old stomping grounds.
"My great aunt was in the very first class of Home Economics in 1910. Then my mom and my cousins were all home economists as well, so it kind of ran in the family," says Lee (Dunlop) Anderson [BScHEc/63, CertEd/64, BEd/80] on her decision to attend the University of Manitoba. "And I dove into everything. I maybe wasn't the strongest student, but it was only because I enjoyed getting involved and volunteering in all the other activities outside of class."
Anderson's class is reuniting this September to celebrate the 60th anniversary of their graduation from UM. Over the course of three days, their plans include a visit to the Costume Museum of Canada, The Leaf at Assiniboine Park and a tour of their faculty building with the opportunity to hear from Dean Scanlon and current students about the research and other activities going on today in the faculty.
"I am so excited by the enthusiasm of our planning committee. They all jumped in and are working so hard, and it's so heartwarming that we are all so committed to this," she says.
Reunion planning comes naturally for Anderson having grown up among fellow alumni of the faculty. In 1960, her great aunt lit the candles on the cake for the Faculty of Home Economics' 50th anniversary, and it prompted her to help organize various reunions for her class and the faculty over the years. She has also remained close with many of her classmates, and they always look forward to getting together.
"We met when we were very young, many of us coming to university straight out of high school," she says. "We were just starting our lives and creating our values together. And now, at our 60th anniversary, we're looking back on our lives, careers, families and friendships and none of us could have dreamed that we would have accomplished what we have."
The main motivation for their class to organize a reunion was to create an opportunity to get together and catch up with people, and it's the same for her husband Wayne [BSA/63, LLD/13]. His class is also planning a reunion this year to celebrate the 60th anniversary of their graduation from the Faculty of Agricultural and Food Sciences. A few people from his class are getting together this September for a tour of their faculty and dinner. This will be the fourth reunion the class has had since graduating.
"I was the first member of our extended family to attend university, and those were the best years of my life," he says. "I always enjoyed the social aspect of university. I played hockey for the Bisons for the better part of three seasons and belonged to a fraternity. And of course, at UM is where I met Lee."
Both Andersons have stayed connected to UM over the years. Wayne was elected to the Board of Governors for three terms of three years each, serving as Chair for four years, and was on the Board of the Alumni Association concurrently for those nine years.
UM's Alumni Relations team can assist groups wishing to get together to celebrate a milestone or establish a class gift at any time of the year.⁠ If you have questions on how to get started, reach out to the UM Alumni Relations team or visit our website.