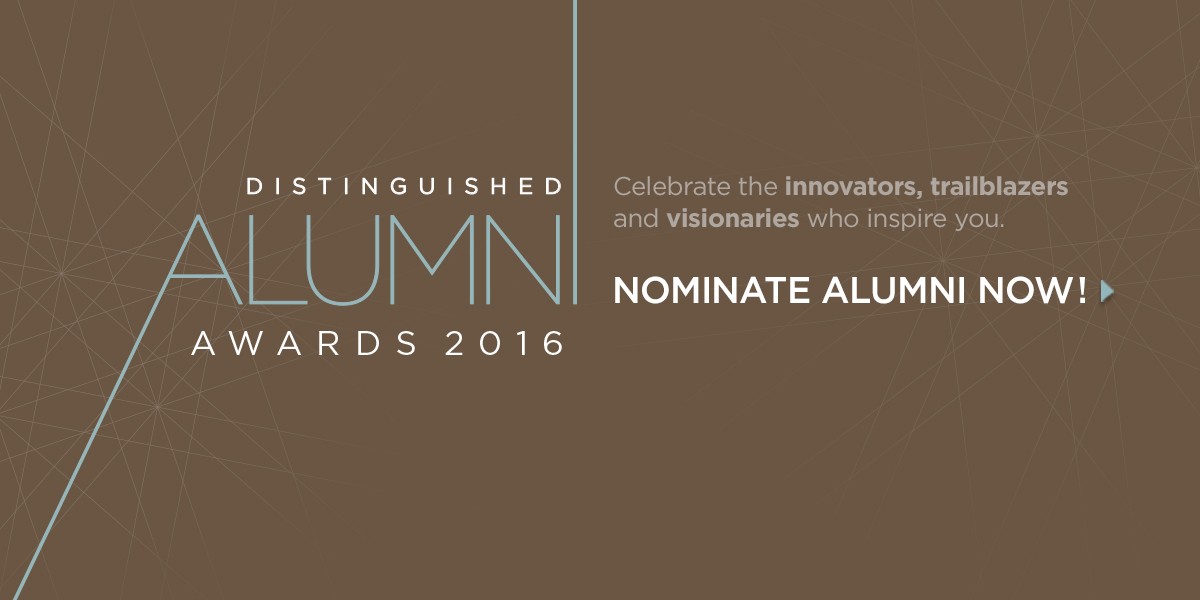 Celebrate the innovators, trailblazers and visionaries who inspire you
Nominations now open for 2016 Distinguished Alumni Awards
August 28, 2015 —
They are entrepreneurs who turn ideas into opportunities; community members who are dedicated to serving youth or the elderly; teachers and mentors who foster and nurture creativity and desire for learning; individuals who inspire change. They are the alumni of the University of Manitoba.
From donors whose generosity provides scholarships and infrastructure to medical researchers working on cures for deadly diseases, University of Manitoba alumni change our communities for the better.
Celebrate a U of M grad and his or her success by nominating an individual for the 2016 Distinguished Alumni Awards (DAA).
Recognizing graduates who have made outstanding achievements in their professional and personal lives, the Distinguished Alumni Awards honour those who have been an inspiration to fellow alumni, current students and the community, both at home and around the globe.
John Kearsey, vice-president (external) says: "What makes U of M grads so worthy of celebration is their incredible contribution as leaders, both in their professions and their communities. These distinguished alumni not only dream, they do. And this is what makes them so inspiring."
As seen in the highlights from the 2015 Distinguished Alumni Awards in the video above, Marion Meadmore, CM [LLB/77] received the 2015 Distinguished Alumni Award, Lifetime Achievement, for her efforts to create greater opportunities for Indigenous people in Canada. After surviving a decade in the Indian Residential School system as a child, she defied the hatred and negativity of that experience by focusing her attention on education as a means to transform her world in a positive way. Meadmore graduated from Law at the University of Manitoba and became the first Indigenous woman in Canada to be called to the bar.
Among the other four recipients, Tito Daodu [MD/13, BSc(Med)/13] received the 2015 Distinguished Alumni Award, Outstanding Young Alumni, for her mentorship of inner city children in the same outreach program that once encouraged her to dream big when she was an impressionable eight-year-old. Her resulting desire to create positive change in the world inspired her to pursue a medical degree at the University of Manitoba. When Daodu earned her MD in 2013, these same core-area neighbourhood children cheered her on at convocation.
Until October 26, 2015, we are accepting nominations for the following Distinguished Alumni Awards:
Lifetime Achievement
Professional Achievement
Community Service
Service to the University of Manitoba
Outstanding Young Alumni
For more details and criteria for the various categories, please visit: umanitoba.ca/distinguishedalumni