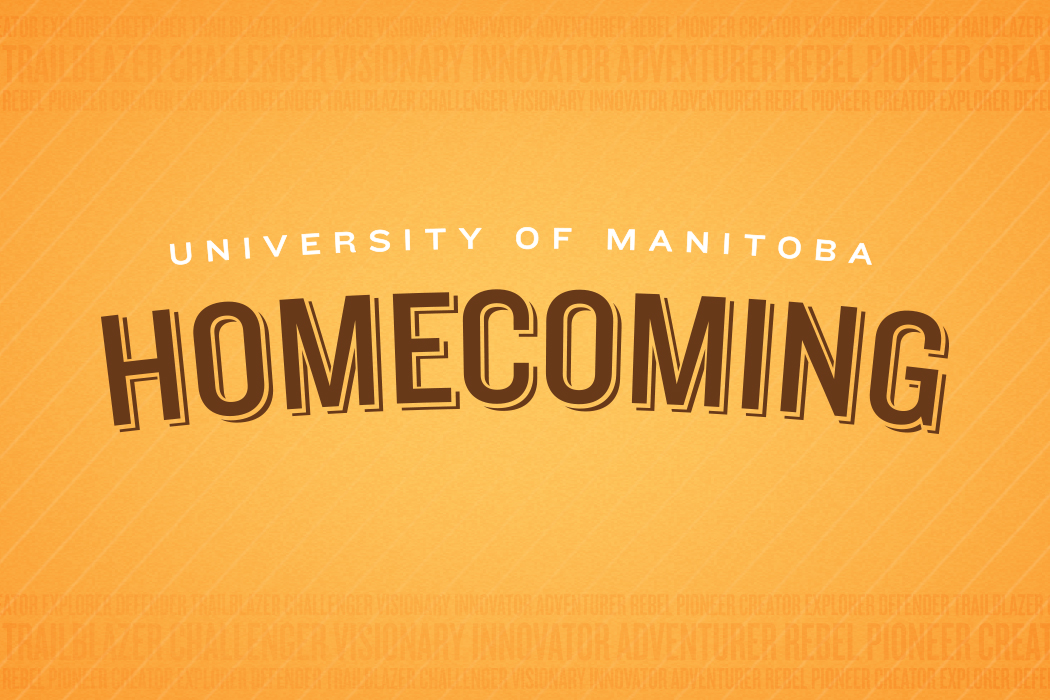 Celebrate Homecoming 2014
September 12, 2014 —
There are more than 131,000 graduates of the University of Manitoba around the world, with 65,724 here in Winnipeg alone, all with special connections to our province and our people.
Homecoming is a tradition of celebrating how our university experiences have shaped who we are today. Now is the time to celebrate those connections, whether they are memories of unique academic experiences or gaining deep and lasting friendships.
Whatever your most memorable or moving experiences on campus may have been―what you have seen and shared during your formative years―they contributed to your education and development. We may travel in different directions but we come together at Homecoming.
At Homecoming you can celebrate special memories, reconnect with old friends, revisit meaningful places on campus and participate in events and activities.
Come celebrate and salute the indomitable spirit of the University of Manitoba. Highlights of Homecoming 2014 include:
VISIONARY CONVERSATIONS: Free Expression – Who Pays the Price?
DATE: Wednesday, September 17, 2014
TIME: Reception 6:30 – 7:00 p.m. Discussion 7:00 – 8:30 p.m.
LOCATION: Robert B. Schultz Theatre, St. John's College, 92 Dysart Rd.
Join us for the first topic in the 2014-2015 series. Hosted by President and Vice-Chancellor David Barnard, Visionary Conversations features thought-provoking discussions between University of Manitoba faculty, researchers, alumni and community members.
INDIGENOUS ACHIEVEMENT CELEBRATION
DATE: Wednesday, September 17, 2014
TIME: 11:30 am
LOCATION: Migizii Agamik – Bald Eagle Lodge, 114 Sidney Smith St.
Come and celebrate the University of Manitoba's Indigenous alumni and connect with the Indigenous community on campus. Join us to celebrate the successes of our female Indigenous alumnae as well as the 40th anniversary of the Department of Native Studies, including remarks from special guest alumni and a celebration lunch.
THE POLAR ADVENTURES OF ANDREW TAYLOR
DATE: Wednesday, September 17, 2014
TIME: 2:30 pm
LOCATION: Archives & Special Collections, U of M Libraries
Join Archives & Special Collections as they launch an extensive exhibit on alumnus Dr. Andrew Taylor [BSc (CE)/31,DSC/91]. Taylor was an engineer, explorer, geographer, writer and antiquarian bookseller who led the secret mission "Operation Tabarin" in the Antarctic, south of Cape Horn, during the Second World War.
HOMECOMING FOOTBALL GAME DATE: Saturday, September 20, 2014
TIME: Doors open 12:30 pm, Kick-off at 2:00 pm
LOCATION: Investors Group Field
The U of M Bisons meet the UBC Thunderbirds in our annual game and associated celebrations. Show your U of M pride by filling the stands and cheering on the Bisons. Advance tickets are specially priced at $10.
HOMECOMING DINNER AND CONCERT
DATE: Saturday, September 20, 2014
TIME: Reception at 6:00 pm, Dinner at 7:00 pm
LOCATION: Manitoba Room, second floor University Centre
Connect with former classmates and remember your days on campus while enjoying unforgettable performances by members of the Desautels Faculty of Music. Book individual tickets ($75) or tables of 8.
There are many more faculty, department and college events occurring throughout Homecoming Week, September 15 to 21, 2014. The complete listing of Homecoming 2014 events is at: umanitoba.ca/homecoming
Homecoming 2014 is made possible through the generosity of sponsors: BMO Bank of Montreal, Grad Images, Industrial Alliance Insurance and Financial Services Inc., TD Insurance Meloche Monnex, Tempo Framing Systems, The Personal General Insurance Inc., and the Winnipeg Free Press.