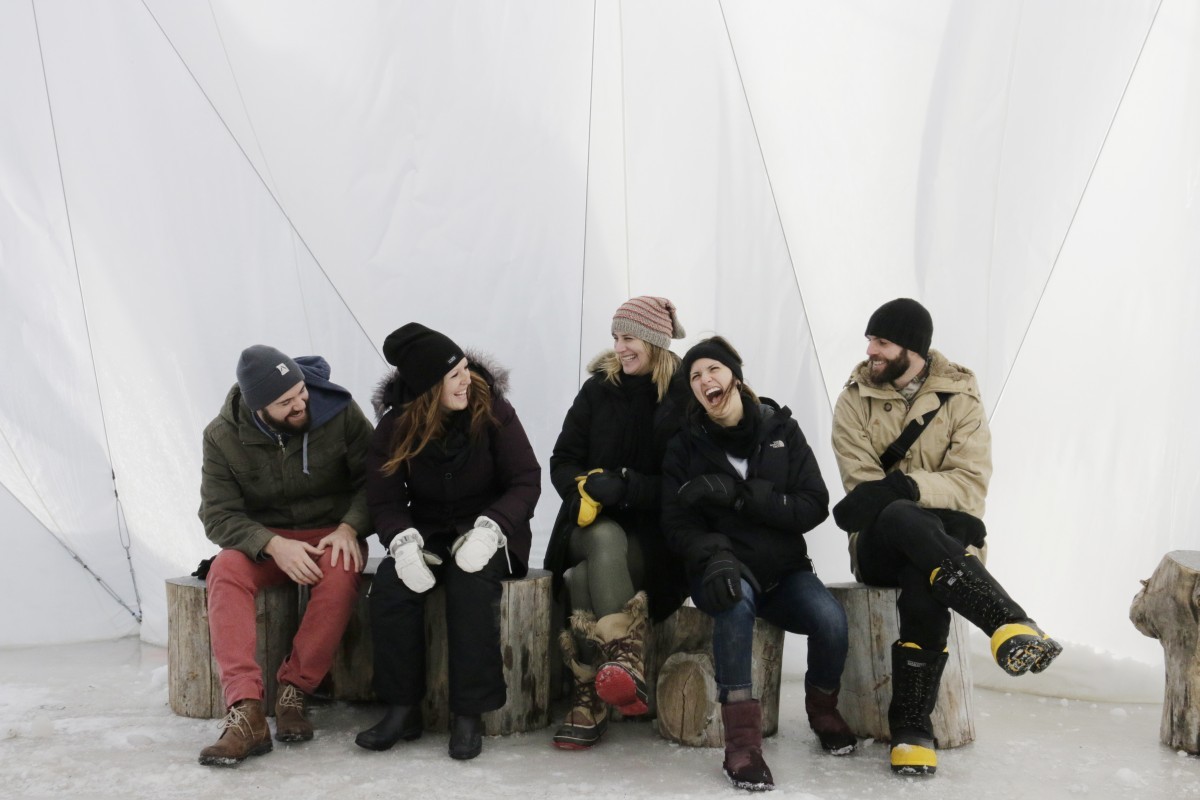 Building experience
Faculty of Architecture students create invaluable learning opportunities from warming hut setbacks
February 3, 2016 —
Since the inception of the warming huts architecture and design competition at The Forks, University of Manitoba students in the Faculty of Architecture have played an integral role. Every year the students from the faculty have been invited to show their talents locally, which are increasingly being recognized by the international design community as well.
"It's interesting to watch how the students collaborate and compete with the other entries," says Paul Jordan, CEO of the Forks Renewal Corp. "It just goes to show that we have some pretty creative students here, in that the U of M entries have been very strong in terms of people's choice and those kind of things."
The concept for the warming huts came from Peter Hargraves, founder of Sputnik Architecture and U of M architecture alumnus. As functional public art, the warming huts and similar structures along the river trail would spark imagination and exploration in a simple activity, skating.
"When we first approached the Faculty of Architecture it was about providing an opportunity for pedagogy and an opportunity for students to engage in a process that would take them from the beginning of a design through to the completion of construction, and do it in an environment where there's pressure because I think that's really important," says Hargraves.
This year, participation from the Faculty of Architecture was expanded from one to two teams, with the second being a collaboration with the faculty's Partners Program. As is the case every year, the warming huts from the faculty were student-led designs where faculty and professional architects served as advisors.
Tyler Jones is a master of architecture student in his final year. He's one of the students on the Basket team under the Partners Program. Four days before the public unveiling at The Forks, Jones and his team heard from one of their vendors that integral material to their warming hut would not be delivered. Their project has been delayed until the manufacturer can get the material to them. Despite this, Jones and his team saw the setback as a positive learning opportunity.
"It's an invaluable learning experience," says Jones. "The aspect of relying on other people from different parts of the building community and getting in touch with them and finding materials, that's been interesting. Designing a project where you have seven different minds trying to figure out one thing, that's the real world."
Fabrigami is the other warming hut project coming out of the Faculty of Architecture. It came with its own set of challenges. Structured out of suspended fabric, this project required very careful mathematics, computation, engagement and re-engagement. The project also changed locations at the last minute. Plus, its weather-reliant design demanded freezing temperatures – which didn't happen on the day of the public launch. Despite this, the team responded and built their hut.
"From a design perspective it's great to have the experience of actually building something and seeing a design come to life," says Thea Pedersen, a fourth year student completing her bachelor of environmental design. She adds, "In terms of it being an international competition it's nice to have something in Winnipeg like this and putting us further on the map as a winter city and getting more involved in that regard is pretty exciting."
Jones agrees. "It's amazing to be involved in an international design competition. It's great to have something in your portfolio when you apply for jobs. Winnipeg is already such a great design community and the international aspect of the warming hut competition, it's becoming renowned across the world. Getting all these people excited to be involved in is great for the community."