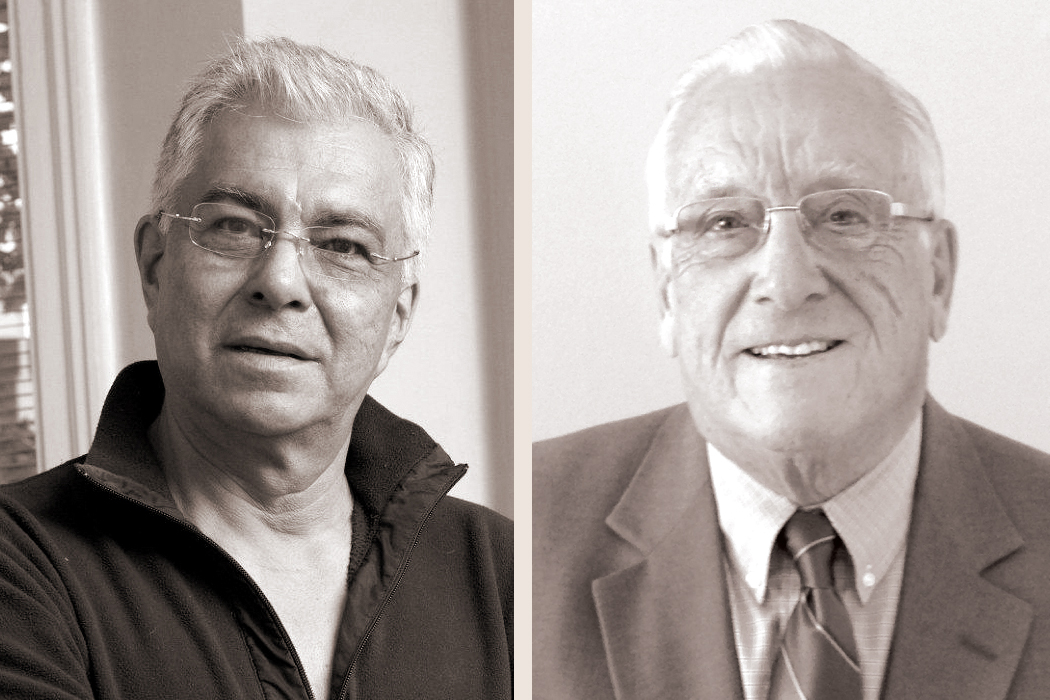 Bold minds honoured at Convocation 2014
June 4, 2014 —
The highest honour the Senate of a University can confer upon an individual is an honorary doctorate.  At the University of Manitoba the criteria include distinguished achievement in scholarship, the arts, or public service.
At  Spring Convocation 2014, the University of Manitoba will award eight honorary degrees to remarkable individuals.
The recipients of this honour at the June 4 ceremonies are Robert Houle and Hubert Kleysen.
Robert Houle
BA (Manitoba), BEd (McGill)
Robert Houle is an artist, curator, critic and educator who has played a significant role in shaping Indigenous art history. Exhibited nationally and internationally, his art is a force that compels and disarms, and through it he opens a direct dialogue on the toughest issues in Canada's history and contemporary society. The University of Manitoba is proud to honour such a bold and fearlessly creative mind.
Mr. Houle is the oldest sibling in a large and supportive family and he embodies the joy and responsibility that comes from leading with strength, courage and love. He has freely shared his immense talents, found ways to collectively overcome challenges, and honoured his Anishnaabe Saulteaux culture. Across four decades in a formidable career, he has brought together these same abilities to create a collective, broader awareness that challenges assumptions and breaks down barriers.
In Mr. Houle's own words, "Art has the capacity to lift people's spirits. Culture is an essential ingredient to any improvement in social and economic conditions. For that reason the special status of native people must be acknowledged and protected not only in a constitutional but also in a cultural context."
Mr. Houle is a member of Sandy Bay First Nation, Manitoba. He graduated from the University of Manitoba with a BA in Art History in 1972, and in the same year studied painting and drawing at the International Summer Academy of Fine Arts in Salzburg, Austria. He then went on to earn a BEd in Art Education from McGill University in 1975.
It didn't take long for his vision and talent to be recognized, and shortly after graduating Mr. Houle became the first curator of Contemporary Indian Art at the Canadian Museum of Civilization in Ottawa. During his tenure he was a strong voice in opposition of relegating contemporary Indigenous art to anthropological artifacts, and was proactive in having them understood as living pieces of work. As a curator, he has achieved extraordinary impact in bringing together groundbreaking exhibitions such as "New Work by a New Generation" at the World Assembly of First Nations in Regina in 1982 and "Land Spirit Power: First Nations at the National Gallery of Canada" in 1992.
Drawing on Western and Aboriginal artistic traditions, Mr. Houle's work is a testament to the survival and strength of Indigenous people. Moving past the destruction of colonization, he opens a path where Aboriginal and non-Aboriginal people can form a new relationship together.
Most recently, Robert Houle's work examines his own Residential School experiences. This body of significant work is now in the collection of the University of Manitoba's School of Art, and its importance was recognized in the receipt of the 2013 York Wilson Award of the Canada Council.
Mr. Houle is the recipient of several awards that recognize his immense contributions to the development and advancement of contemporary Indigenous art in Canada. He received the Janet Braide Memorial Award for Excellence in Canadian Art History in 1993 and the 2001 Toronto Arts Award for Visual Artists. He was awarded: the Eiteljorg Fellowship in 2003; membership in the Royal Canadian Academy; Distinguished Alumnus Award from the University of Manitoba in 2004, and the 2006 Canada Council International Residency Program for the Visual Arts in Paris.
Mr. Houle has shared his knowledge and experiences through the publication of many critical essays on contemporary First Nations art and as a professor of Native Studies and Indigenous Abstraction at the Ontario College of Art and Design University for over 15 years, and continues to do so through extensive volunteer work, serving on the Boards of many prominent organizations.
Robert Houle is a brave leader, forging a path for future generations of his family, his community and this country. He exemplifies strength and hope in building a better Canada. The University of Manitoba is honoured to celebrate Mr. Robert Houle with an Honorary Doctor of Letters.
Hubert Kleysen
Inventor, entrepreneur, family man, philanthropist, leader.
Hubert Kleysen has embodied all these roles and more throughout his life and successful career in the transportation industry.
Mr. Kleysen built a small family-run business into one of the largest trucking companies in Manitoba. In 2006, he sold that company, Kleysen Transport, to the Mullen Income Fund and now serves as Chairman of Kleysen Inc.
As his company continued to grow, Mr. Kleysen always maintained a hands-on approach that often found him checking a truck, chatting with a mechanic or acting as a mentor to those who worked for him.
A firm believer in education, Mr. Kleysen was an early supporter of logistics courses at the University of Manitoba in the 1990s. These small beginnings eventually led to the founding of the Department of Supply Chain Management at the I.H. Asper School of Business, the Logistics and Transport major in the Bachelor of Commerce (Hons.) and the Masters of Science programs in Transport and Logistics. In 2008, he established the Kleysen Transport Award for the top graduate in the Certificate in Logistics program, and he continues to support undergraduates in the Logistics and Transport program through a bursary program he recently established.
As a business leader and innovator, Mr. Kleysen has provided a livelihood for thousands of Canadians and has contributed to Canada's productivity and competitiveness. From new ways of loading freight, to finding a new market for what was previously a waste by-product of the potash mines, Mr. Kleysen is a visionary who has helped to grow the Canadian economy.
As a philanthropist, Mr. Kleysen's generosity has contributed to the fabric of our society, and for more than fifty years he has supported or served on the boards of numerous organizations. Whether it's organizing the Parade of Lights or chairing the Breakthrough capital campaign for the Health Sciences Centre Foundation, Mr. Kleysen has a proven track record as an involved and compassionate leader in his community.
His generosity and leadership has been recognized with numerous honours. In 2002, Mr. Kleysen was awarded the Queen's Jubilee Medal and in 2012 he received the Queen's 60th Anniversary Medal for his contributions to his community. In 2008, he was selected as the St. Ignatian Challenge Award at St. Paul's High School, where he chaired a major fund raising campaign.
Few people have made such a positive impact on their industry and their community as Hubert Kleysen. He is still actively involved in his community, generously sharing his time and expertise for anyone who needs it. The University of Manitoba is proud to award him an Honorary Doctor of Letters.