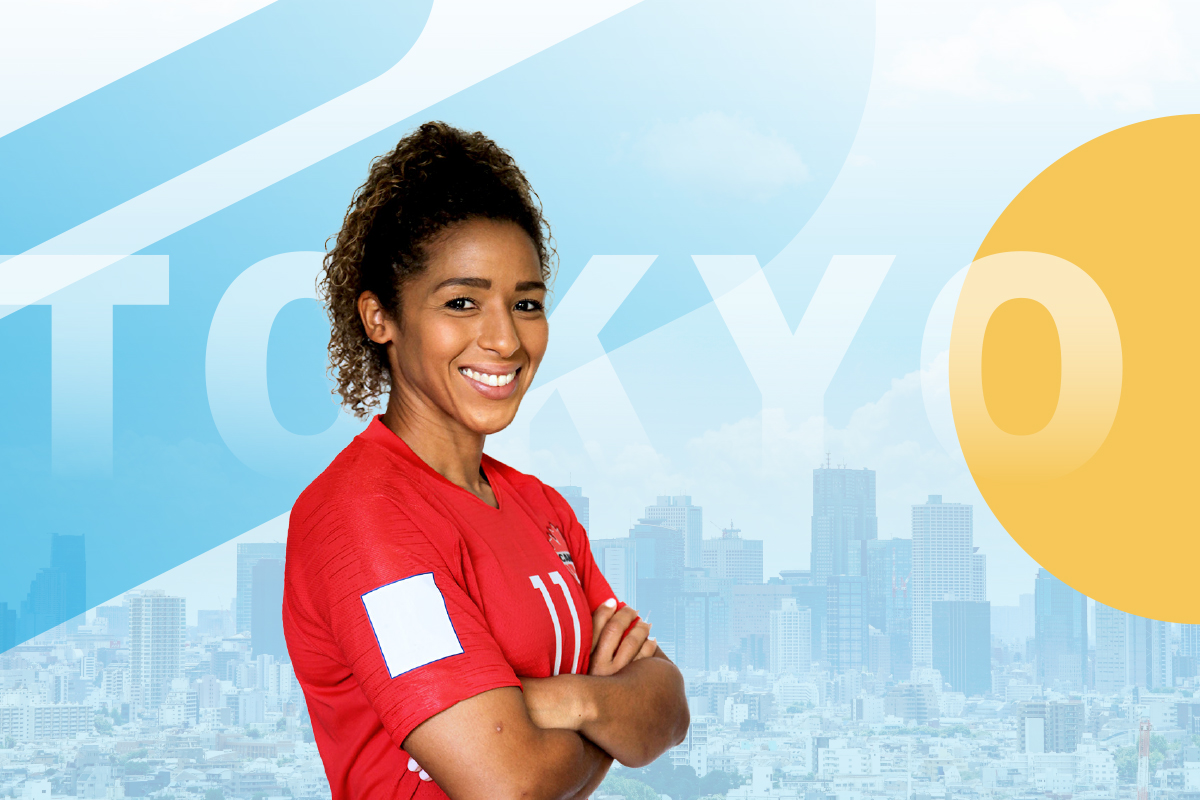 Bisons alumna Desiree Scott captures Olympic gold in Tokyo, the first of her international career
August 6, 2021 —
Already a legend among Bisons alumni, with over 160 caps for the Canadian senior team to her name, now Desiree Scott [BA/16] can add another title to her incredible resumé — Olympic gold medallist.
The University of Manitoba community is absolutely thrilled for Scott, who had an illustrious five-year career playing midfield for the Bisons and was inducted into the Canada West Hall of Fame in 2019. She previously won Olympic bronze medals with the Canadian national team in 2012 and 2016.
"Congratulations to distinguished UM alumna and former Bisons athlete Desiree Scott on winning her third Olympic medal in women's soccer," says UM President and Vice-Chancellor Michael Benarroch.
"Representing Canada at the Olympics is an incredible accomplishment in itself; bringing home an Olympic gold medal is extraordinary. On behalf of our entire UM community, congratulations! We are truly so proud of you."
"Watching Desiree win an Olympic gold medal and reach the summit of world sport has been an honor," says Gene Muller, Director of Athletics and Recreation.
"It is hard to fathom her achievements after the gold medal and over the course of her elite career. She has won three medals in consecutive Olympic Games and has cemented her place as a legend of Canadian sport and the game of soccer. She has been an ambassador of women's sport, the University of Manitoba and the Bisons. We could not be prouder of her!"
Scott is one of three members of Canada's national team to be a part of all three Olympic medals, dating back to London in 2012, alongside soccer legend Christine Sinclair and Abbotsford's Sophie Schmidt.
The match, pushed back to the evening to avoid Tokyo's extreme heat went to beyond the regular 90 minutes into extra time with both teams even at 1-1 after 120 minutes. Canada went on to win the match in sudden death penalty kicks 3-2 against the 2016 silver medalists Sweden. Scott, wearing the captain's arm band after Sinclair's exit at the 85th minute played all 120 minutes of open play, only coming off with seconds remaining.
As a member of the Bisons, Scott was the Bison Sports Female Athlete of the Year in 2009-10 and a four-time conference all-star. She set program records for career points (56) and assists (31) in 64 matches played and was a member of the program's coaching staff in 2011 and 2012, following the end of her eligibility. In 2017, she earned the UM's Distinguished Alumni Award for Outstanding Young Alumni.
"On behalf of Bisons women's soccer, I would like to sincerely congratulate Desiree Scott and Team Canada for obtaining gold at the Tokyo Olympics," says current head coach Vanessa Martinez-Lagunas.
"After such a challenging year, it's great to see the resilience, hard work, and unity of this team. Their team motto was 'change the colour' after earning bronze in 2012 and 2016. They did it and with the best possible outcome! We are so proud of Desi and this team. For us, Desiree Scott is already a Bisons legend who is going to inspire 'greatness' for the new generation of Bisons student-athletes. She dreamed big and worked so hard to make those dreams become true. Thanks Desi for being who you are and for representing our country, our province, and city with so much pride. We love you!"
Besides three appearances at the Olympic Games, Scott represented her country at the FIFA Women's World Cup in 2015 (Canada) and 2019 (France). Professionally, she has played for Vancouver Whitecaps FC, FC Kansas City, and Utah Royals FC in the National Women's Soccer League.
Off the field, Scott is an athlete ambassador for KidSport Winnipeg, working to remove financial barriers to playing sport and has also been an ambassador for the Homeless World Cup since 2014.
#WEAREALLBISONS