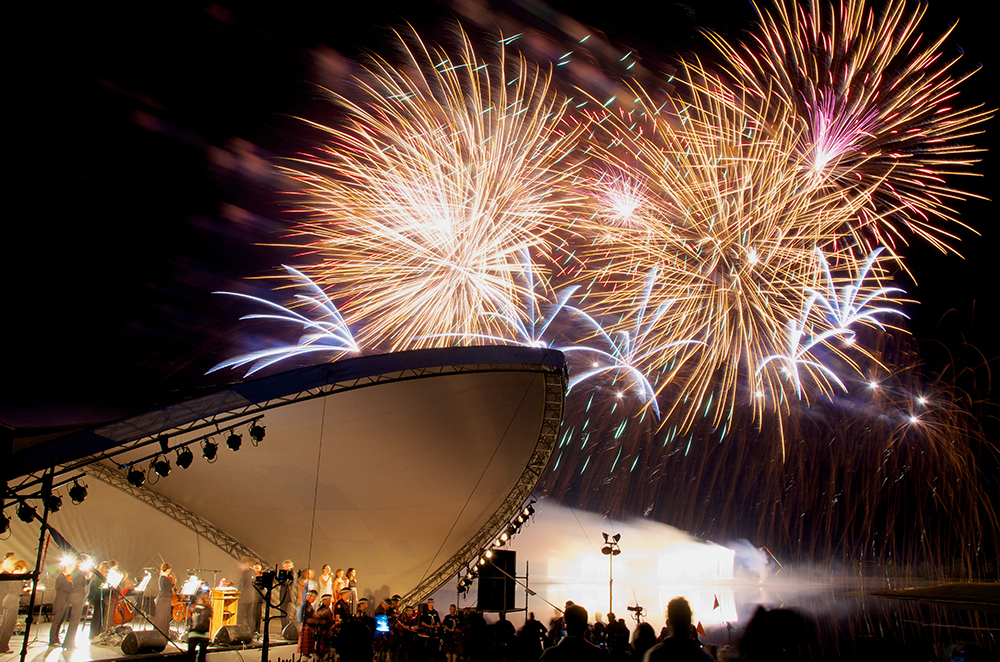 Baptism by fire
July 30, 2016 —
Asper alumnus Ken Goosen remembers exactly how his addiction to fireworks began.
"This major international corporation was holding a conference in Banff and they needed some crazy people to help put on a show for the visiting president. A friend thought I'd be just the guy they needed," he laughs.
"So there I was, part of this torchlight parade skiing down a mountain with 60 seconds of Roman candles mounted on my backpack. Well, that did it. I was addicted to all of it. The high explosives. The smell of sulfur smoke. The artistry of the sky."
The route from that mountaintop to Goosen's current post as producer of GlobalFest – Calgary's second-largest outdoor festival and home to the Calgary Fireworks Festival – was anything but a straight line. In the end, though, it led to a career that combines his passion for fireworks, his commitment to celebrating diversity, and his desire to change lives.
"I'm so fortunate to be producing something I believe in," he says. "We're putting programming together that helps people find escape, find themselves, find their voice."
GlobalFest is a multicultural extravaganza that features cultural pavilions, an international marketplace, and performances from the many cultural pavilions. Each night of the week-long event culminates in a spectacular fireworks finale put on by leading pyrotechnicians from across the globe.
It all began in the early '90s as the brainchild of Winnipeg ex-pats working in Calgary. "We'd all cut our teeth on Folklorama," Goosen recalls. "We'd grown up in a city steeped in celebrating cultural diversity, and now we found ourselves in a place people could have easily called Canada's whitest city, where the diversity is less visible. We saw the opportunity to build something meaningful."
The team took 10 years to develop the business case and launched the festival in 2003. The fireworks festival was a collective idea, one Goosen was now fully committed to, having fully embraced his passion for fireworks. He even worked briefly for a fireworks company, where he designed and sold shows across North America. "We put on a Fourth of July show for the Kennedys in Cape Cod, and many for Bill Gates and Microsoft. We flew a crew up to Nunavut to celebrate Iqaluit's inauguration as a territory. I loved every minute of it. It was like creating music in the sky with colour and movement."
Goosen is even more rapturous when it comes time to talk about GlobalFest's social mission. Calgary was hosting an international summit of world mayors in 2005, and as part of that summit city council adopted principles from UNESCO's Coalition of Municipalities against Racism and Discrimination. The decision to create a Human Rights Forum was an inspiration of his organization and its board of directors.
"That's when we truly found our purpose as a festival: our mandate was now to engage all members of our community in the cultural diversity of the people we share this country with."
To that end, the festival includes a week-long human rights forum – a platform for sharing experiences, knowledge, and practical solutions necessary to address issues of racism and discrimination. In one of this year's sessions, journalist Mohamed Fahmy will talk about media in the age of terror. In 2013, Fahmy was imprisoned by the Egyptian government for over 400 days.
"But there's no end to things we need to discuss in this country," Goosen says, "from our missing and murdered Aboriginal women and the recommendations of the Truth and Reconciliation Commission, to welcoming Syrian refugees into our communities… Society too often defaults to tolerance, when what we need to do is open up and embrace."
More recently, the festival added an urban arts program and youth forum to its programming. The arts program puts "young, hop urban artists from diverse communities" into Calgary schools, where they perform and present their stories to students not much younger than themselves.
"To see the validation these artists get from connecting with these kids is amazing. They're breaking down stereotypes, building communities, changing lives. Some of the artists we hired this year were kids inspired by presenters from previous years."
The emotion in Goosen's voice forces him to pause. "If you help even one person, it's amazing what a ripple that can create. That's what I'm most proud of, and what I continue to work for most— to be a part of that process."
As GlobalFest producer, Goosen not only co-leads the overall operation; he directs the festival's fundraising, sponsorships and corporate partnerships. "We're largely funded by the private sector and from earned revenue. We have over 100 corporate partners with three to five-year contractual agreements, which is pretty rare, and speaks to how much they believe in what we're doing."
An average of 100,000 people a year visit the festival, but its popularity means GlobalFest may soon outgrow its current venue at Elliston Park.
"We're certainly at capacity, and this year's finale will likely sell out several weeks prior to the event. Meanwhile, we're committed to keeping the festival affordable to encourage a multi-generational family audience. So now we're searching for around 200 acres of land we can develop into not only our new home, but southern Alberta's premier outdoor concert/festival venue."
How Goosen came to the world of not-for-profit is another story of unexpected twists in the road.
"I'd just graduated with a commerce degree in business admin and thought maybe I'd end up in sales or management. That wasn't really working out as planned. But then a friend who knew me well said the Royal Winnipeg Ballet was hiring fundraisers and thought, for some reason, I'd be a perfect fit."
He laughs explaining why. "I was a bit of a partier. I'm very social; I love people. And to succeed in this industry, you have to be comfortable talking to all kinds of people about difficult subjects. You're asking them for money. You have to be fearless. Anyway, I knew this was the right place for me when they put me in front of the cameras just a couple weeks into the job for a news conference. I just reveled in it. Before long I was building corporate partnerships and planning special events."
Goosen also serves as GlobalFest's chief financial officer. "Those years of accounting courses have paid off by showing me how to read financial statements and understand budgets," he says, "even though I had to switch majors from accounting in third year because that one tax course turned me off so badly."
The most important thing he gained from his business background, Goosen says, was invaluable hands-on experience in community-building.
"I was part of the original Race for Space campaign to raise funds for the new Drake Centre, and I was director of communications in student council. One of the most important skills I learned there was how to work with faculty — and by that I mean, how to work with your superiors effectively and respectfully. That's helped me enormously because my current role involves working with corporate partners, government officials and board members who are leaders and mentors in the community. Business school was really a huge learning ground that prepared me for everything I do today."