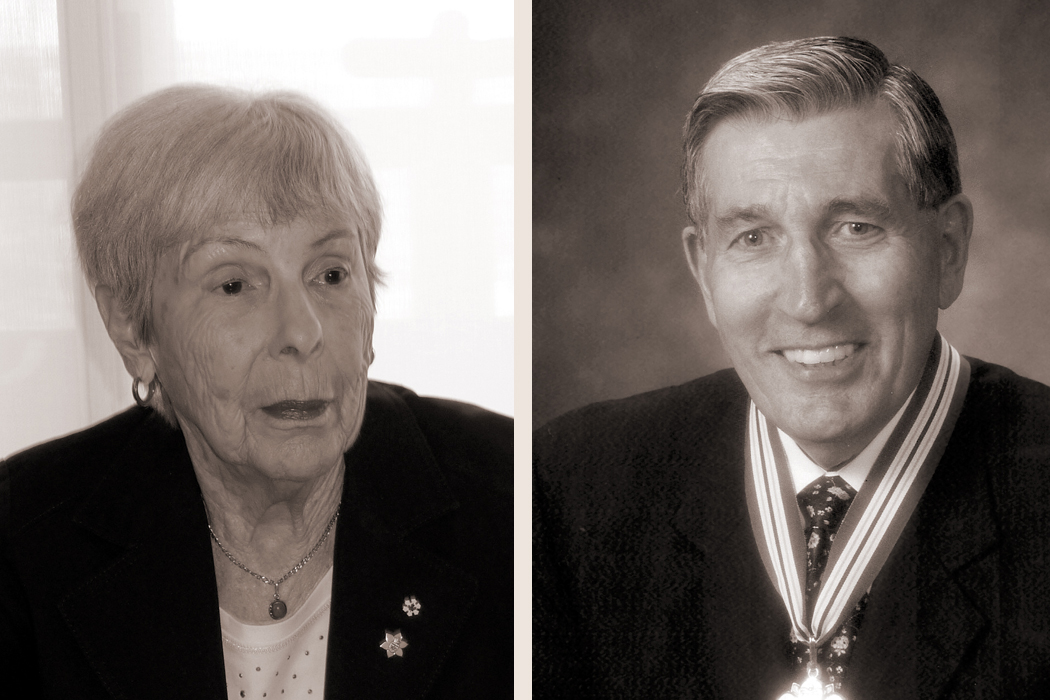 Awarding the highest honour to visionaries
June 3, 2014 —
The highest honour the Senate of a University can confer upon an individual is an honorary doctorate.  At the University of Manitoba the criteria include distinguished achievement in scholarship, the arts, or public service.
At  Spring Convocation 2014, the University of Manitoba will award eight honorary degrees to remarkable individuals.
The recipients of this honour at the June 3 ceremonies are Marjorie Blankstein and Lorne Davies.
Marjorie Blankstein C.M., O.M.
BA(Manitoba), MSW (Minnesota)
Dr. Max and Rose Rady taught their children to live by two principles: kindness and generosity.  Their daughter Marjorie Blankstein embodies these values and displays them with intelligence and grace. Her devotion to her native city of Winnipeg has resulted in many extraordinary contributions to its welfare and citizens.
She graduated from the University of Manitoba with a BA in 1950 and then earned her Master of Social Work degree in 1952 from the University of Minnesota. After her graduation, she married architect Morley Blankstein and devoted her life to her nine children (five by birth and four by marriage) seven grandchildren  and  to volunteerism.
In the 1960s, as President of the Winnipeg Section of the National Council of Jewish Women, and together with the Junior League, she was instrumental in sponsoring a nursery school for Indigenous children. She became the National President of the National Council of Jewish Women in 1977.As a member of the Manitoba Study Committee for Children with Emotional and Learning Disorders, she helped produce a report that advocated for all children to be integrated in regular classrooms instead of being segregated. Later, as chair of the Jewish Child and Family Service Child Care Committee, she was instrumental in establishing a group home for boys. Mrs. Blankstein has continued to advocate for Manitoba's young people throughout her career as a volunteer and has been instrumental in establishing many services, including a youth hostel and Klinic, in the 1970's.
She has shared her wisdom and passion with over 30 different community organizations, including the Winnipeg Symphony Orchestra, St. Boniface Hospital, Winnipeg Library Foundation, the Legal Education and Action Fund, the Rady Jewish Community Centre, Age & Opportunity Centre, the Jewish Foundation of Manitoba, founding member of the Women's Health Research Foundation. She is a Board Member Emerita of the Arthur V. Mauro Centre for Peace and Justice .She served on the board of the United Way, and chaired the 1994 Campaign. She chaired the Capital Campaign for the Asper Jewish Community Campus.
Mrs. Blankstein has received numerous honours for her exceptional service. In 1982 she was appointed a Member of the Order of Canada and the Order of Manitoba in 2010 and she has received the Queen's Silver Jubilee and 125th Anniversary of Confederation Commemorative medals. She was the first recipient of the Sol Kanee Distinguished Community Service Medal from the Winnipeg Jewish Community Council. She has been recognized as the YM/YWCA Woman of the Year (Community Service category) in 1978, Volunteer of the Year (by the Association of Fundraising Professionals of Manitoba) in 2000, and received a Distinguished Service Award from the University of Manitoba in 2003. Most recently, in May of this year, the Canadian Associates of Ben-Gurion University of the Negev honoured her and her husband Morley.
Marjorie Blankstein is a philanthropic leader and cultural nurturer. She is the hallmark of a selfless citizen. She inspires and she amazes. The University of Manitoba is proud to honour one of its own, a woman for others.
Lorne Davies
BA in Education (Western Washington State University); MSc (University of Oregon)
Lorne Davies counseled Terry Fox before and after his valiant run.
For the past 40 years, Lorne Davies has championed sports in Canada and influenced thousands of young athletes – some famous, some not – but all nevertheless enriched by the impact of Mr. Davies's commitment to them and their sports. A former football player and coach, Mr. Davies has long been a pioneer, leader, motivator, teacher and tireless volunteer worthy of recognition, and the University of Manitoba is proud to celebrate and honour him today.
Mr. Davies counseled Terry Fox, a student athlete at Simon Fraser University, before and after his Marathon of Hope. Mr. Davies helped develop the Terry Fox Humanitarian Award Program and is now its executive director, providing support to outstanding young Canadians, encouraging them to pursue humanitarian work while studying in a Canadian college or university. The program has produced more than 75 medical doctors, 50 teachers, hundreds of other professionals in a wide variety of fields and seven recipients of the prestigious Rhodes scholarship. Mr. Davies also raised funds and organized to have a bronze statue of Terry Fox, worth $75,000, displayed on the Simon Fraser University Campus to honour the Canadian hero.
For half a century Mr. Davies has been committed to community service, lending his voice to various causes that foster young athletic talent, including the BC Special Olympics and the Provincial Drugs in Sport Task Force. In 2000, he was appointed to the Order of British Columbia for his lifetime of achievement. Mr. Davies's dedication to transforming sports in Canada has spanned decades and helped inspire generation after generation of Canadians. Just like the athletes whose lives he has touched, Mr. Davies shows us what is possible when we dare to go further and pursue our personal best.
As director of athletics and recreation at Simon Fraser University – a position he held for three decades, from 1965 to 1995 – Mr. Davies created the current gold standard for athletic programs and award funding in Canada. The groundbreaking program he established in his first year there has since been adopted by most universities and colleges across Canada. Mr. Davies's forward-thinking produced the first university athletic endowment fund and the first university athletic awards program in Canada—all during a time when athletic scholarships were being openly shunned. His awards program sparked a change nationwide that has helped post-secondary institutions, including the University of Manitoba, keep Canadian athletes from leaving for more lucrative opportunities south of the border. Mr. Davies's model also aimed to put male and female athletes on equal footing. In the 1960s, women in sport didn't have as many teams or receive the same level of coaching, funding or equipment. When Mr. Davies built his varsity program he levelled the playing field: nine of the 18 teams were female and everyone would receive top coaching, equipment and equal scholarships.
Indeed, Mr. Davies changed the athletic landscape in Canada. But he also directly helped to shape our country's young athletes. He coached 30 seasons of football at various levels, from high school to professional. Mr. Davies assistant coached at Western Washington State University, the University of Oregon and the University of British Columbia; was head coach of the Vancouver Blue Bombers junior team, a special assistant with the BC Lions when they won the 1964 Grey Cup and the first coach at Simon Fraser University. He earned an education degree and Master of Science before joining Simon Fraser University where, under his leadership, their coaches produced the most: players in the Canadian Football League; wrestlers on the Canadian Olympic team; swimmers on the Canadian national team; basketball athletes on the Canadian national team and track and field athletes on the Canadian national team. Mr. Davies has helped develop numerous Olympic athletes and provided guidance on sport, career and life to athletic and humanitarian heroes like Karen Magnusson, Debbie Brill, Dave Cutler, Jay Triano, Wayne Holm, Lui Passaglia and Terry Fox.
The University of Manitoba is proud to award an Honorary Doctor of Laws to Mr. Lorne Davies today for all the work he has done to inspire those who inspire us through sport.