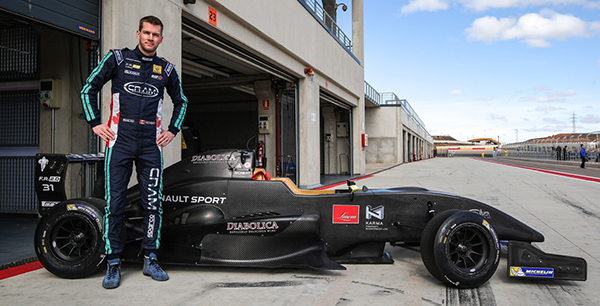 Asper alumnus to race at Monaco Grand Prix
April 26, 2016 —
Congrats to Asper alumnus and race car driver David Richert [BComm(Hons)/06], who recently signed on with Cram Motorsport to race in the Eurocup Formula Renault Championship. The Eurocup has played a part in launching the careers of many current Formula 1 superstars.
Richert's racing season will include the legendary Monaco Grand Prix at the end of May.
For Richert, driving a race car through the streets of Monte Carlo is both a dream come true and a very long way from the Manitoba farm where he grew up:
"I have had the opportunity to visit Monaco on several occasions but I have always refused to go. I wanted my first trip there to be for the purpose of driving a race car. I'm excited that this year I will finally have the chance to live that dream."
It takes big bucks to compete in world-racing championships like the Eurocup. Richert raised the money he needed to race by following a creative business model he adopted shortly after graduating from the Asper School in 2006. He sold shares in his racing career to prominent business leaders and investors – including Hartley Richardson [BComm(Hons)/77], Michael Silver, Don Streuber and Paul Thiessen.
Richert says his business degree gave him the street cred he needed to connect with potential sponsors and partners. "It was the little 'in' that I needed, and then I could talk to them and they could get to know who I am and what I could do."