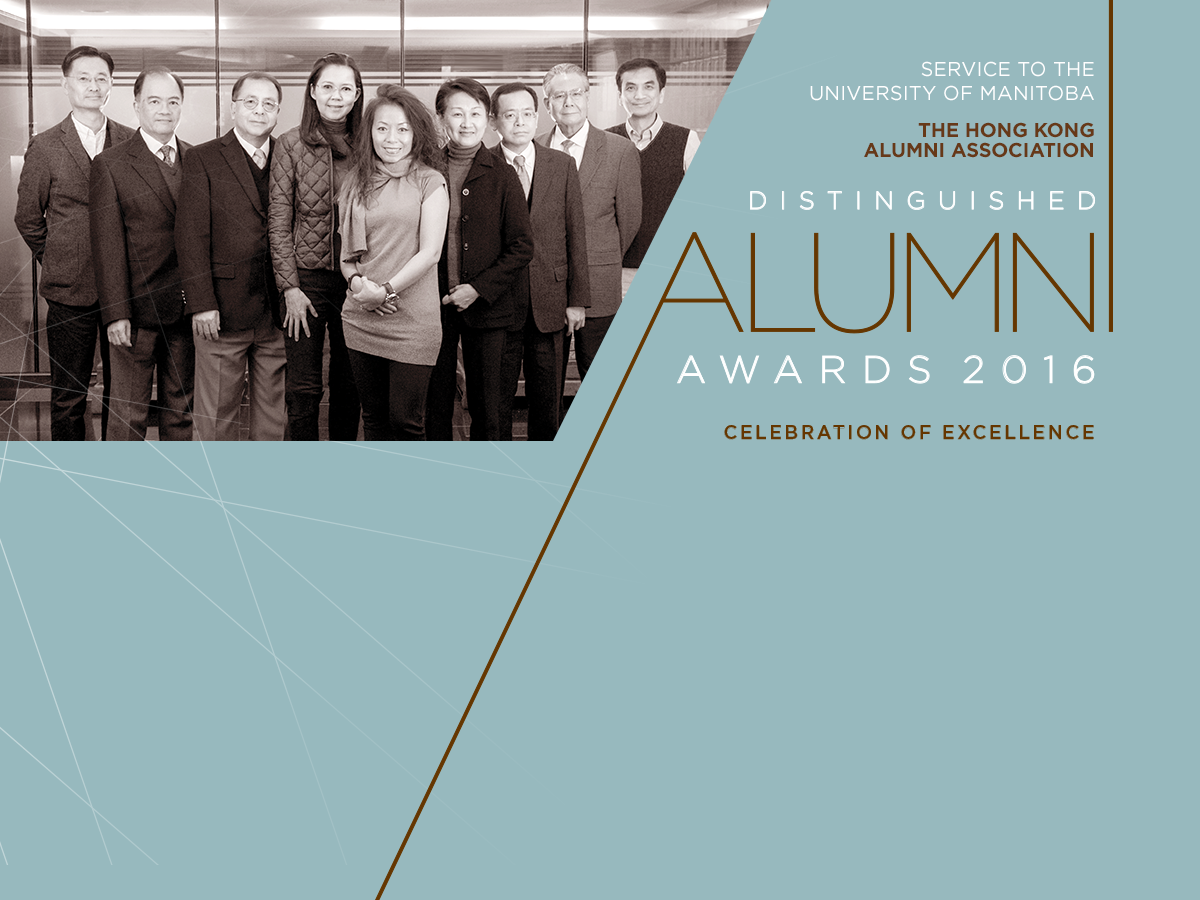 Announcing the recipient of the 2016 Distinguished Alumni Award for Service to the University of Manitoba
The Hong Kong Alumni Association—community builders, volunteers, mentors
March 2, 2016 —
The Distinguished Alumni Awards recognize graduates who have achieved outstanding accomplishments in their professional and personal lives. Join us May 5, 2016 at the Celebration of Excellence where we'll honour our 2016 Distinguished Alumni Award recipients, including the Hong Kong Alumni Association.
To its members, this alumni association feels like family. For more than three decades the group in Hong Kong—home to one of the largest alumni populations outside of North America—has celebrated their alma mater and the ways the University has shaped them. The Association brings together generations of alumni and fosters meaningful, long-lasting connections to the U of M and to one other.
They are dedicated mentors to new alumni returning to Hong Kong, offering guidance and a network of expertise from which graduates begin successful careers. The tight-knit community also enriches the international student population, encouraging the best and brightest to experience the U of M, and then supporting them on their journey.
---
IN HER OWN WORDS
Rita Mui Goodridge [BComm(Hons)/82] is President of the Hong Kong Alumni Association, and regional vice president of sales for Fox Network Group in Hong Kong.
Most of the time it's relationship building, helping out new students coming back if they need career advice or connections. It's almost like a family.
It was important that the founding group were professionals, successful people and genuinely nice. The connection then was helpful to a newly returned graduate.
I came back to Hong Kong in 1982. I knew Judy Cheung who was the first president. She asked me to be involved—that's how I started my involvement with the alumni.
It was nice to get to know the graduates whom we did not know at university. Many returned graduates were more senior than me and they were successful in their lives, in their career or family. It was an inspiration to me.
The first alumni I met were the founding members of the Association—they were open and kind and they just wanted to create a University of Manitoba Hong Kong community. They did a good job to start this. And they still continue to support the alumni when we organize events.
There is strong bonding when you have a common background. We all came from the University of Manitoba. The university had shaped us into what we are today and we often talk about the university days. There is gratitude and lots of unconditional friendship.
My memories of Winnipeg have always been good because I was very lucky—I made good friends there. I guess what I am today is what I learned at different stages. Life in Canada shaped me, gave me some fundamental base to be who I am today. I have very good memories of my time in Canada.
We focus on encouraging alumni to stay active and try to connect to newly returned graduates through information shared from the External Relations office. We reach out to them whenever we have a U of M event.
We offer mentoring and career advice. In Hong Kong it is all about contacts and networking, and sometimes we are able to give them pointers and hopefully guide them through crossroads.
It is very satisfying if you think you can help and make a difference. The idea is not for them to do things through a short cut. They still need to learn from mistakes and grow from there. But we are here to share our thoughts and open their minds broader and wider and embrace new things and new ideas.
We genuinely care about this friendship and bonding. The group then becomes bigger and bigger and the support is always there.
Read more #UMDAA2016.
Thank you to our generous sponsor: The Personal.