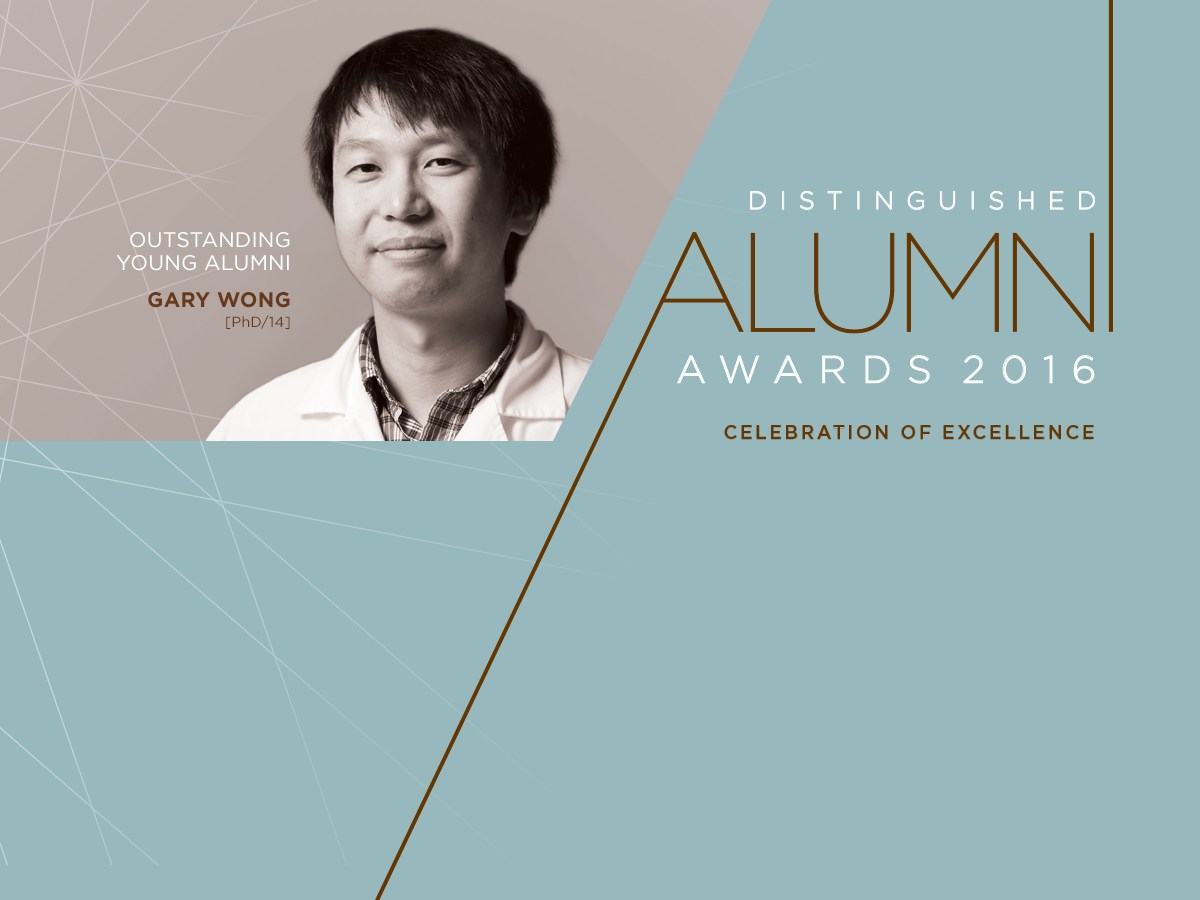 Announcing the recipient of a 2016 Distinguished Alumni Award for Outstanding Young Alumni
Gary Wong—scientist, disease fighter, trailblazer
February 29, 2016 —
The Distinguished Alumni Awards recognize graduates who have achieved outstanding accomplishments in their professional and personal lives. Join us May 5, 2016 at the Celebration of Excellence where we'll honour our 2016 Distinguished Alumni Award recipients, including Gary Wong [PhD/14].
As a U of M graduate student, Wong was part of a Winnipeg team that discovered a treatment for Ebola and saved lives during the outbreak in West Africa. It was Wong who first showed the effectiveness of antibodies derived from the tobacco plant. Fellow scientists say his intuition and diligence in the lab has revolutionized the treatment of infectious diseases.
His findings not only conquered Ebola but inspired the development of antibody therapies for other deadly viruses, including HIV. Wong is now lending his expertise to China, helping the country set up their own infectious disease network.
---
IN HIS OWN WORDS
A lot of people didn't believe that our treatment actually worked. It worked, and it worked well.
Some people think [what I do] is very cool since it's not every day you talk to someone that deals with Ebola. Some people think it's too dangerous and can't believe it.
If you're in a Level 4 lab, any mistake could be fatal. The training part is rigorous and you have to play it safe. We have our own air supply. We wear three pairs of gloves, at least. You have to go through a lot of safety checks to make sure there are no holes in the suits, no leaks in the lab. Once you get used to it, it's no big deal.
One person can't stay in the Level 4 lab for a long time—more than a couple of hours. You are in a suit, you get tired, you get dehydrated. I'd go in, then another worker would go in and take over for me.
When I leave the lab, I go for a chemical shower that takes about six minutes. It kills Ebola or whatever may have touched you. Then you go for a regular shower just so you have no chance of letting a virus out.
I'm trying to set up an infectious disease network in China. In China, you go to a market where you can buy live animals to eat. There are a lot of diseases that can be spread there. Avian flu is a good example. You can buy chicken or duck at the market, and you slaughter it and you may be infected.
I'm also catching live animals and sampling them, seeing what new pathogens there are that may or may not infect humans. Another project I'm working on is current avian flu outbreaks and trying to figure out why people are so sick.
Influenza is a big potential threat to the planet because it's everywhere—mostly carried in birds, chickens and ducks. Wild birds can also carry it. We don't always hear about avian flu because there are not a lot of cases but it could happen anywhere.
I immigrated to Canada when I was 10 years old. Things weren't easy at first. We were living off savings for a couple of months, had to find a place to live. It took a lot to get everything settled. It was a bit of a scary experience but we survived and because of that, I'm not afraid to take risks. Sometimes you just have to take risks.
When I came to Canada, I was surprised how there was no homework in school. It was a huge thing in Hong Kong. There were six or seven hours of homework a day. My mom thought something was wrong and I didn't understand the teacher's English.
My family is very supportive. They have no clue what exactly I'm doing or understand it fully but they've always been supportive.
Students doing research have to keep in mind they aren't the first to run into difficulty, nor will they be the last. Persevere and things will get better. You try and try treatments over and over—it can be frustrating. Even when you get things that don't work over and over, just keep trying. Trying to get things published, too, can be a lot of trouble and effort, a lot of rejection. But keep persevering.
Read more #UMDAA2016.
Thank you to our generous sponsor: The Personal.