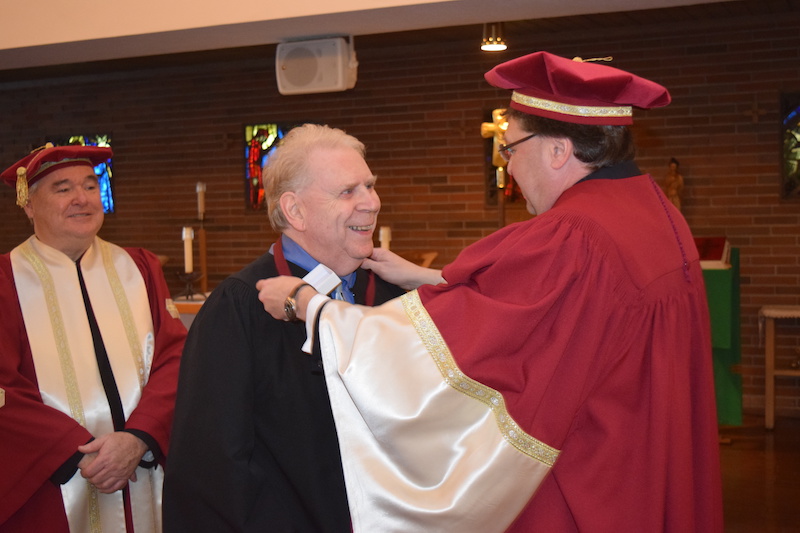 Alumni receives honorary membership to St. Paul's College Assembly
January 31, 2017 —
On Jan. 22, St. Paul's College conferred upon Mr. Ronald F. Smith [BSc/66, BEd /71, Post Bac Ed/91] an honorary membership in the St. Paul's College Assembly. This is the highest award the Assembly can bestow and is granted to few people; recipients must represent the Ignatian Tradition through a lifetime of distinguished service, being a "man and woman for others."
While a student at the college, Smith helped introduce the First Folk Mass at St. Mary's Cathedral and founded the college's first Folk Mass in the fall of 1965. In 2015, Smith reunited with original vocalist Jerry Dykman [BA /68] for a special 50th Anniversary Folk Mass celebrated at the college in the Christ the King Chapel.
Smith served as the College's recruitment officer from 2006-2015, where he spoke to hundreds of parish communities to invite potential students to attend St. Paul's College from all over Manitoba and Lake of the Woods, Ont., including the three dioceses: Archdiocese of Winnipeg, St. Boniface Archdiocese, and the Ukrainian Archeparchy.
Smith also contributed to the 2015 book, St. Paul's College: Facing the New Millennium, writing about his memories as a student at the college, as well as his time as recruitment officer.
When asked what was his secret for service, Smith replied, "The question going through my mind right now is not so much about what qualities I brought to the college, but which of these were germinated and developed in me by the college while I was a student here so many decades ago."
He added, "St. Paul's is not just a place for learning but is also a place for formation. As for any of my rather meager contributions, I recall that St. Mother Theresa once said, 'Do small things with great love'. Throughout its history, and it's still true today, many, many people have had a passionate love for this college, and to have my name added to that list is very humbling. Thank you for this profound honour!"