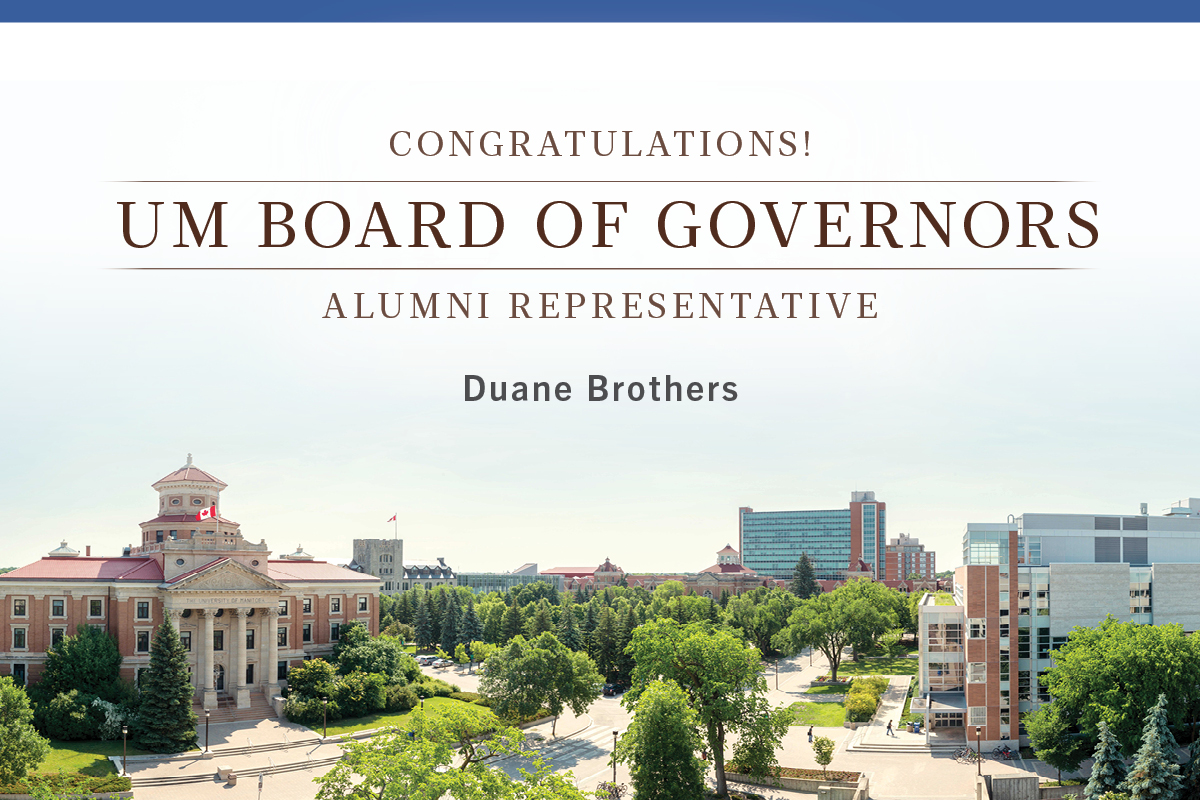 Alumni, meet your representative
Three-time grad elected to UM's Board of Governors
May 26, 2021 —
Duane Brothers [BA/82, BEd/84, PhD/17] has been elected by his fellow alumni to bring their voice to the University of Manitoba's Board of Governors.
Brothers achieved his undergraduate and graduate degrees at UM before starting a career in education where he has been a teacher, principal, assistant superintendent, and a superintendent in school divisions across Manitoba. He was the first person in his mother's family to attend university.
"From a young age, I have always loved learning. Instead of Superman comics as a kid, I read "Classic Comics" that explored history," said Brothers. One in particular was called "Negro Americans" that highlighted the talent of people who paved the way for people like myself. I was blessed to have great teachers and was drawn to the idea of contributing to highly diverse communities which led to my first teaching experiences at Daniel McIntyre in Winnipeg's west end. I have gained so very much from the University of Manitoba and it's now time for me to give back."
As an administrator, Brothers has over 20 years of experience in leadership, organizational management, budgeting and human resources. He has vigorously recruited and hired UM teacher candidates to each of his school divisions, citing the quality of graduates that come from the university's Faculty of Education.
"So many of the people I Iook up to are UM alumni. From literally dozens of teacher colleagues, people working in health care like my good friend Anthony Kaufman, who is a neurosurgeon, to Paul Soubry who chaired UM's Front and Center campaign. So many powerful people who are making tremendous contributions to our community. I am most excited about having the opportunity, in little ways, to discuss how as a Board, how we can ultimately improve educational experiences for our students."
In the community, Brothers has served on the Board of the National Principals Leadership Institute in NYC, was on the Cabinet of the United Way, the Board of the Manitoba Association of School Superintendents, and is currently the board chair of Special Olympics. He is also a proud fan of the Bison women's basketball team where his daughter, Keziah Brothers, was a team captain.
Brothers is the successful candidate out of 11 alumni who stood for election this year. There are three alumni representatives on UM's Board of Governors who help guide the direction of the university, make a difference in the lives of students and the community, and provide an alumni perspective in UM governance.