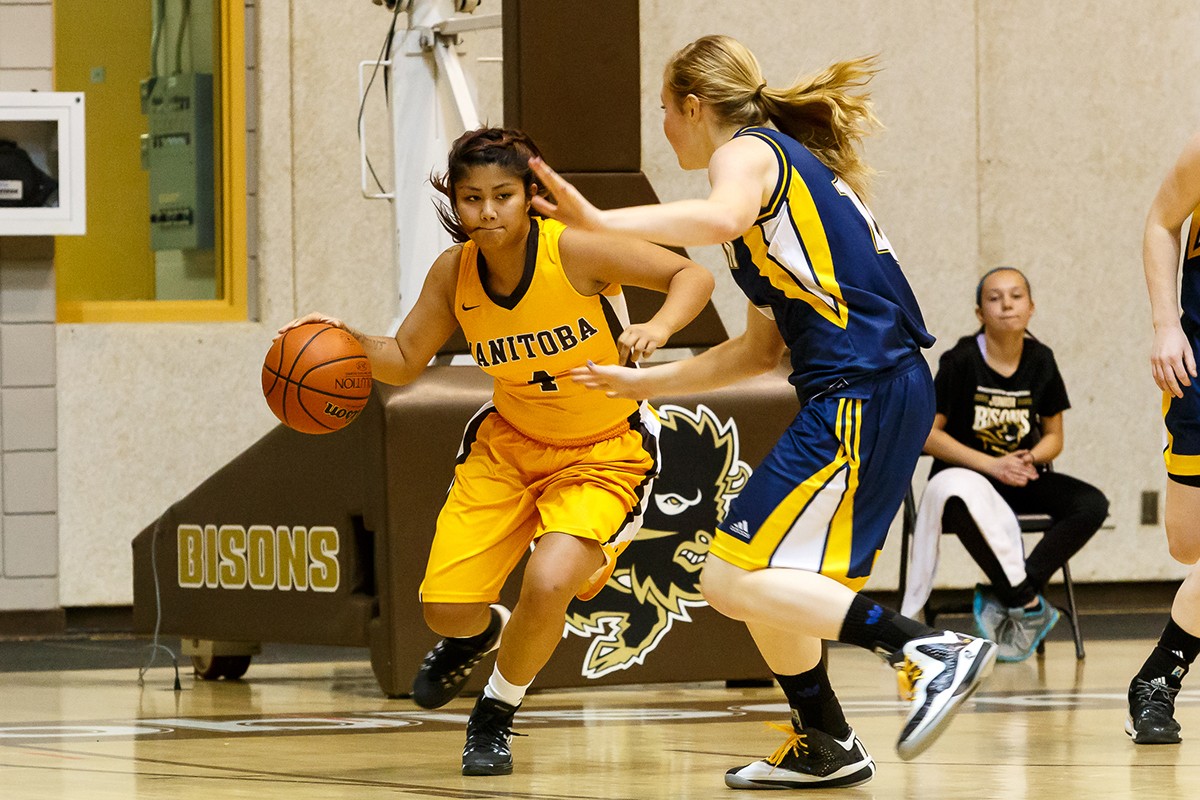 Alumni, cheer the herd!
September 16, 2015 —
They are leaders. The University of Manitoba Bison athletes compete at the highest level of Canadian Interuniversity Sport (CIS) and this year is shaping up to an exciting season for all teams.
"We have a very young team, who are athletic and passionate. We expect to see a more up-tempo game and relentless defensive effort," says women's basketball coach Michele Hynes.
Hynes is a Bison alumna who played for the team she now coaches. She graduated from the Faculty of Kinesiology and Recreation Management in 2009. She says she has a special bond with the team because of the history she shares with it.
"It is a part of me. It's home. Getting the opportunity to coach in the CIS is a privilege but getting to do it at U of M is extra special because of the opportunities the school gave me as a student and the existing passion to see bison sports be successful."
The bond extends beyond student athletes and runs deeper than the Bison herd. These teams help create memories for students and in turn create a sense of pride in all U of M alumni. Grads of all ages can relive their student experience simply by attending a game.
"It's a great way to reconnect with the student experience while supporting current student athletes," says Hines.
Bison men's volleyball coach, Garth Pischke agrees. He played volleyball with the Bisons nearly 40 years ago, helping the team win a CIS national championship in 1977/78.
Pischke has brought men's volleyball to new heights and considered one of the most successful coaches in North America, breaking a continental coaching record with 1,240 wins. Pischke has also earned nine national CIS titles as a coach and collected 22 medals in 25 national championship appearances.
"I am a proud Bison, and very proud of the reputation that Bison Volleyball has in North America," says Pischke. "After being here for so many year's I feel very close to the program and have built it up to be one of the most respected programs in the country and has been for the past 35 years."
If watching the Bison alum and the team under him smash more records isn't enough motivation to see a game, the action on the court will be. Pischke says the team will challenge for a medal nationally with fast, powerful, and exciting brand of volleyball.
"We are in a tough conference but we expect to finish top three and move on to the national championships. All of our matches will be exciting and competitive. We have some of the best athletes in the country on our team and we will play very hard.
See it live!
Home games are free for current U of M students and Alumni Brown and Gold season tickets are only $45, giving access to 60 games for all teams except football. Brown and Gold passes are available at the Active Living Centre or any Bison Sport ticket counter on game days.
The Homecoming football game has the Bisons taking on the Regina Rams in a battle of the prairies. Alumni can watch the game for $10 a ticket. Full details are available on the Alumni Relations page.
Another way to spread your Bison pride is to celebrate on Alumni Nights where U of M alumni pay just $5 a game.
ALUMNI NIGHTS
Soccer: September 27 vs Lethbridge // 2:00pm
Volleyball: October 16 vs Saskatchewan // 6pm (men), 7:30pm (women)
Men's Hockey: October 24 vs UBC // 7:30pm
Women's Hockey: January 30 vs Saskatchewan // 4:00pm
Basketball: February 5 vs Winnipeg // 6pm (women), 8pm (men)*
*Duckworth Challenge 25th anniversary
For complete schedule and ticket information, visit gobisons.ca.