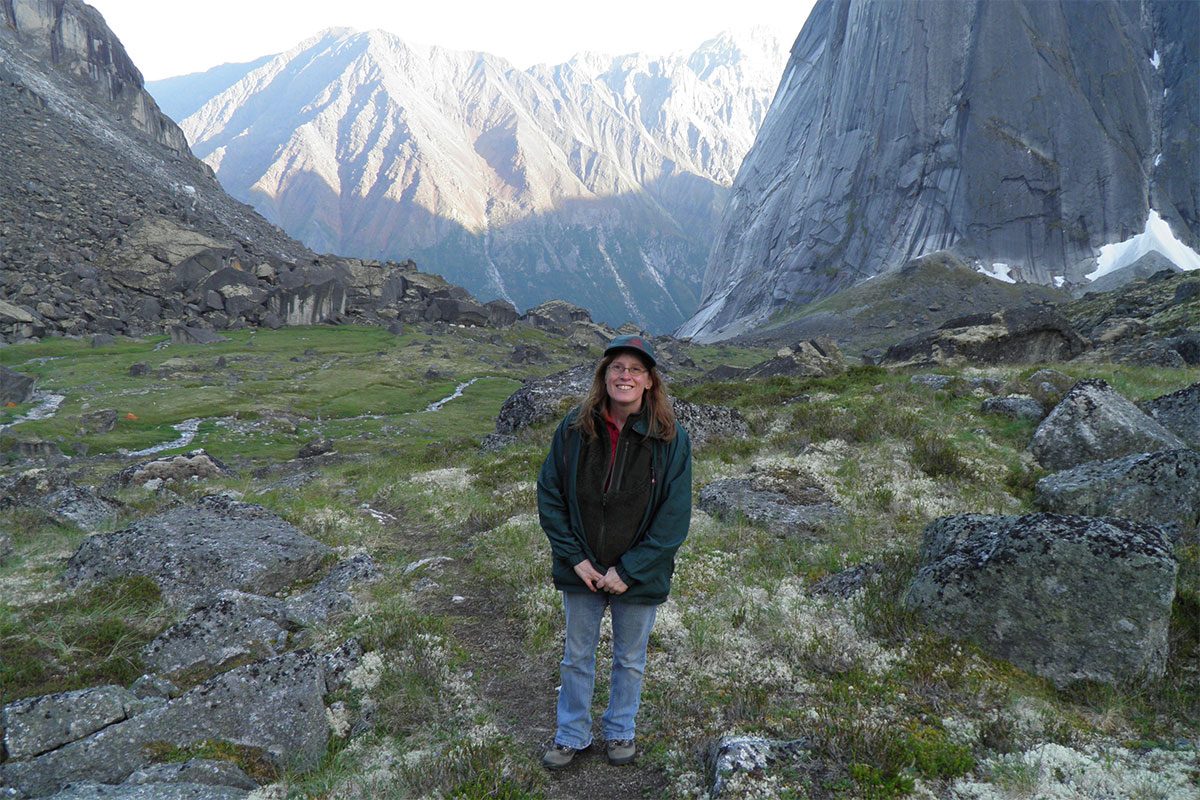 Alumni At Home: Yes, we have no dinosaurs
July 16, 2018 —
Donalee Deck's career has turned her into a bit of a nomad. At any given time, you might find her traipsing across the Yukon and Northwest Territories, flying to remote areas of the Arctic, or staying closer to home in Manitoba, Saskatchewan, or Alberta.
Such is the life of an archeologist, and Deck [MA/89] is one of two working for Parks Canada at their Winnipeg office, excavating at historic and Indigenous archeological sites.
In anticipation of Canada's Parks Day on July 21, we're featuring alumni like Deck who live and work in our nation's parks, historical sites and special places; alumni who get to call these Canadian treasures their "office".

UM Today caught up with Deck at home in Winnipeg as she prepares for her next excavation in the Northwest Territories.

UM TODAY: MOST OF US KNOW WHAT AN ARCHEOLOGIST IS, BUT YOU ALSO SPECIALIZE IN PALEOETHNOBOTANY. CAN YOU EXPLAIN WHAT THAT IS?

DECK: Paleoethnobotany is the study of plant remains, which can enhance our understanding of the material we recover from an archeological site – what season of the year people were there, the types of plant resources they were utilizing and recovering tiny artifacts that we cannot recover during excavation.

For example, from wood charcoal that we find in fire pits we can identify what species of wood is preserved in charcoal and that can tell us people's cultural selection of wood use, the changes in the environment over time, and all kinds of cool things.

I did my honours thesis on charcoal analysis, and that's actually why I came to the U of M for my masters. At the time, there were only two professors in Canada who did paleoethnobotany, and only one doing charcoal – Dr. Tom Shay. I was his last graduate student. I was so fortunate to have him as an advisor; he was incredibly supportive and I learned a lot from him.
WHAT'S BEEN YOUR MOST REMARKABLE FIND?

There's too many to mention! Everything from a burnt maize cob to a scraper with fish residue that was more than 5,000 years old. I have had such wonderful opportunities. What I'm interested in is not a "goody" but discovering what life was like hundreds, thousands of years ago.

A lot of people think of treasure when they think of archeology, and some people really like finding a fancy ceremonial piece. But I get excited about butchered bone and what it means. For me, it's all about the stories that go around it. What did people do every day? What was their technology like? How did they interact with other groups of people?

When I was at Prince of Wales Fort, we found these barrels that had a rectangular hole cut into the side and a little nail at the top. We couldn't figure out why somebody would do that.

Then I read the book that James Isham – Governor of Prince of Wales Fort – wrote in 1743 called Observations on Hudsons Bay. In his book he draws a vermin trap. They had trouble in the winter with foxes getting into their stores to eat their food. So they would put three barrels in a circle and cut a hole in the middle where they mounted a pistol. Then, a string was tied to the trigger which hooked on to a nail at the top of the barrel and also went to the bait in the middle of the circle. When the fox took the bait it got shot from three directions.

To see the drawing and then actually find one of these things discarded in the ramparts was pretty cool. Oh, there's so many cool things we've discovered at Prince of Wales Fort.
YOU'VE BEEN IN THE FIELD FOR OVER THIRTY YEARS. WHAT'S THE BIGGEST MISCONCEPTION YOU HEAR ABOUT ARCHEOLOGY?

That we dig for dinosaurs.

My brother also said to me years ago: "You have the most selfish job. You get to go on these adventures and recover this stuff and then it sits in a building and no one gets to see it." That's kind of true, but I've tried my entire life not do that and really share what we find. It's everybody's.

I feel it's really important to work with Elders, the Knowledge-Holders, from the communities that are connected to the places that we go. We can excavate artifacts and we can do the Western Science analysis of that material but to really put it into context and understand what life was about, you have to work with Elders. A lot of times the artifacts will bring back stories and you get a more meaningful connection. That's what I find exciting: to make it all relevant.
CAN YOU TELL US ABOUT SOME OF THE STORIES YOU'VE HEARD?

A couple of years ago I got to work in Sirmilik National Park, which is in the high arctic on the Northwest Passage. Elder Elijah Panipakoocho from Pond Inlet was with us, and I got to spend a week working with him recording traditional knowledge stories and cultural features on the landscape. Who doesn't like to talk to their grandparents and hear stories about the past? It was like that with him.

We were excavating a traditional Inuit sod house and he had lived in one until he was 14. All we have is the foundation of these sod houses and he would map the outline and go: "Well, here's a meat cooler, and a porch. This guy had two wives, there are two sleeping platforms."

He shared amazing stories about how sod houses were constructed, the types of activities he did as a child, and the medicinal uses of plants and animals. There is a little layer beneath a seal's skin before the muscle that would be used as Band-Aids and medicine. My God, I learnt so much from that man! This was a known archeological site and there were so many things that people hadn't identified which he did – these rock features were puppy enclosures, this change in vegetation on the land was a blubber storage area.

It really drives home the fact that we need to work with people. He brought to life the landscape, features and artifacts with his stories and taught me more than I could have ever hoped to learn through archeological investigation alone.

IT SEEMS LIKE YOU'RE ALWAYS LEARNING NEW THINGS AND VISITING NEW PLACES. IS THERE ANYTHING ABOUT YOUR JOB THAT YOU FIND CHALLENGING?

It's hard work and very labour-intensive when you're excavating soil. I did a trail survey last year where we were walking 12 kilometers for multiple days plus doing our work and it was really hot.

When we go up North, we're taking helicopters or float planes so we'll work straight through, sometimes for 10 days. You don't know when you're going to have a bad weather day and not be able to get back so there's just a small window of time to get the project done.

But I'm so lucky – it never gets dull or boring; it's a constant adventure. I get to go to places that I never would if I didn't do this job, and I get to experience nature and wildlife in a setting that I never would. At Prince of Wales Fort we have to cross the Churchill River. We get in a boat and the beluga whales follow us across. Before we get to work, the site is cleared for polar bears. Grizzly bears, polar bears, black bears … there's always bears where we're working.

THAT SOUNDS DANGEROUS.

I have definitely worked where there have been some scary bear moments. In Churchill, we have bear monitors who work with us. They're watching us because we work with our heads down. If there's a bear, we'll go into a safe place and if they have to, they'll chase them with quads to keep them away.

One of the quirky things when you're up North is you don't talk about them, you don't say "bear". If you call them, they will come. So people have different funny names for bears: "The Unmentionables", "The Big Guy", those kinds of code names.

IF YOU COULD LEAVE BEHIND ONE THING FOR AN ARCHEOLOGIST TO FIND 1,000 YEARS FROM NOW, WHAT WOULD IT BE?

Oh, that's a tough one. I can't think of one thing I'd leave behind because I think the technology will be so different. Perhaps they will be looking at DNA signatures of where people were, instead of old journals handwritten on paper.

I've seen people do it, though. If we're revisiting a site that other people have worked at, some archeologists leave a coin with the year on it. I've been at a site where an archeologist has left behind a little plastic shovel and pail at the bottom which is kind of funny.

JULY 21ST IS CANADA'S PARKS DAY. WHAT WOULD YOU SAY TO ENCOURAGE CANADIANS TO VISIT OUR NATIONAL PARKS?

You don't have to go far. We have so many national parks and historic sites that it's easy to find one that's close to you. Or, if you have the opportunity to travel across provinces, try and integrate a national historic site into your trip because they're all different – they've all been designated for different reasons – and you'll just get a better appreciation.

A lot of the parks I really like, up North, aren't as accessible. In Manitoba, Riding Mountain National Park is a fabulous place to visit. They have a bison herd there and there's the lake, lots of trails. The east side of the park is quite different from Wasagaming, the town-site.