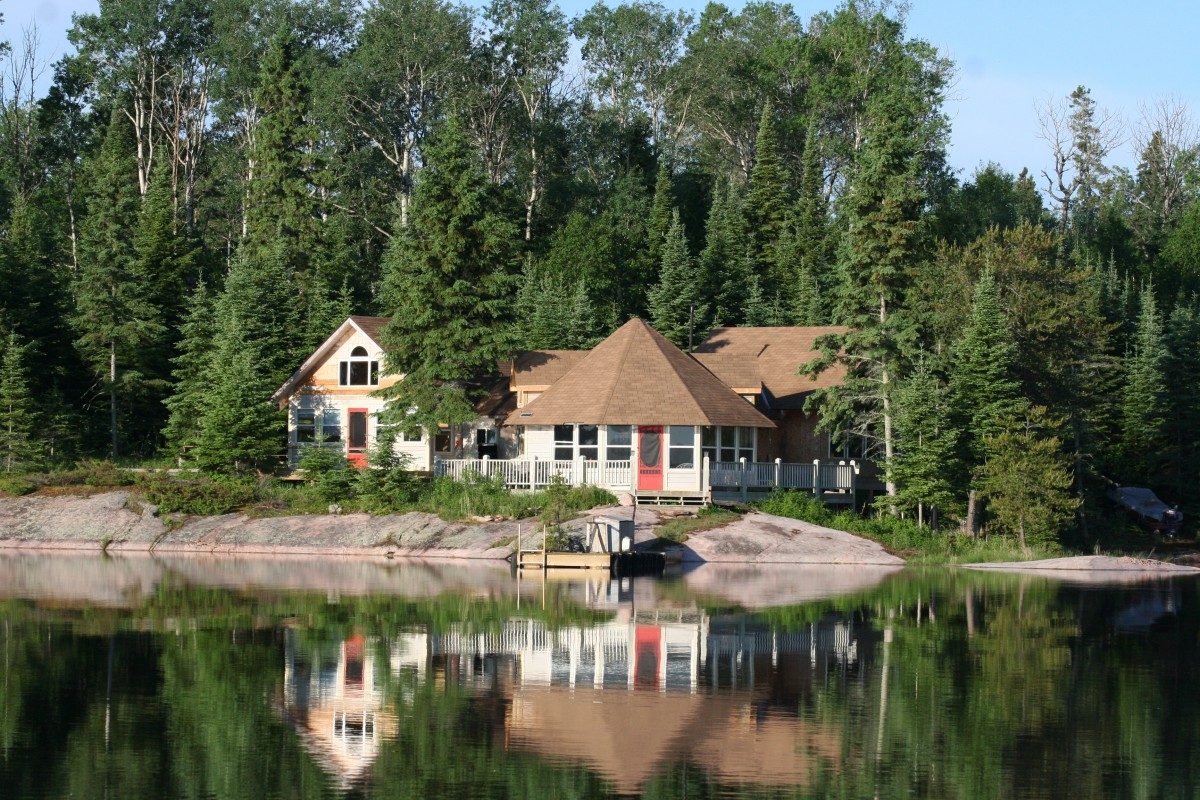 Alumni At Home: All bets are off at The Cottage
April 12, 2019 —
It's a scene that has played out among many Manitoba families, but never on stage: the family fallout that ensues from inheriting a cottage.
Enter Jake MacDonald, playwright.
His appropriately-titled comedy drama The Cottage looks at this Canadian conundrum in the round, and from a perspective three decades in the making. It premieres April 24 at the Royal Manitoba Theatre Centre.
Although this is his first stage play, MacDonald [BA/71] has built a highly successful career as a writer since he abandoned his master's degree to live on a houseboat in Minaki. His novels, short stories, magazine articles and film scripts are all set against the backdrop of the Canadian Shield with characters who reflect how people behave once they've left their structured, socially-constrained life in the city.
The wilderness, as MacDonald tells it, is "where all bets are off."
He sat down with UM Today to talk about his play and the larger question of what happens to us when we escape to the woods every long weekend.
WITHOUT GIVING TOO MUCH AWAY, CAN YOU EXPLAIN WHAT THE COTTAGE IS ABOUT?
It's Labour Day weekend. An aging matriarch and her kids gather and during dinner she says "OK, listen, this might be my last visit to the cottage, I'm not getting any younger." The kids implore, "oh mom, you're going to outlive all of us" etcetera. She says "nevertheless I want you to take over the cottage and I want you to figure out how you're going to do that this weekend. There's only one rule: no fighting, no arguing."
AND SO BEGINS A VERY CANADIAN PROBLEM.
Yes, because when people inherit cottages it's famous for tearing families apart. In fact, I heard a guy on CBC Radio who's an expert on this and his advice was to not do it. Sell it, split the dough and get your own places. It's very difficult to live under the same roof when you've all grown up and gone your separate ways.
Another element to the story is how the cottage experience is uniquely Canadian, and how important it is for Canadian people and our culture to have some sort of connection to the wilderness. I don't think the average American would care about whether they know how to pitch a tent or paddle a canoe or clean a fish. There's subcultures in the U.S. that care. But I think Canadians have a national pride in knowing their way around the outdoors. Cottages are a symbolic way of connecting to the wilderness and the outdoors. I think that's part of what people will take away from the play too. It's a salute to the importance of the outdoor experience for the Canadian identity.
DO YOU THINK WE BECOME DIFFERENT PEOPLE WHEN WE'RE "IN NATURE"?
It's an important part of our personal value system so one can argue that you feel more complete when this stuff's pulled together. Randall, the play's main character, says she's a better version of herself when she's at the lake. If you take the idea that, for the most part, life is lived on a mundane, day-to-day level then to get out there and be her ideal self, she's living on a higher level. So Randall's preoccupation is "what if I just moved here? What if I just never left?" She wants to live the rest of her life on the ideal plane. It's the ideal vs the pragmatic and those two things are on a collision course throughout the play.
YOU'VE SPENT MOST OF YOUR LIFE IN THE WILDERNESS OF THE CANADIAN SHIELD. WHAT HAVE YOU LEARNED ABOUT HUMAN NATURE FROM THIS?
I found living in Minaki to be like Noah's Ark. You have one of each kind of person all trying to get along with each other. Small towns really are good for meeting and getting to know people well who are from different walks of life.
AND GOOD FODDER FOR STORYTELLING.
That's right. It wouldn't be typical, even in Winnipeg, to talk in depth off duty about what it's really like to be an ER doctor, for example. But in a small town, the doctor is the one you're staying up late with at night finding out about their work, or the town cop, or the local trapper or whatever. You get to know these people and you realize a lot of your stereotypical ideas don't hold up. Everybody knows lawyers are conniving. But wait a minute, I know about 10 or 12 lawyers and none of them are like that! But that's the stereotype against the reality of it.
CAN YOU GIVE AN EXAMPLE OF HOW YOU USE THIS IN YOUR WRITING?
The older brother (in The Cottage) is a bit of a bombastic fellow who's pleased with himself. He's a dentist, he's got lots of money, he's got a young girlfriend and he's a bit of know-it-all. There's different ways to play him. You could play him as a straight-ahead bombastic fool so when he says "look, I just want want's best for everyone" everyone will go "oh yeah, sure". Or he could say it with a little extra layer of irony which makes him more of an interesting character. He knows. There's more self-knowledge there.
TYPICALLY, THE ONUS IS ON THE WRITER TO EXPRESS THEMSELVES. IN THEATRE, YOUR WORDS ARE TAKEN OFF THE PAGE AND ACTED OUT BY SOMEONE ELSE. HOW HAS IT BEEN, SEEING YOUR WORDS AND IDEAS PERFORMED?
The collaborative process at RMTC is to come up with all kinds of ideas. I either say that's not gonna work and this is why or I don't like that but this is a good idea. There's a scene in the play where Randall and her mom are eating breakfast and her boyfriend unexpectedly shows up – which is complicated because she's having a fling with a local guy at the lake.
In my initial script, they just walk in and she goes "so nice to see you honey!". But one of the actors suggested her brother says "OK close your eyes" and he puts a bandana around her eyes and then the boyfriend walks in and goes "surprise!". It's just a little touch but one of the reasons why that's a great idea is I'm a person who writes stories on the page – but that's a visual device. Anytime you can act something out – they're actors – let them act it out. It takes a bit of work or time to get used to the idea of doing things physically so people can see it happen without getting told about it happening.
---
For tickets to The Cottage, please visit the Royal Manitoba Theatre Centre website.