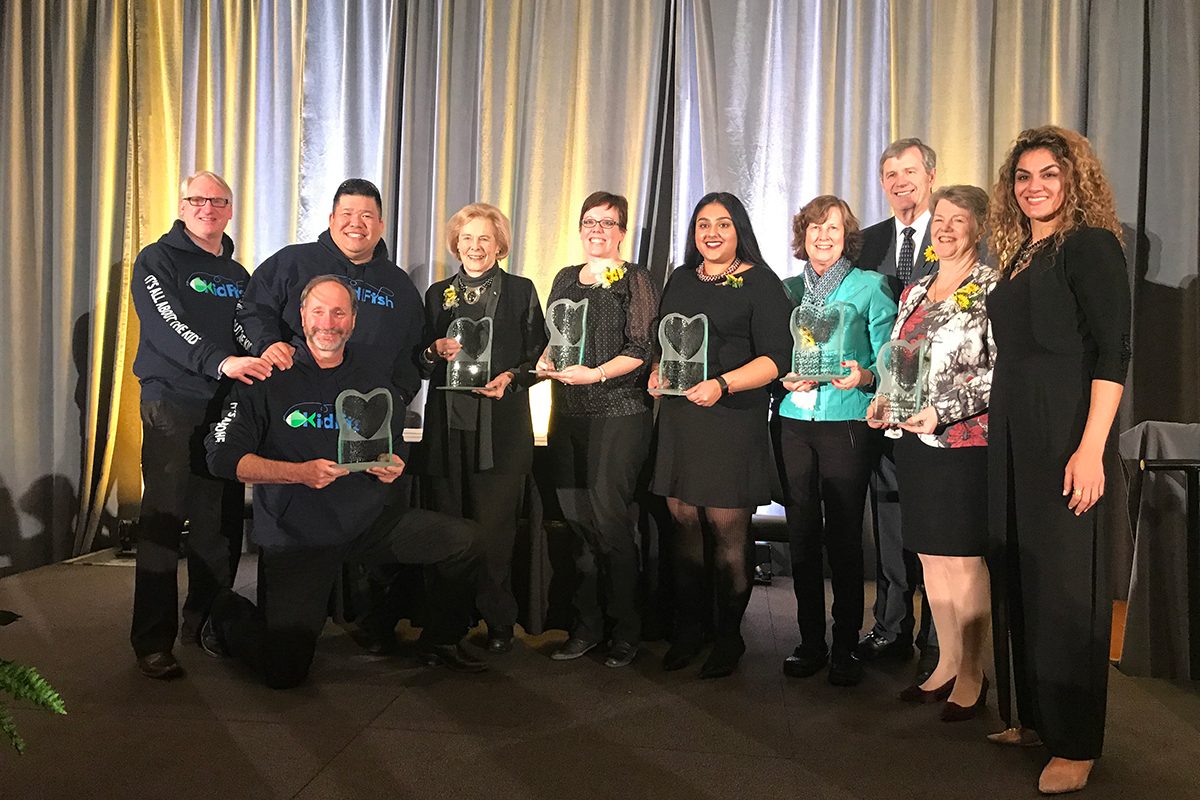 Alumni and friends nearly sweep the board at Manitoba Philanthropy Awards
November 15, 2018 —
The Manitoba Chapter of the Association of Fundraising Professionals announced this year's recipients of the Manitoba Philanthropy Awards, with University of Manitoba alumni and friends named in five out of the six categories.

Tanjit Nagra [BA/18], Gregg [BComm(Hons)/76, CA/79, LLD(Hon)/18] and Mary Hanson [BA(Hons)/76], Joan Blight [BA/75], and Tannis Richardson [BScHEc/48, LLD(Hon)/12] were honoured at the annual National Philanthropy Award Luncheon in Winnipeg on Nov. 15.

Qualico, a prominent supporter of the U of M – notably through the Qualico Bridge to Success Program–received the award for Outstanding Large Philanthropic Organization.

"Having been the recipient of their generosity many times over, the University community has always known that these individuals embody the highest calibre of philanthropy," said David Barnard, president and vice-chancellor of the U of M. "To see them recognized locally and nationally through the Manitoba Philanthropy Awards makes all of us exceptionally proud of them and their achievements. On behalf of the University, I extend our heartfelt appreciation and congratulations."
Tanjit Nagra – Outstanding Youth in Philanthropy
For many years, Tanjit Nagra [BA/18] has strived to make a difference in the lives of students and the communities in which they live and work. First as co-president of her high school student council, then as vice-president of the University 1 Student Council, and most recently as president of the University of Manitoba Students' Union (UMSU).

She oversaw UMSU's contribution of $16.2 million toward the university's Front and Centre campaign which doubled the number of research opportunities for undergraduate students and helped create the UMSU Indigenous Award of Excellence. With the help of government partners and the university, she also ushered in a flexible health and dental plan and a universal bus pass, and helped establish a full-service community bike shop on campus.

Outside of the university, Nagra has worked to improve life for Winnipeggers, including fundraising for Heart and Stroke, collecting food donations for Winnipeg Harvest, serving on the Library Advisory Council, as well as the Marlene Street Resource Centre: a drop-in for immigrant/refugee and low-income families.
Gregg and Mary Hanson – Outstanding Volunteer Fundraisers
As humble as they are prolific in their generosity, Gregg and Mary Hanson have quietly but greatly impacted the lives of many in Manitoba.

During his tenure as president and CEO, Gregg [BComm(Hons)/76, CA/79, LLD(Hon)/18] transformed Wawanesa Insurance into Canada's largest mutual insurance company. But as his influence in business grew, Hanson and his wife Mary [BA(Hons)/76] also became a major force in the community.

Gregg has volunteered with many community organizations including the Arthritis Society of Manitoba, Salvation Army Grace Hospice, The Winnipeg Foundation, Habitat for Humanity, United Way of Winnipeg, the Winnipeg Boldness Project and the Bear Clan Patrol.

A highlight of his volunteer service was with the 1999 Pan American Games, which he counts as the toughest but most rewarding of tasks. As chair of finance, he brought the event to a successful close with a surplus of $8 million – a legacy that continues to benefit sports programs in Manitoba.

Mary has also given generously of her time, including to the Junior League of Winnipeg, Manitoba ALIVE, and working to ensure the ongoing viability of Rossbrook House. She received the Premier's Volunteer Service Award for her extensive work with the Manitoba Children's Museum.
Joan Blight – Outstanding Professional Fundraiser
Since graduating from the University of Manitoba with a degree in psychology, Joan Blight [BA/75] has used her knowledge of human behaviour to inspire charitable giving across Canada.

Starting out in the philanthropic sector in the 1980s, Blight quickly honed her skills in developing relationships that motivate and connect people to their communities and their needs. She directed seven annual United Way campaigns in three cities, each raising from $4-39 million, and helped the Assiniboine Park Conservancy raise $31 million for their capital campaign in less than three years.

In 1989, she founded Strategic Philanthropy, a consulting firm that organizational and fund development services to local, national and international charitable organizations in education, health, human services, the arts and international development.

She currently serves as director of the Canadian Association of Gift Planners Foundation, advocating for a better world through strategic charitable giving.
Tannis Richardson – Outstanding Philanthropist
A dedicated donor and volunteer of numerous health, cultural and social service organizations, Tannis Richardson [BScHEc/48, LLD(Hon)/12] is an enthusiastic champion of her community and the people within it. Two years after graduating from university, Richardson joined the Winnipeg Art Gallery as a volunteer and, in light of her exceptional service, became one of the first members of the Advisory Council of the Volunteer Associates of the WAG, a position normally reserved for past WAG presidents and board members.

In 1995, Richardson and her late husband George acted as honorary co-chairs of the Foundations for Health Campaign, an ambitious and successful project between the Health Sciences Centre Foundation and the Children's Hospital that resulted in a new research centre.

In fact, there are few communities, organizations or causes in Manitoba that have not benefited from Richardson's selfless generosity. She has served on the boards of Rainbow Stage, the Manitoba Opera Association, the Winnipeg Symphony Orchestra and the Canadian Association of Youth Orchestras. She has also supported the Canadian Foundation for AIDS Research, the Kidney Foundation of Canada, the United Way of Winnipeg, the Western Canadian Aviation Museum, the Manitoba Museum, the Winnipeg Public Library Foundations and the Juvenile Diabetes Research Foundation of Canada.

Most recently, she established the Tannis M. Richardson Fellowship in Music to recognize outstanding graduate students specializing in piano, strings, or voice in the U of M's Desautels Faculty of Music.