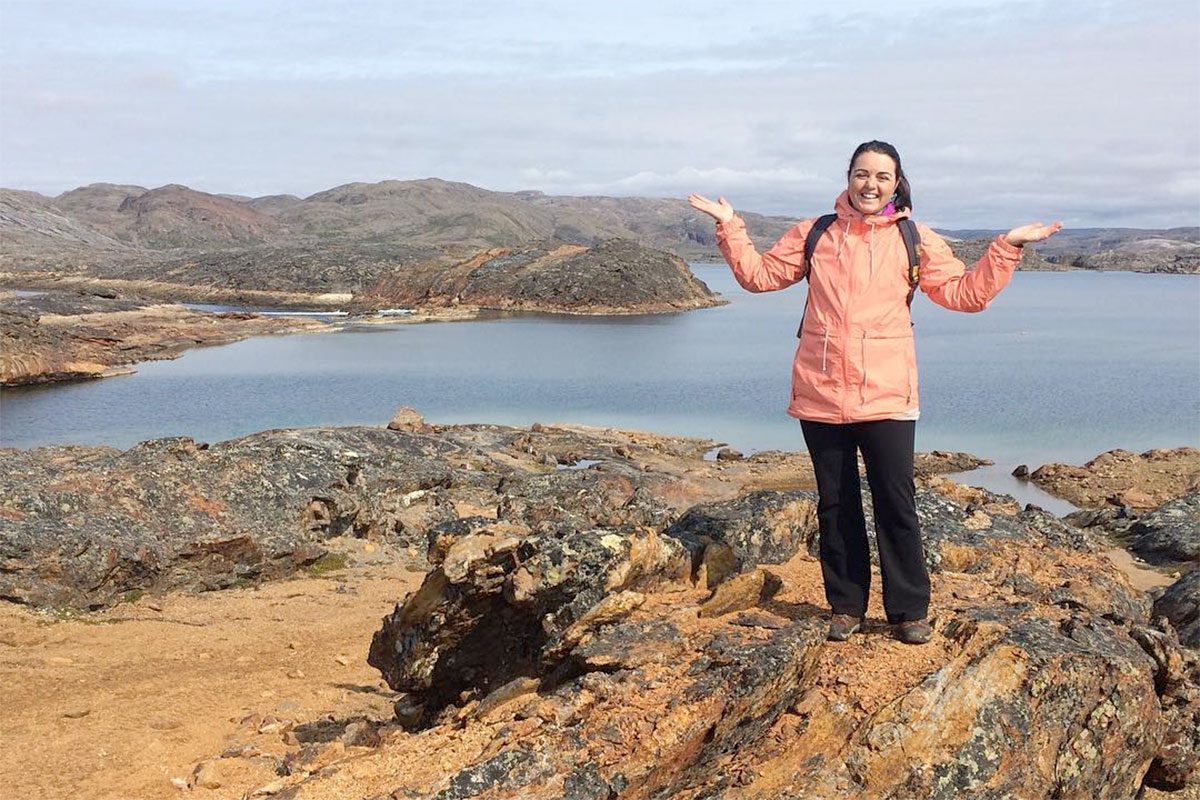 Alumni Abroad: Warm coats & muskox roast
July 16, 2018 —
When Amy Brown looks out of her window today, there will be daylight nine times of 10. Or, make that 22 hours out of 24.
Such is the norm during the summer months in Rankin Inlet, where Brown [BA/10, MNRM/16] works for the Government of Nunavut as Acting Director of Nunavut Parks and Special Places.
After falling in love with Inuit culture and the lifestyle of Northern Canada during her undergrad, Brown moved to Nunavut once her masters was complete.
In anticipation of Canada's Parks Day on July 21, we're featuring alumni like Brown who live and work in our nation's parks, historical sites and special places; alumni who get to call these Canadian treasures their "office".
UM TODAY spoke to Brown about the challenges and the beauty of living in Canada's North from her office facing the northern edge of Hudson Bay.
UM TODAY: WHEN WE FIRST CONTACTED YOU IN MAY IT WAS -1 AND SNOWING IN RANKIN INLET. NOW, IT'S 17 DEGREES. THAT SEEMS PRETTY WARM FOR THE NORTH!

Yes, people think that it's always a vast frozen wasteland up here. Things thaw! And the landscape here is so diverse. At certain times of the year you can be walking along and see flowers of all colours: hot pink, bright yellow, crisp white, and then a little bit further along everything is covered in berries and you can just eat blueberries to your heart's content. The landscape changes so quickly; you just round the next hill and you're in a completely different kind of space.
There are no trees here except one area in Katannilik Territorial Park, which is near Iqaluit. There's this little microclimate where they have willows growing and they're about seven or eight feet tall. You're like "what, why is this here?!" But that's the Soper Valley – it's beautiful!
DO YOU GET TO EXPLORE A LOT OF NUNAVUT, AS PART OF YOUR JOB?
Everything in Nunavut is dictated by the season and the weather. The winter is planning season so I'm in the office, but summer is completely different. Last year, for example, I had the opportunity to visit Qaummaarviit Territorial Park. In order to get there we had to take a boat across Frobisher Bay and when you're out there you might see pods of narwhals and belugas go by and all the shorebirds are flying overhead. It's so beautiful, everything is rock and beautiful water and this big beautiful blue sky. Qaummaarviit is an island so when you eventually make it out you're stranded for a time when the tide goes out so you get to explore. My friends tease me and say my job is just picnics and boat rides!
SO WHAT EXACTLY DOES YOUR JOB INVOLVE, OTHER THAN ISLAND HOPPING?
In Qaummaarviit, we were there to do a cultural landscape resource inventory. We were looking at what the cultural resources are: archeological sites, wildlife areas, or harvesting areas where Inuit or people living in Nunavut might go and fish or hunt. We map what the resources are and that helps us define our master plans. What the boundaries of the park should be or the zoning.
DO YOU DO THIS FOR ALL THE PARKS IN NUNAVUT?
There are 22 communities in Nunavut and our long-term goal is to have one park adjacent to each community across the entire territory. We work very closely with the Regional Inuit Organizations, Nunavut Tunngavik Inc., the park advisory committees, and the public to develop parks in a way that makes sense to the communities that we serve. Sometimes there's a strong preference for a wilderness park with very few amenities. Or maybe they want a park more closely associated with the community where there's a day-use area or a lake to go swimming in. Another option is a historical park which would showcase some of the archaeological or historical features associated with the different regions.
For example, Iqalugaarjuup Nunanga Territorial Park was established to showcase the connection between Inuit and migrating caribou herds. Last year, during our Parks Day event, a passing caribou herd (roughly 100,000 animals), changed course and passed directly through the park. Community members were concerned that vehicle traffic and public activities in the park would startle and potentially harm the animals. So the road leading into and out of the park was closed to allow the herd to pass by safely. In some cases this stranded park visitors in the park for several hours, but it was generally accepted that this was the best course of action to safeguard the herd, which is a food source for so many families that practice traditional subsistence hunting. We now have plans in place to shift the Parks Day event to either before or after the herd migrate close to the park, to ensure the herd's safety.
WHEN YOU WERE A U OF M STUDENT, DID YOU EVER IMAGINE YOU'D BE NAVIGATING CARIBOU HERDS IN YOUR CAREER? HOW DID YOU DECIDE TO MOVE UP NORTH?
Not really! When I did my undergrad, there was a travel study course offered by the Department of Native Studies and the Faculty of Environment, Earth and Resources. They took a group of students to Pangnirtung, on Baffin Island, and we spent six weeks immersed in an Inuit community. We camped behind the town; met with elders almost daily for language classes; they took us hunting; we learned how to sew seal skin.
It completely opened my eyes to a Canadian experience that I knew nothing about. It resonated with how I wanted to live my life, so after I graduated and saw there wasn't much resource development happening in southern Canada, I looked north. There was a position available so I said to my husband, "What do you think? Are you up for an adventure?" And he said yes. We moved up here in October 2016.
LET'S TALK ABOUT LIFE UP NORTH. IT MUST BE VERY DIFFERENT THAN WHAT WE'RE ACCUSTOMED TO DOWN SOUTH.
Every community is a fly-in community. The Government of Nunavut provides staff housing for most positions so I live in a row house that's connected to five other units that have teachers and nurses and other government workers living there. Our house is about six feet off the ground with fencing around the bottom to keep polar bears out. I've actually never seen a polar bear in town but I know they're around so it's just a precaution so you don't step off the front step and feel an arm reach out and grab you.
In the winter time my husband and I walk wherever we go but there are roads here, lots of trucks. Rather than using a vehicle in the summer, we bought a quad because it's much more versatile. The landscape in Rankin is very flat so we can drive on the roads in our quad but also go inland to see the caribou migrate, or go fishing, or out to people's cabins.
There's a lot of subsistence hunting here so when you walk through town it's not uncommon to see caribou or even polar bear hides being stretched out on wood frames outside of people's homes. Or caribou antlers left out for the dogs. Something I find quite interesting is to be walking along and seeing an entire muskox head with the horns and everything just waiting to be cleaned!
WHAT DO YOU DO FOR FOOD?
We have three grocery stores up here but typically me and my husband order online from certain companies in the south, and they ship it up to us. There's a separate section at the airport here where food mail comes in. We load up our sled, and we've taught our husky to pull it home on his harness. Food mail is more for fresh produce. For dried goods, we organize a sea lift. It's like doing a big Costco run – you buy for the year – and certain companies will put it in a crate and make arrangements to go by train to Montreal, then by ship up to us. As long as you have some forethought you can get almost anything up here.
A lot of people pursue subsistence hunting. My husband and I don't have the skills but we have been very blessed to receive traditional foods from our friends, neighbours and colleagues: muskox roast, ground caribou meat, or freshly caught geese. We have learned to fish, and have been rewarded with some very tasty lake trout and arctic char.
WHAT'S YOUR FAVOURITE NEW FOOD THAT YOU'VE DISCOVERED?
One of the most rewarding experiences of my life was learning when, where, and how to mussel pick with some of my Inuit coworkers. The Government of Nunavut encourages offices to have a cultural day on the land. The idea is to promote Inuit culture and traditions and share those with people who aren't necessarily from here.
We travelled to the coast and spent the day plucking mussels off rocks hidden underneath kelp, racing the tide to select the largest ones only exposed at the lowest of tides. I felt so proud of myself for collecting all these mussels, learning how to spill the sand out and clean them. Taking them home and making a beautiful meal out of something I harvested myself was a really rewarding experience.
DO YOU FEEL ISOLATED?
Life in Nunavut is different that it is in southern Canada. There aren't the same amenities as those I used to take for granted. We only have a handful of restaurants in town. Do I miss being able to sit in a café and chat with my friends? Of course. But living in the north makes you resilient. You adapt to thrive. There's no sense dwelling on things that are out of reach. Instead, you need to make your own opportunities. What me and a group of friends do is have a themed dinner party once a month. If one of us says, "oh I really wish we could go for a falafel tonight" we might do a falafel-themed dinner, or Chinese, or Thai.
Some women I know missed their regular yoga practice. So they rented the school gym three nights a week and started their own 'yoga studio'. The isolation provides opportunities to be more creative.
JULY 21ST IS CANADA'S PARKS DAY. WHAT DO YOU WISH CANADIANS KNEW ABOUT OUR NORTHERN PARKS?
How accessible Nunavut's Territorial Parks are! Many of our parks are located within proximity to one of Nunavut's communities. In some cases, visitors can rent a truck or ATV and travel by road or maintained trail to the parks, where they will find amenities such as emergency shelters, tent platforms, outhouses, fire pits, and picnic tables. Iqalugaarjuup Nunanga Territorial Park, located on the outskirts of Rankin Inlet, can be accessed by road between May and October. Visitors are often surprised to find a sandy swimming lake filled with children, interpretive walking trails, and a pavilion equipped with a wood stove and BBQ.
To see more photos about work and life in Nunavut, check out @umanitoba on Instagram on Friday, July 20. Amy will be taking over the U of M's account for the day to celebrate Canada's Parks Day.