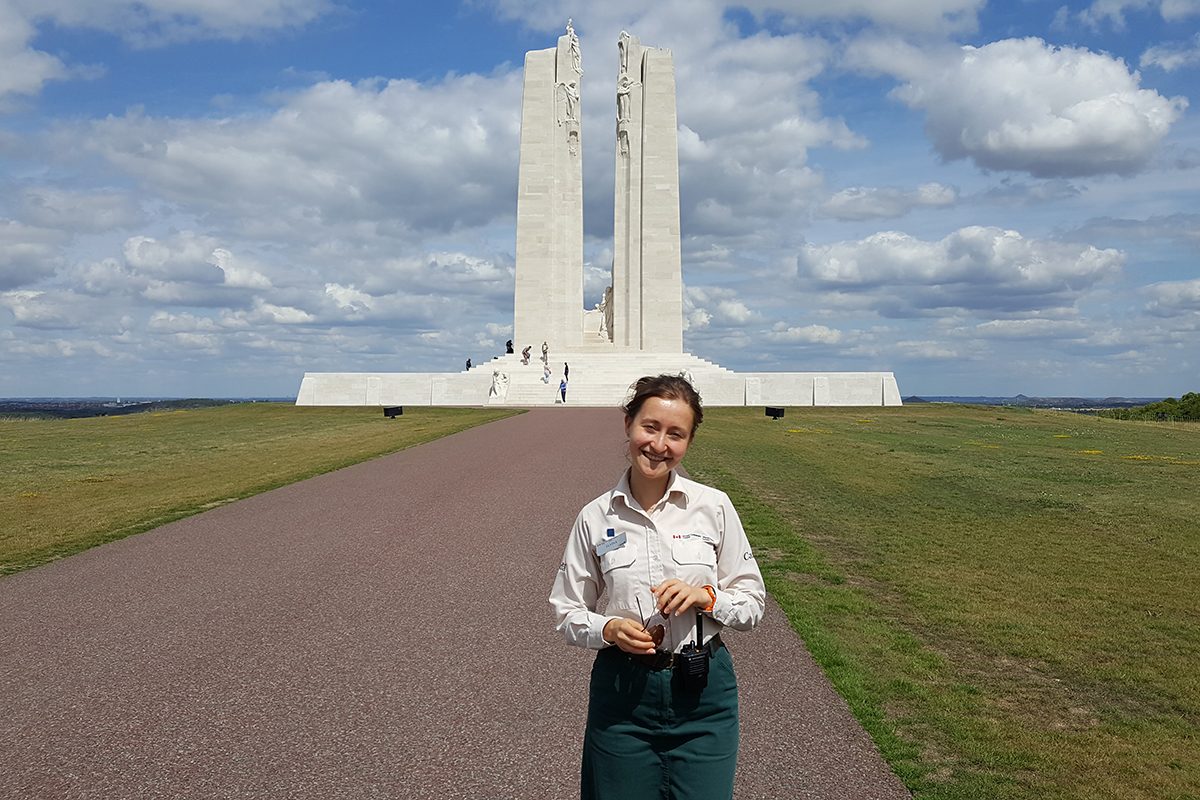 Alumni Abroad: Sharing the story of sacrifice
November 5, 2018 —
There are two little pieces of Canada in northern France, and every year university students are sent overseas to tell their story.
The Canadian National Vimy Memorial and the Beaumont-Hamel Newfoundland Memorial are the only two National Historic Sites of Canada located outside our country's borders.
Elvina Mukhamedshina [BSc/16], a student in the Faculty of Education, was stationed at both sites over the past two years working as a student guide for Veteran's Affairs Canada.
To commemorate the 100th anniversary of the end of the First World War, UM Today spoke to Mukhamedshina about experiencing an important part of Canada's war story.
MOST CANADIANS ARE FAMILIAR WITH THE BATTLE OF VIMY RIDGE, AND OUR SOLDIERS' SUCCESS THERE. BEAUMONT-HAMEL REPRESENTS A DARK MOMENT IN OUR HISTORY. WHAT HAPPENED THERE?
July 1, 1916 is one of the bloodiest days in Commonwealth history; we lost over 60,000 men in one day. Along the front line, the Newfoundland Regiment suffered the second-highest casualty rate: 87 per cent of the Regiment was destroyed within half an hour. Beaumont-Hamel is a memorial to that Regiment's sacrifice.

There were a lot of logistical problems. The Hawthorne Ridge mine exploded at the wrong time and ended up giving the Germans a warning of the impending attack. The range of the machine guns was too short so they didn't hit the German line. Forty per cent of the shells never exploded, so that's why a hundred years later you still find shells out in the fields.
There's a tree that's called the "danger tree" because a lot of bodies were recovered from there. It was the only tree out in the field, and for the Newfoundlanders it served as a landmark. When things were exploding and the visibility was so poor, they gravitated towards the tree to catch a breath and recover. They didn't realize that for the Germans it was also a landmark: machine gunners cross-fired towards it so there was a high casualty rate around the tree.

At that point, many survivors would've been turning back, but not everyone made it because they carried these huge backpacks. On their backpacks they had little metal triangles that reflected the sun because their back lines wanted to see who their men were. But the problem is when you're turning back, you become a target for your enemies. For Newfoundlanders it was a very, very tragic day.
IS THERE A PARTICULAR SOLDIER WHOSE STORY HAS STUCK WITH YOU?
I always mention Tommy Ricketts. He was only 15 when he joined the Newfoundland Regiment and he received the Victoria Cross at age 17. When they were fighting in Ledeghem, Belgium, there was a moment when the Newfoundland Regiment was almost destroyed and Tommy decided to take it upon himself to outflank the machine gun that was in the field firing on them. He ran alone across the field and was able to take down the machine gun and by doing so he was able to rescue his platoon and capture some German prisoners. He won the Victoria Cross for that. After the war, he went back to Newfoundland and became a pharmacist but he never ever talked about the war; it was a topic he never wanted to discuss again.

I share that story because he survived and he was so young but he never wanted to talk about it. Everyone is out there celebrating but for him it's not a victory, it's not a celebration. It shows you that dark side of war.
WHEN YOU TELL VISITORS THESE STORIES, HOW DO THEY RESPOND?

A lot of people leave with tears in their eyes. There was one soldier from Denmark who came to Beaumont-Hamel with his friends and at one point he couldn't go further. He was so emotional. He was telling me how these are his brothers – they're different ethnicities and nationalities and culture but they're his brothers because they fought for peace. He fought in Afghanistan and he was saying how awful it is that we're still fighting, that we still haven't found a balance in the world where we can solve these issues with diplomacy, without having to shed blood. At the end, he gave me his regiment badge which I have now in one of my diaries.

It's such an amazing experience giving tours. You're suddenly connecting all these people from different corners of the world with different experiences. Because it was a world war, we were all affected.
ONE OF THE BIGGEST DIFFERENCES BETWEEN TODAY'S SOLDIERS AND THOSE FROM 100 YEARS AGO IS THEIR AGE. YOU MENTIONED TOMMY RICKETTS WAS 15 WHEN HE JOINED. WAS THAT TYPICAL?
They were supposed to be 18 to join the army though many of them weren't. There was this whole propaganda "you're going to go to war; you're going to do great things; you're going to see the world; you're going to kill the enemy and then come back home a hero". Many of them fell into that. If they saw their friends or brothers going they all went. It was this big adventure. I always tell the teenagers on my tours "you guys always want to travel and go to Europe, to backpack and see the world and for them it was that same deal." It was that kind of opportunity so they went and they didn't realize what they were getting themselves into.
AS A GUIDE, WAS THERE ANYTHING YOU LEARNED ABOUT THE WAR THAT PEOPLE DON'T NORMALLY THINK ABOUT?

We took tours to Belgium as part of our training which included visits to the German cemeteries which is a whole other story … you walk in and each headstone marks a mass grave with nine to 18 soldiers buried there. It makes you feel so, so sorry for those men because even on our tours we're encouraged not to use the word "enemy". You don't get to choose when you're just born into country. They wanted to help, to live up to their motherland's expectations. They had families at home, and they wanted to come back to marry or travel or become a doctor – but they never had a chance. It's just unfortunate that they were in that situation.

We're all people and we all want to live in peace. Nobody wanted this war and I don't think people realized where it was going to lead. They didn't realize the consequences of what they're getting themselves into. A lot of these people were pawns and just victims of bigger political ideas.
YOU GOT INVOLVED WITH VETERANS AFFAIRS AS SOON AS YOU GRADUATED. WAS THERE ANYTHING ABOUT YOUR U OF M EXPERIENCE THAT HELPED YOU BE A GREAT GUIDE?
I was always involved in leadership opportunities on campus. I volunteered at Student Life and in my second year I was captain for Orientation. As a captain you're kind of taking people around, giving them a tour of the university, so I guess that was my first guide experience. I was also one of the co-chairs for a Canadian conference in student leadership and worked with Mini U for a long time. The communication, interpersonal, and organizational skills that I gained through those experiences allowed me to take the leap.
THIS REMEMBRANCE DAY MARKS 100 YEARS SINCE THE FIRST WORLD WAR ENDED. HOW DO WE KEEP ALL OF THIS IN PERSPECTIVE A CENTURY LATER?
I think it's so important for people to one day visit these memorials and see it for themselves. Being there, living the history, connects you from past to present. It's a reminder to remember those men that fought for our future. If we don't have Remembrance Day – if we don't have people wondering and asking questions – then it's almost like they died in vain. What did they fight for? Why did they sacrifice their lives? They decided to fight, they stepped up. The least that we can do is remember. The least that we can do is to study the history and take away the lessons from those conflicts so that we don't repeat them in the future.

Being a student guide really reinforced my desire to go into education, to work with people and share my passion. As cheesy as it sounds, I tell my guide family we're kind of little messengers of peace. We carry pieces of that experience with us no matter where we go. We will always be promoting remembrance.

Of the 1,119 graduates and undergraduates from the U of M who served in the First World War, 140 died in action and as a direct consequence of the war. Military honours were awarded to 267.