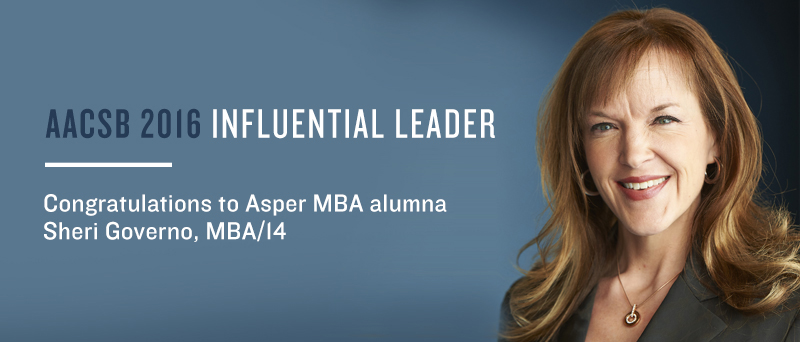 AACSB honours Asper School of Business alumna Sheri Governo for changing the world
Second Annual Influential Leaders Challenge recognizes 30 change makers and business pioneers driving positive change in the communities they serve
September 26, 2016 —
Today, business school graduates are increasingly using their degrees to make a difference not only in the corporate world, but also across society. While business school alumni continue to push the boundaries of business, AACSB International (AACSB) has identified five inspiring ways these graduates are driving positive social change in communities around the globe.
The important contributions of Asper School of Business alumna Sheri Governo and 29 other change makers were recognized last Monday as part of the 2016 AACSB Influential Leaders Challenge. Launched in 2015 to honor notable alumni from AACSB-accredited business schools, the AACSB Influential Leaders initiative continues to recognize business school graduates for the positive impact they make on society, and the inspiring example they set for others.
A graduate of the Asper School of Business, Sheri Governo serves as co-founder and vice-president of business development at Exigence Technologies. Exigence's patented technology kills microbes on environmental surfaces without antibiotics.
"Antimicrobial resistance is a growing global crisis," Governo explains. "It's been estimated that by 2050, antimicrobial-resistant infections will take more lives than cancer. For this reason, the Centre for Disease Control and the World Healthcare Organization have issued mandates to reduce antibiotic use and find solutions that won't increase bacterial resistance. What we're doing is finding applications for a product that has the potential to make a huge difference in food safety and health care, and improve countless lives around the world."
Governo's professional background includes clinical and management experience in respiratory health, where she saw the devastating effects of bacterial infection on a daily basis.
Her background also includes an MBA from the Asper School of Business. In fact, Governo and Exigence co-founder Zach Wolff launched the company while they were both students in the program. They learned about a new antimicrobial technology through the Asper MBA's Business Venture course, where they also developed the business plan to commercialize the product. From there, they took to the road, pitching Exigence at MBA business planning competitions across North America.
"None of this would have happened if not for the MBA program," says Governo.
Governo left a stable, upwardly mobile position at a large healthcare organization mid-career to devote her full energies to launching Exigence. She credits her degree with giving her the confidence, business acumen and leadership skills to build the company into a successful venture.
"I've always had a pioneering spirit," she laughs. "I was the only girl on our town's softball team, and the only girl in high school to take woodworking, electronics and drafting than sewing and cooking. The MBA is just another challenge I set for myself. I wasn't a business person by any stretch. But I came out of the program with a broad-based knowledge of business, including a vital understanding of accounting, finance and marketing. I also gained the tools I need to be an entrepreneur. For example, I got to hone my presentation skills, which are crucial when you're trying to explain a technical product to non-technical investors, or to people with far more advanced scientific understanding than yours. The Asper MBA also gave me lots of opportunities to sharpen my leadership skills in group projects, business planning competitions, and as chair of the MBA students' association. I wouldn't have gained that anywhere else."
Governo helped grow Exigence from a two-person startup to a team of 11 staff in only 14 months. She accomplished all of this while establishing key development leads with multinational strategic partners with combined revenues of more than $365 billion.
While a lot of the business impact at Exigence is yet to come, the company has already had a national and global impact. Governo represented Exigence as a speaker at the 2015 Vancouver Financing Forum, the 2015 Agri Investment Forum in Toronto, the 2015 Agri Innovation Showcase in St. Louis, and the 2016 Global Forum for Innovation in Agriculture in Abu Dhabi. The company was profiled by Lux Research and the Oil & Gas Innovation Center in the US. Her team was a semifinalist in the global NOVA Innovation Competition and a finalist in the global Sofinnova Renewable Chemistry Startup Competition. In both her academic and career worlds, she has taken her place at the table on committees that contribute to student communities and the health community at large.
Governo says she is truly humbled to be recognized by the Influential Leaders Challenge.
"When I learned who the other recipients were, I couldn't believe I was being numbered among them. They are truly world-changers. I've very proud to be a U of M alumna and thankful for support I've received from the university over the course of both my degrees."
Michael Benarroch, dean and CPA Manitoba Chair in Business Leadership at the University of Manitoba's Asper School of Business, says "Sheri's achievement embodies our highest hopes and wishes for our students. She's used her degree to do so much more than advance her professional ambitions. She's put her own strengths and experience to work developing a business that could make life better for countless people around the world. We couldn't be more proud."
"The 2016 Influential Leaders illustrates how the power of a business degree to goes beyond—beyond industries, reaching lives in every part of the world—pioneering change, fostering global exchange, and improving the quality of life," says Thomas R. Robinson, president and chief executive officer of AACSB International. "I would like to thank Sheri Governo for exemplifying how business graduates can be a positive force in society, and congratulate the Asper School of Business for their role in helping to develop the knowledge, skills, and fortitude needed to address some of the toughest challenges we face today."
Sheri Governo and her peers represent 15 industry sectors—from social enterprise to healthcare to technology—across 11 countries. While all of this year's leaders differ in their fields and paths to success, many employ similar approaches to helping businesses thrive in ways that positively impact society. Five trends, in particular, represent the contributions of this powerful group, including:
Pushing the boundaries of business through innovation and technology: Business school graduates harness the power of innovation and technology to not only push the envelope in the corporate world, but also affect meaningful change.
Advancing education and employment through entrepreneurship: Alumni often use their entrepreneurial talents to create education and employment opportunities for underserved communities in different parts of the world.
Fostering diversity, inclusion and equality: Knowing the importance of diversity for socio-economic development, business school alumni combat inequality and work towards creating an environment in which people of all backgrounds can flourish.
Creating a more sustainable future: Business school graduates lead the charge in adopting sustainable business practices for the betterment and protection of our globe.
Ensuring healthy lives: Public health is another top priority for business school alumni, using their expertise to find solutions to global health issues.
For more information on the Influential Leaders Challenge, including a full list of honorees, visit www.aacsb.edu/Influential-Leaders.
About AACSB International
As the world's largest business education network connecting academe with business, AACSB provides business education intelligence, quality assurance, and professional development services to more than 1,500 member organizations across 91 countries and territories. Founded in 1916, AACSB Accreditation is the highest standard of quality in business education, with 775 business schools accredited worldwide. AACSB's global headquarters is located in Tampa, Florida, USA; its Asia Pacific headquarters is located in Singapore; and its Europe, Middle East, and Africa headquarters is located in Amsterdam, the Netherlands. For more information, visit www.aacsb.edu.
About the Asper School of Business
For over 75 years, the I.H. Asper School of Business has been providing a world-class education to leaders and innovators who contribute ethically to the social and economic wellbeing of Manitoba and the world. ASB offers undergraduate, graduate and executive education programs. Located in Winnipeg, Manitoba, Canada – the heart of North America – the Asper School of Business offers a business education that opens doors, and a student experience that creates leaders. For more information, visit www.umanitoba.ca/asper
Contact:
Amy Ponzillo
Sr. Manager, Public Relations
AACSB International
MediaRelations [at] aacsb [dot] edu 
Contact:
Judy Wilson
Director, Marketing and Communications
Asper School of Business
Judy [dot] Wilson [at] umanitoba [dot] ca