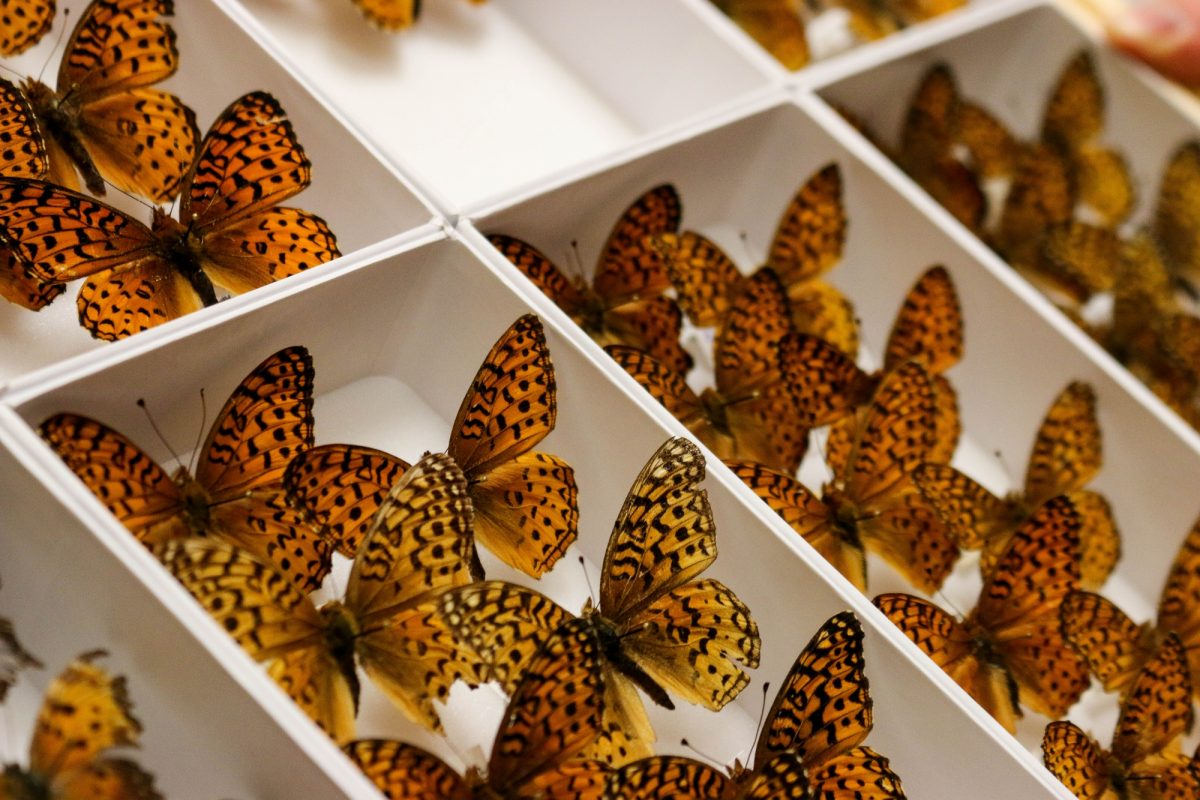 A valuable gift of butterflies
May 9, 2019 —
Like many entomologists, Jason Gibbs jokes about how he doesn't like butterflies.
As the curator of the western Canada's largest insect museum—the J.B. Wallis/R.E Roughly Museum of Entomology in the Faculty of Agricultural and Food Sciences—he views butterflies as space hogs. (The previous curator, Barb Sharanowski, also disliked butterflies; she felt they drew unwarranted levels of public adoration.)
"I hate butterflies," professor Gibbs says with a smile as he slides a slender glass-top case out of a towering shelf. The case holds dozens of butterflies and it's one of hundreds in the museum. Over the years students, either for coursework or as volunteers, have identified, labeled and pinned into place nearly two million insects, including bees that glitter like gemstones, wasps as big as a thumb that kill tarantulas, ants the size of dust flecks, and butterflies.
"Butterflies take up so much space. I could fit 500 bees in this space that 20 butterflies take up," Gibbs, a bee researcher, says.
But the butterflies he's showing today are special: the orange-and-black-winged Speyeria atlantis (commonly called Atlantis Fritillary) were collected by former U of M dentistry professor and alumnus William Christie [DMD/64] at Red Rock Lake in Manitoba's Whiteshell Provincial Park over the past 30 years and were recently donated to the museum.
Dr. Christie began collecting insects in the 1960s. His parents built their cabin in 1946 and the U of M's Faculty of agriculture established a nearby research station in the 1950s to study insects, which his younger brothers worked at for the summer. They taught Christie how to collect and mount butterflies to meet museum standards, and he has been addicted to it since—"Some people do stamps. I do butterflies," he says. "I want to retire from it. I want to quit. But I'm still looking for that rare one. The one that isn't known to be here yet."
Though the species he collected aren't unusual, they are valuable because it's very rare to have data from one spot over a long period of time, Gibbs says.
"I had a feeling my collection was unique," Christie says. "Young Dr. Jason Gibbs was very amenable to having these added to the museum at the U of M and I want the scientific information of these species disseminated widely, and I know students need this material to study so I donated them because it would do them more good than me."
The museum has specimens dating to 1894, and they, alongside Christie's donation, are key to answering questions such as, how are insects faring in today's world?
"You don't have a time machine. The only way we can answer this question is by referring to the museum's material," Gibbs says, noting that researchers can compare what species occupy specific locales in given years, their abundance, body size, and aspects of physical fitness. This museum has the potential to answer questions that have yet to be asked, and it even helps drive discovery on its own.
In 2015 the federal government released a report on Canada's wild species and said that of the 805 known species of bees in Canada, 236 make a living in Manitoba. But in the two years Gibbs has been curator of the museum, he and his students have scoured forests and grasslands and sand dunes and brought that number to 345 (one of which was named after Gibbs).
"So almost 50 per cent of bees found in Manitoba, no one knew about," he says. "We're still in the very early stages of figuring out what we have. So if you ask, 'are bees in decline?' It's hard to answer that question if you don't know what you have to start with. But now we know more about the species we have, and now we can monitor them. That's what's great about this museum."
The same applies for global collections, one of which was also recently donated to the museum from Carol, Robert and Reg Anderson who live in Sandy Hook, Man. They donated tens of cases containing insects collected from around the world, including Bolivia, Japan, China, Slovakia, and France.
Students continue to curate the new additions and so far they suspect a few species of butterfly may be of value to U of M biological sciences professor Jeffery Marcus, a Canada Research Chair who studies genetics via butterfly wing patterns.
"It's exciting getting a call saying someone wants to donate a collection. You don't know what it will be, but for these ones we recently received, they took a lifetime to build. That's incredibly valuable," Gibbs says. "It's exciting to get, but I always wish people took more time collecting bees."