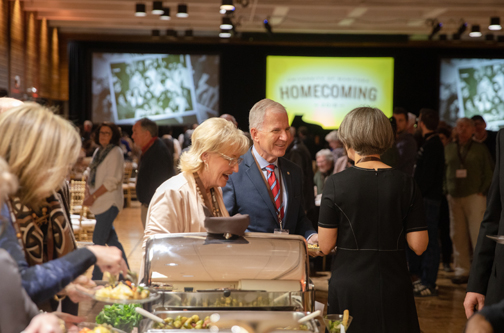 A star-studded finish to Homecoming 2018
October 19, 2018 —
University of Manitoba alumni who returned to their alma mater in September for Homecoming were welcomed back with new events and old classics that showcased the immense talent of the U of M alumni community.
On Sept. 30, alumni had the opportunity to reconnect and reminisce at the Brown & Gold Brunch, celebrating Marilyn & Monty Hall. It also kicked off the official opening of the Marilyn & Monty Hall Retrospective Exhibit that showcased the breadth of achievements and philanthropy of these two late Hollywood legends and Emmy-award winning television stars. One of their children, Sharon Hall and Monty's brother, Robert Hall, were in attendance to take part in the opening ceremonies.
"The University outdid themselves with this exhibit. We were overwhelmed with emotion and pride. Marilyn and Monty Hall's life's work and their humanity was on display in pitch perfect form," said Sharon Hall.
Marilyn & Monty Hall Retrospective Exhibit
The Exhibit featured a specially curated collection of memorabilia donated to the U of M from the Halls' estate after Monty's passing last year. Fans of the popular game show Let's Make a Deal, which Monty created, produced, and hosted, were treated to a walk-through recreation of the set which included props such as Monty's microphone, gavel, podium, and hand-written cue cards.
A special highlight for guests was the opportunity to snap a selfie with Monty's Emmy award, on loan to Archives & Special Collections.
Bison Ball
New to this year's Homecoming celebrations was The Bison Ball: 2000s Edition, an evening created for alumni 35 and under. More than 150 people came down to enjoy throwback songs spun by DJ Blitz, and sample food and drink pairings on offer from fellow alumni, including Ian Moran [BSc(CE)/17] of Pour Decisions, and Tim Hudek [BA(Hons)/05] of One Great City Brewing Co.
Indigenous Homecoming centred around the 10th anniversary of Migizii Agamik – Bald Eagle Lodge. Many members of the Migizii Agamik community attended, including those who first advocated for a space for Indigenous students; those who turned it into a reality; and those who continue to create a safe and supportive home for Indigenous students.
Throughout the day, guests participated in walking tours highlighting Indigenous art, culture and initiatives on campus. They also had the opportunity to participate in an interactive demonstration of Inuit games. The festivities concluded with a tree-planting ceremony beside Migizii Agamik, which represented setting down roots while looking ahead to future generations.
Despite the unseasonably cold weather, the Bisons received a sunny start to the day and a warm welcome from students, alumni, families, and the U of M community at Saturday's annual Homecoming football game against the University of Regina Rams. The hard-fought, nail-biter game saw the Bisons put up a staggering 19 points in the fourth quarter to send the teams battling into overtime. The Bisons, led by a strong performance from their veteran defence, fell just one point short to the evenly-matched Rams after missing a two-point conversion, giving the game its final score of 32-31. However, a few days after the score was registered with the league, it was found that the Rams had an ineligible player on its roster, and the victory was forfeited to the Bisons.
An Abundance of Faculty Events
As well as gathering with the wider community, returning alumni also enjoyed the chance to reconnect with their faculties. More than 20 faculty-specific events were held this year, including 75th anniversary celebrations for the College of Nursing and Faculty of Social Work.
The Faculty of Science welcomed alumnus Shawn Qu [MSc/90] and his family for a discussion on the future of solar energy; the first session in their 2018/19 Interdisciplinary Lecture Series: Fundamental Science as a Launchpad to Innovation.
The annual Homecoming concert was held in the stunning new Taché Addition with a roving concert format allowing guests to "curate" their own concert.
It was standing room only for the more than 250 guests, including incoming Dean of the Desautels Faculty of Music, Edward Jurkowski, and Daniel Raiskin, the new maestro of the Winnipeg Symphony Orchestra. Attendees were treated to a diverse program showcasing talent in music, theatre, and arts, which opened with a spectacular faculty performance by acting Dean of the Desautels Faculty of Music, Laura Loewen, on piano and soprano Tracy Dahl.
Thank you to everyone who returned to their alma mater to celebrate with us!
Make sure to mark September 16th to 22nd on your calendars as the official dates of Homecoming 2019.
Also, if your year of graduation ends in a "4" or "9," you're celebrating a milestone reunion next year! Get in touch with Alumni Relations at 204 474 9946 or alumni [at] umanitoba [dot] ca for help planning an event during Homecoming 2019.