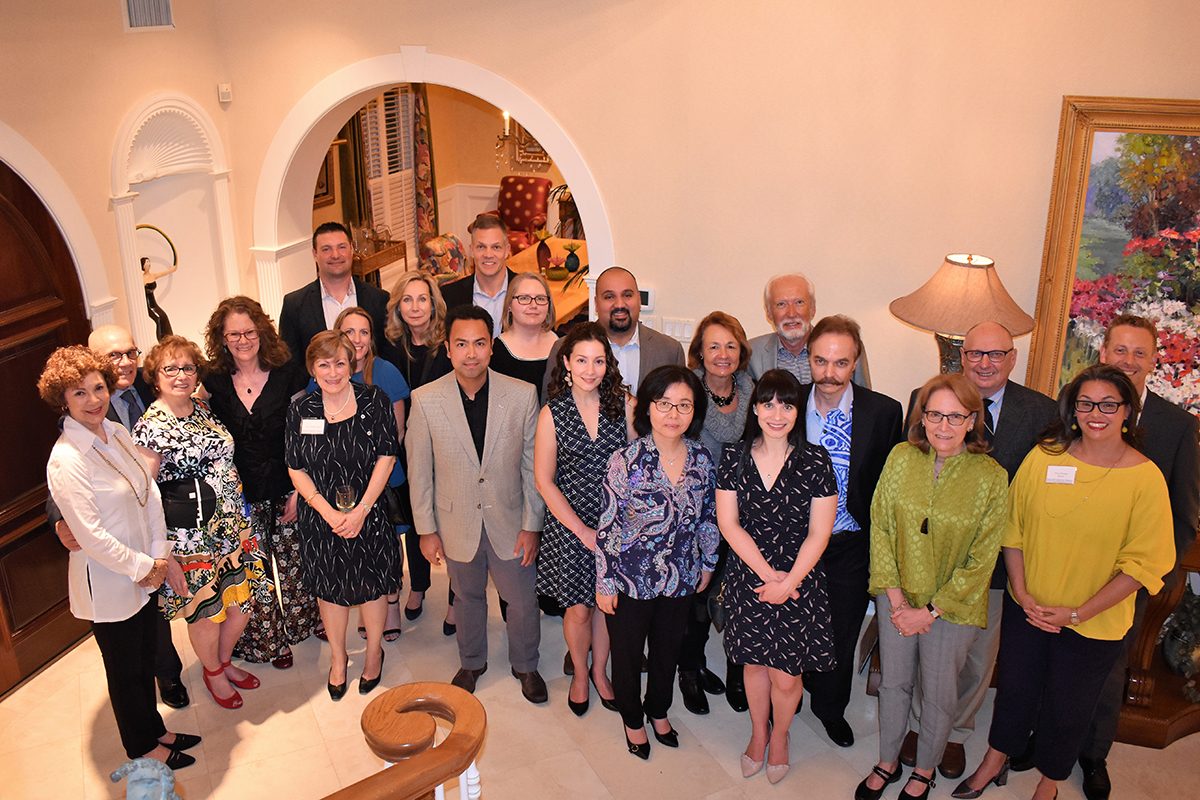 A Manitoba reunion deep in the heart of Texas
November 8, 2018 —
As the weather grows colder up north, the University of Manitoba headed down south to reconnect with alumni in Houston, Texas.
This is the first time the university has hosted an event in the area: a response to the growing number of alumni who have chosen to call the Texas city home.
Almost two dozen alumni came out to enjoy an evening full of wonderful food and beverages while reconnecting with fellow alumni and friends. Grad years of those who attended ranged from '69 to 2018 with some of those alumni recently calling Houston home, to some who have been living in the area for more than 30 years. They all remembered their time in Winnipeg and at the U of M fondly as well as one other common sentiment—no one missed shovelling snow during Winnipeg winters.
The Alumni & Friends Reception was hosted by alumnus, Jim Postl [BA/68], and his wife, Beverly.
Brian Postl [MD/76], dean of the Rady Faculty of Health Sciences and Vice-Provost (Health Sciences) spoke to alumni about the positive impact the Front and Centre campaign has had on the Rady Faculty and the advancements being made towards diversity in the Max Rady College of Medicine. In particular, the College's allocation of spaces to students from traditionally under-represented backgrounds and/or disadvantaged in the selection process related to socio-economic or socio-cultural conditions, sexual orientation from low socio-economic status.
"Social accountability and diversity are top priorities in our faculty along with our continued efforts to help ensure that our students—and future health professionals—reflect the communities we serve," said Postl.
John Kearsey, Vice-President (External), also had a chance to speak with alumni about the innovations and transformations that continue to be made at the U of M.
"Our current Front and Centre campaign has played a significant role in supporting the changes underway at the university. In total, 573 new scholarships and bursaries have been established; 18 new research chairs have been created; and 37 buildings have been built and upgraded," said Kearsey.
The Front and Centre campaign seeks to provide a world-class education in a world-class environment at the University of Manitoba. By improving and developing our places and spaces, the campaign will promote and foster academic, professional and personal success for students, teachers and researchers at the University of Manitoba and beyond. To find out more about how you can help make an impact, please visit the Front and Centre website.
Want to know where Outreach and Engagement are headed next? Interested in having an event in your area? Get in touch with Deanna Fair for more information at Deanna [dot] fair [at] umanitoba [dot] ca