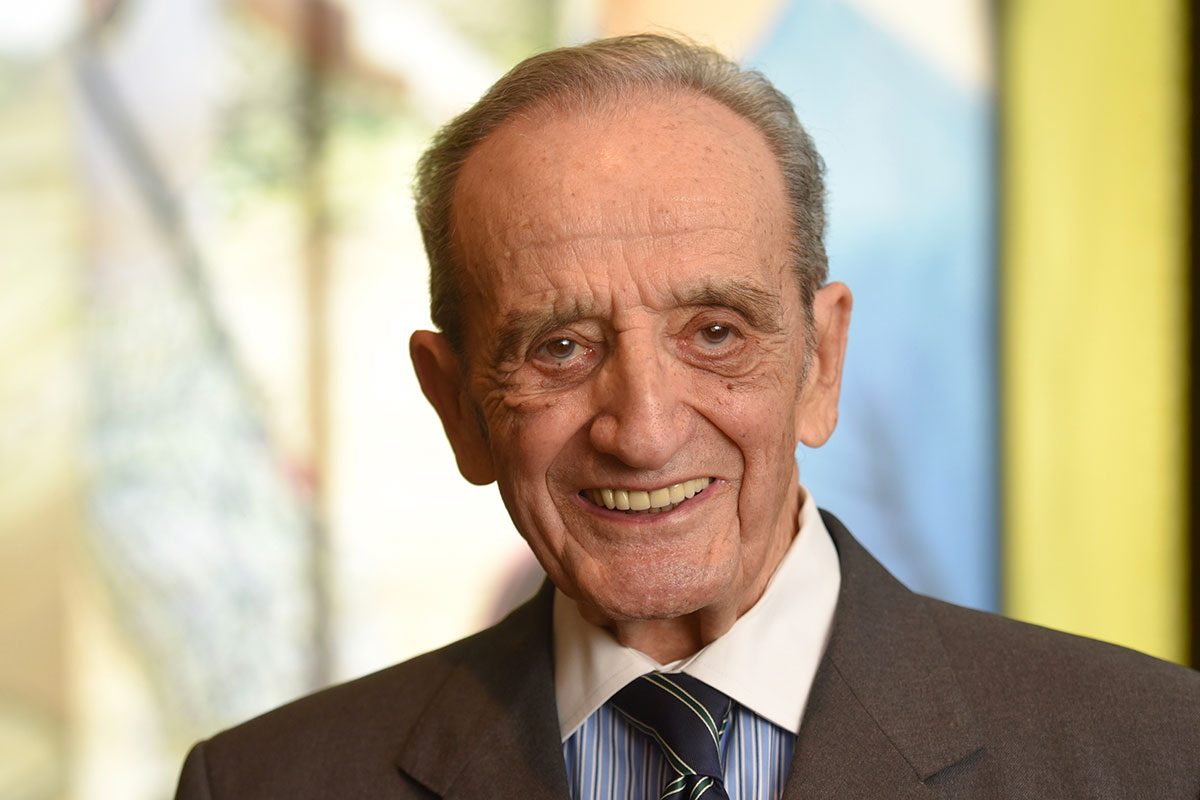 $5 million gift brings hope, dreams of new Geneva
December 8, 2017 —
On the cusp of United Nations' Human Rights Day and the anniversary of the Universal Declaration of Human Rights, the U of M has received a transformational gift to the Front and Centre campaign that will elevate Winnipeg's reputation as a global hub for human rights and social justice.
This afternoon, Arthur Mauro, OC, OM, QC, [BA/49, LLB/53, LLM/56, LLD/87] announced to a standing ovation a $5 million gift from the Mauro Family Foundation, which will endow a cross-faculty Chair in Human Rights and Social Justice ($3M) and support local and international peace-building initiatives ($2M).
Renowned for his ardent work and advocacy for world peace, social justice and human rights, Dr. Mauro, Chancellor Emeritus and alumnus of the University of Manitoba, has long shared his vision for Winnipeg to become the new Geneva.
"This city, to me, represents the best that people can do when good people come together with goodwill and seek solutions," said Dr. Mauro. "Over the years we have proven that reconciliation is better than discord, that diversity is a positive in society. The goal of this gift is to sustain and expand this Winnipeg model. Education and research are fundamental if we are to carry on what this city has become."
The new Chair will significantly enhance the body of scholarship already taking place at the U of M, particularly in the Arthur V. Mauro Centre for Peace and Justice, the Centre for Human Rights Research and the National Centre for Truth and Reconciliation. It will help the U of M outreach and engage with organizations including the Canadian Museum for Human Rights, the United Way and the Winnipeg Foundation.
Over 150 university researchers focus on human rights and social justice issues, including social movements and self-determination; Indigenous rights; historical injustices; and global citizenship, peace, and conflict resolution.
"This remarkable new Chair will build a capacity – in people, in ideas, in outreach and engagement – that will change the world," said Dr. David Barnard, U of M President and Vice-Chancellor.
The Mauro Family Foundation's history of generosity with the U of M is extensive. Dr. Mauro and the Mauro Family Foundation previously donated $2.7 million to establish the Arthur V. Mauro Centre for Peace and Justice and numerous scholarship funds.
"For decades, Arthur Mauro has stood apart as an inspirational leader in this community and this nation," says Paul Soubry, chair of the Front and Centre campaign. "His keen and active engagement, his mentorship, and his passion shine as an example for others to emulate. I know he has inspired me and others of my generation to become more active citizens."
The Mauro Family Foundation's $5 million donation announced today brings the new total of the Front and Centre campaign to $456,925,065.