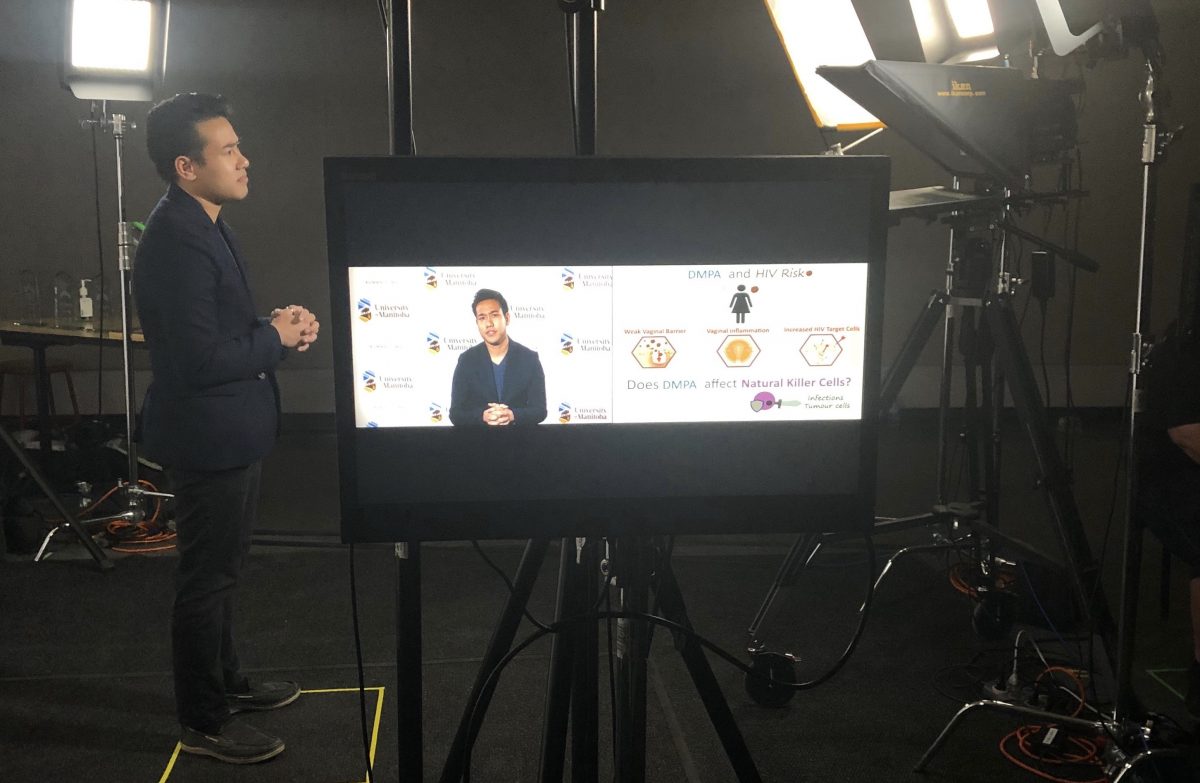 3MT winner dedicates award to research lab
June 4, 2020 —
A student who is working with an international team of researchers to understand the link between a birth control drug and HIV infection impressed a prestigious panel of judges at the eighth annual University of Manitoba Three Minute Thesis finals on June 3, 2020, winning first place and taking home the Dr. Archie McNichol Prize. The competition had been delayed following the onset of the COVID-19 pandemic.
Toby Le, a master's student in medical microbiology and infectious diseases at the Max Rady College of Medicine, explained his thesis on DMPA and HIV to a virtual (instead of live) audience because of COVID-19 social distancing. And because of the move to an online format, instead of only 200 audience members packing the Robert B. Schultz Theatre in St. John's College for the final, more than double that number were able to watch the event online.
Le received $2,500 for first place and also won the $250 People's Choice Award.
Le is working with advisor Dr. Keith Fowke in the Rady Faculty of Health Sciences. Le traveled to Kenya where he visited a community of sex workers that his lab has worked with for the past 35 years, studying immunity to HIV.
On receiving the award, Le said: "This award is dedicated to the Fowke Lab and to the entire cohort in Kenya, with whom we are continuing to work to help us better understand HIV and find a cure."
With presentations covering disciplines in the sciences, humanities and medicine, Le competed against 11 other master's and doctoral students. A panel of judges from the broader Winnipeg community viewed all the presentations online and assessed the presenters on comprehension, engagement, and communication style.
Shanelle Gingras captured the University of Manitoba Retirees Association Prize for Second Place ($1,250) for: Safer surfing: the impact of genetics on inflammation and HIV, in which she compared HIV infection rates with swimming in an ocean filled with sharks.
Third place winner Sarah Bohunicky won the Third Place Prize ($750) for her presentation that hit close to home for many online viewers watching on their computers: Shoulder pain: Can we reduce the risk of it in only 4-minutes?
Judges viewing all the finalists' presentations streamed live were: Award-winning architect Johanna Hurme [BEnvD/99, MArch/02]; Facilitator and Indigenous advisor Jessica Dumas; Janine Sherman [BA/83, MA/86], Deputy Secretary to the Cabinet of the federal government; and Peter Wheatley [BSc(ME)/07, ExtEd/10, MBA/15], director of sales operations, StandardAero.
At the conclusion of the competition, UM President and Vice-Chancellor Dr. David Barnard, who is completing his tenure this month, expressed his pride at seeing the diversity and broad range of creativity displayed by the student competitors.
He said: "For twelve years, I've been awestruck time-after-time by the ingenuity of our incredible students. It has been my pleasure to be a small part of their journeys – students who will no doubt go on to change our world in a million different, wonderful ways. Having the ability to explain the meaning and value of one's research in simple words is an important skill that will benefit them in the future."
A list of all the finalists and their research topics can be found here.
Following his win, Le will go on to the Western Regional Three Minute Thesis competition that will be held later this year.
Three Minute Thesis 3MT® is an annual competition where challengers have three minutes to explain their research and its importance or relevance, using only a single static image or slide to illustrate their topic. At the University of Manitoba, 3MT® is part of an overall strategy to highlight our graduate students, promote research at the University of Manitoba, and connect with the community.