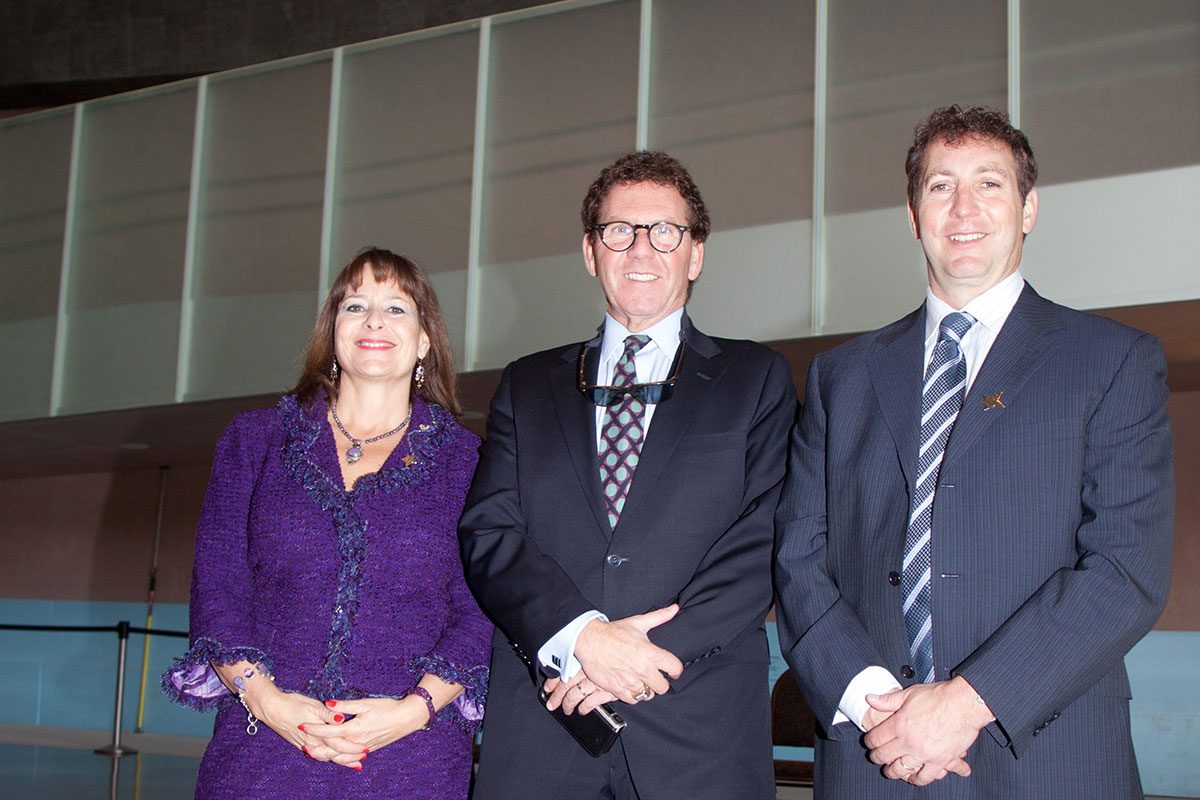 35 years of doing 'something useful'; for U of M, for the world
August 27, 2018 —
The late Israel "Izzy" Asper was as well-known for his business savvy and philanthropy as he was for his straight-talk.
So when the visionary media tycoon established The Asper Foundation in 1983, he wasted no time sugar-coating his expectations of the family's charitable organization to his children – David, Gail, and Leonard.
"Fight all you like about business," he said, "but what will keep you together as a family is that you'll have the Asper Foundation, which will give you the opportunity to do something useful with your lives."
As the Foundation celebrated its 35th anniversary this past Saturday, it is undeniable that the Aspers – along with family friend and executive director Moe Levy [BComm/73, MBA/74] – have taken Izzy's words to heart.
The Asper Foundation is behind some of the most world-renowned human rights projects, including the Canadian Museum for Human Rights and the Holocaust Studies Program at Yad Vashem's International School for Holocaust Studies in Israel. Locally, Winnipeg's science, education and arts communities have benefitted greatly from initiatives like the I.H. Asper Clinical Research Institute, the Asper Jewish Community Campus and the Lyric Theatre at Assiniboine Park. In 2000, the Jewish Foundation of Manitoba and the Winnipeg Foundation received $10 million each from the Aspers, greatly expanding the collective reach of philanthropy in the province.
Here at the University of Manitoba, the Asper family has collectively contributed over $17.5 million which continues to directly impact students, staff and faculty in nine faculties and all three colleges.
Most prominent, perhaps, is the I.H. Asper School of Business which continually ranks among the best in Canada and includes the Asper Chair in International Business and Trade Law and the Stu Clark Centre for Entrepreneurship (formerly the Asper Centre for Entrepreneurship).
Music and the arts are also closely linked to the Aspers. Gail [BA/81, LLB/84, LLD/08] herself performed in multiple productions from the Black Hole Theatre Company during her student days, and just last fall, she and husband Michael unveiled the Gail Asper Performing Arts Hall in the newly renovated Taché Arts Complex. Decades earlier, the Aspers also funded a professorship, instruments, programming and student awards for the Desautels Faculty of Music's jazz program.
David [BA/80], a life-long football fan, is also a decades-long supporter of U of M athletics which includes a bursary for Bison football and the Ruth Asper Scholarships in Physical Education and Kinesiology. In 2013, the university opened the David Asper University of Manitoba Bison Football Centre at Investors Group Field to recognize his commitment to Bison athletes.
There are also the lesser-known gifts – in 2011, to help digitize The Manitoban; in 2018, to a teaching fellowship in Judaic Studies – that reveal the depth and breadth of the Asper Foundation's contributions to the university.
"The University is immensely fortunate to have such a strong relationship with the Asper family, and to have benefitted from their generosity over these past three decades across numerous capital campaigns and campus initiatives," says U of M President and Vice-Chancellor David Barnard. "Their enthusiasm for the continued success of our students, staff and faculty is evident from every conversation and campus visit. The University of Manitoba occupies a special place in their lives, as they do in ours."