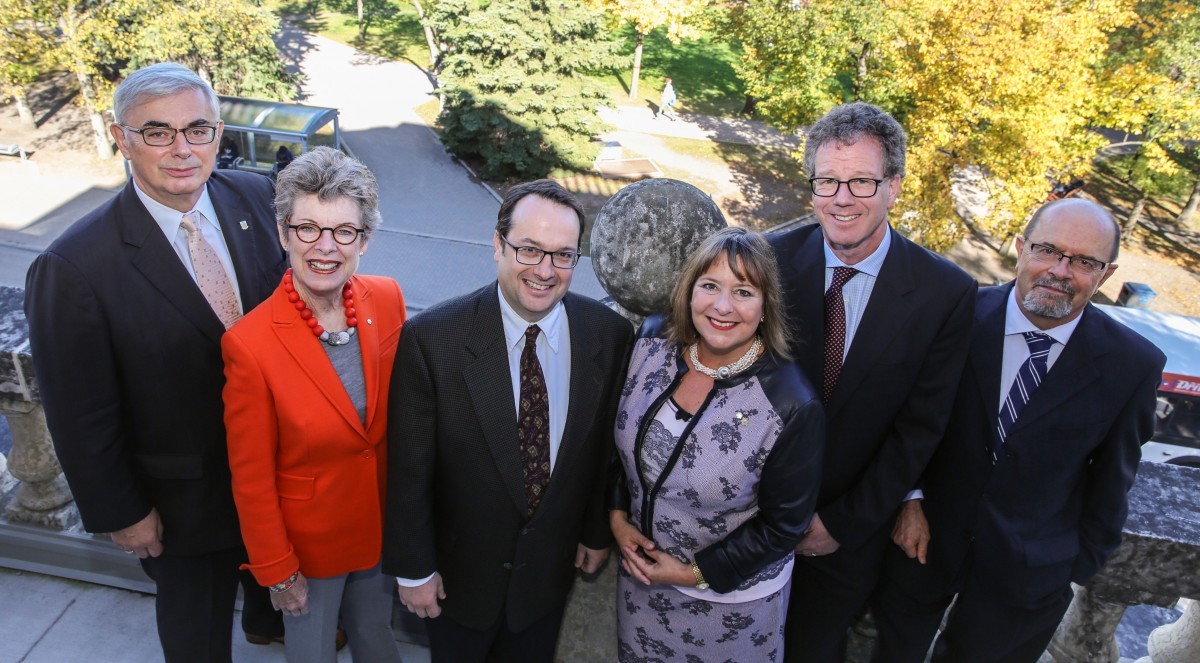 $2M gift to U of M supports performing arts community
Gail Asper Performing Arts Hall dedicated to outstanding patron of the arts
September 20, 2016 —
Announced today with a resounding celebration of the arts, a $2 million gift to the University of Manitoba from prominent philanthropists Gail Asper and Michael Paterson will impact students, faculty and the Manitoba community. The announcement drew a standing ovation.
The gift supports the Taché Arts Project, which will re-envision one of the Fort Garry campus' most iconic buildings as a multi-disciplinary home for art, music and theatre programs.
"When Mike and I learned about the Taché Arts Project, we were inspired," said Asper [BA/81, LLB/84, LLD/08]. "Here was this incredible opportunity for us to contribute to a theatre program―so close to my heart―that has enriched our arts community for years. It is our hope that this facility will encourage students to embark on their own journey of self-discovery, and help enrich the arts and theatre community here on campus and throughout the province for years to come."
As a U of M student, Asper was involved in many productions by the Black Hole Theatre Company.
In recognition of this gift, the U of M has named the theatre facilities, which encompasses the John J. Conklin Theatre and state of the art set, prop and costume shops, the Gail Asper Performing Arts Hall.
"The Gail Asper Performing Arts Hall, located within the beautifully restored Taché Hall, will serve as a critical link between the university and our broader community," said U of M President and Vice-Chancellor David Barnard.
"Students will learn about set design and lighting composition, discover their voices, and create stories that captivate the heart, challenge the mind, and breathe life into our campus community—and beyond. Indeed, this venue is the perfect physical representation of one of our key priorities at the U of M—community engagement."
Guests were welcomed to the announcement at the Taché Arts Project with live music from Desautels Faculty of Music student Sean Irvine on flute and Artur Rein Kivilaht on classical guitar. Guests passed a painting in progress by artist and alumna Geneviève Levasseur [BFA/2011], as they wound through the backstage area of the new theatre and into their seats.
Inside the John J. Conklin Theatre, actors performed a scene from Doubtful House, the compelling recent work from alumnus and theatre instructor Ian Ross [BA /92], a playwright whose work has captured several awards, including the Governor General's Award for Drama.
Nearly 100 guests attended the event on Sept. 20, including members of Manitoba's performing arts community and U of M alumni, students and faculty.
"Student theatre at the University of Manitoba is over 100 years old. The Asper family has been part of it for much of that time," said former theatre coordinator Chris Johnson. "I tell my students you don't have to make a living in the theatre, but you can make your life in the theatre. Gail never lost touch with the theatre."
Gail Asper echoed those sentiments for others.
"I hope this facility will spark a lifelong love of theatre," she said.
Students also spoke on the inspiring effects the gift will have for years to come.
"This is a professional-calibre space, one that students dream of being able to use and now we can. We can now dream even bigger," said student Lauren Gowler. "Thank you for helping create a beautiful home for the performing arts at the University of Manitoba. My fellow students have a place to grow their potential."
Stay tuned for another exciting Front and Centre campaign announcement this Saturday, Sept. 24 during the Homecoming football game.