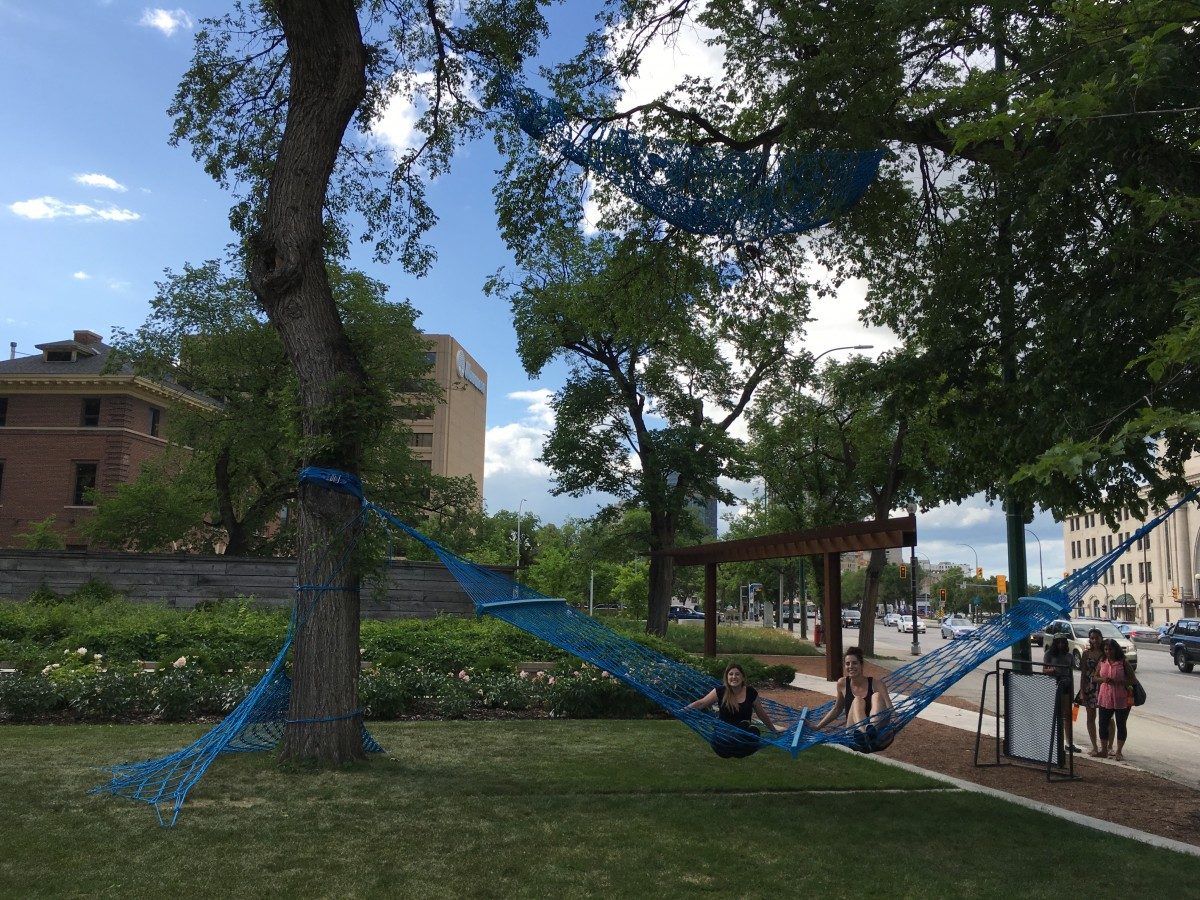 Alumnae submit winning design for Cool Gardens competition
August 8, 2017 —
Since 2013, the Cool Gardens competition has been a platform for artists and designers to create projects that invite us to explore our landscape and urban spaces.
Recent Department of Landscape Architecture grads Rachelle Kirouac (MLA '15) and Danielle Loeb (MLA '14) won the chance to install one of two new gardens as a part of the competition. This year there will be a total of six Cool Gardens in Winnipeg as well as one in Brandon. Of the six gardens in Winnipeg, four are recurring past winners (2º, Cool Dots, Cure de Ville, and Le Rendez-Vous), and the other two are new for this year (The Weave by Kirouac and Loeb, and The bend by invited artists Mark Boutin Architectural Group).
The competition is, in some ways, a summer counterpart of the Winter Warming Huts festival. It encourages participants to embrace the notion of "cooling" during our warm Manitoba summers and to celebrate the diversity of our landscapes, cultures, and expression. You can visit www.coolgardens.ca for further information on the competition.
Rachelle and Danielle's winning entry, The Weave, was selected for the Cool Gardens site in Upper Fort Garry Provincial Park. The design is a large rope structure woven around 2 large elms and features 3 parts: the Hammock, the Fort, and the Canopy. Made of ¼" blue sailing rope, the structure is intended to be a bright splash of colour along Main Street that entices passersby to filter into the site to interact with the structure and experience Upper Fort Garry Provincial Park. The design is intended to speak to the history of the site, playing on the concept of textiles, the Hudson Bay Company, and the beginning of trade and development in Winnipeg; In essence, the beginning of Winnipeg's urban fabric. The Canopy section of The Weave is a play on this. We asked a number of community members and groups to weave a section of this piece, which left us with a beautiful mosaic of community design and expression. You can even see a plush beaver in the canopy – which is very relevant to Upper Fort Garry!
The Hammock and Fort components are about relaxation and play. Lying in the hammock you can see the mosaic of weaves high in the treetops (installed by the wonderful climbing arborists at Southwood Tree Service) and sway gently in the cool breeze and shade of the trees. We are hopeful that the high visibility of the site will continue to attract attention and pull people in!
The Weave, and all other Cool Gardens, will be up until late of September depending on the weather.
"We hope this installation will encourage people to interact with one another, and enjoy our urban spaces. Stay Cool this summer!"
Rachelle Kirouac and Danielle Loeb are graduates of the Environmental Design (Landscape & Urbanism Option) and the Masters of Landscape Architecture program at the University of Manitoba. They are both currently employed at HTFC Planning & Design.
Content submitted by Rachelle Kirouac.