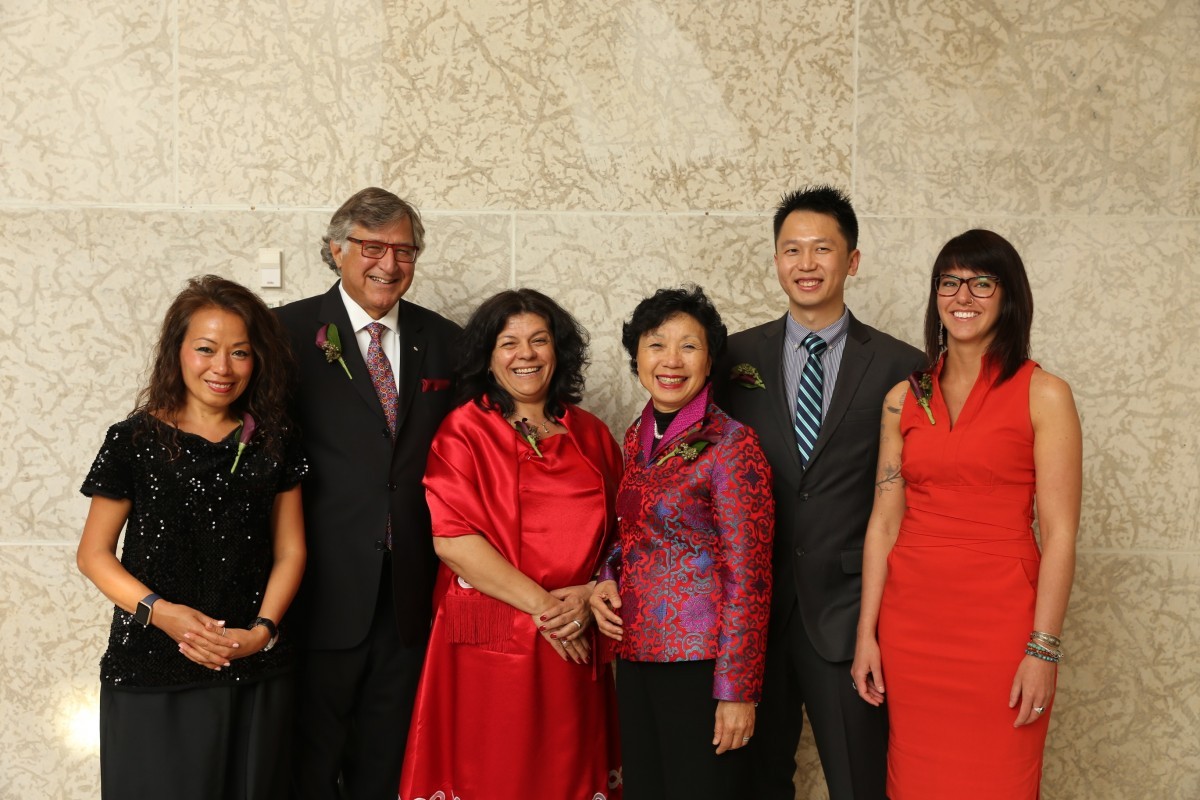 2016 Celebration of Excellence wows sold-out crowd with testimonies and stories of dedication and perseverance
May 5, 2016 —
On a day when the temperature in Winnipeg soared to a record level, spirits were soaring in the Winnipeg Art Gallery as the University of Manitoba recognized some of its outstanding graduates. From inspiring stories of helping those in need to well-deserved kudos for innovators who improve our lives, the 2016 Distinguished Alumni Awards Celebration of Excellence highlighted amazing alumni who have taken their places as leaders in our community.
John Kearsey, Vice-President (External) of the University of Manitoba, opened the 2016 Celebration of Excellence to a sold-out crowd at the WAG. More than 300 people attended the celebration, honouring six outstanding individuals who have made tangible and meaningful differences in our world and local community; the amazing alumni are role models who display the finest of human qualities and are inspiring examples of the quality of education and life experience gained at the University of Manitoba.
Among those attending the event were: Lieutenant Governor of Manitoba, The Honourable Janice Filmon; Ian Wishart, Minister of Education and Training; Sarah Guillemard, MLA for Fort Richmond; His Worship Mayor Brian Bowman; and Patricia Bovey, Chair of the University of Manitoba Board of Governors.
The 2016 Distinguished Alumni Award recipients were:
Lifetime Achievement: Edward Lyons, a visionary who gave us a new window into the human body.
Professional Achievement: Emmie Leung, a pioneer who is transforming how we protect our planet.
Community Service: Karen Beaudin, a defender who creates new pathways for Indigenous youth.
Service to the University of Manitoba: Hong Kong Alumni Association, ambassadors who transcend borders to strengthen our university community.
Outstanding Young Alumni: Diana Nicholson, an innovator who brings hope to countries in crisis; and Gary Wong, trailblazer who is winning the global fight against infectious disease.
With a review of University achievements and milestones during the past year, Kearsey noted the many transformative events at the U of M in 2016, including the historic opening of the National Centre for Truth and Reconciliation on the Fort Garry campus, the opening of the new Taché Hall and the John J. Conklin Theatre, not to mention last fall's spectacular half-time launch of the Front and Centre campaign during a Bomber game.
Also noted were remarkable alumni such as Dr. Frank Plummer who will be soon honoured with a prestigious Canada Gairdner Wightman Award—known as a "baby Nobel"—for his game-changing research in infectious disease. The crowd cheered loudly at the mention of David Onyemata, who last week became the first ever University of Manitoba Bison football player to be drafted by the National Football League.
"In their own way, our alumni use their University of Manitoba experience and education to impact their communities and the world around them," noted Kearsey. "They serve as a reminder that the best leaders don't rest on their laurels. They think about the future. They think about the next challenge, always looking for the next opportunity to make a difference."

Highlights from the Celebration
Click each recipient to read more about their portion of the evening.
The Distinguished Alumni Awards Celebration of Excellence recognized an impressive array of alumni achievements from the design of the award (by jeweller and alumna Hilary Druxman [BA/85]) to the entertainment. The night featured inspiring performances by:
The C String Collective, featuring Desautels Faculty of Music students Leandro Saltarelli, Yaxin Sun and Avalon Lee [MMus/15] and alumnus Edvany Silva [BMus(Perf)/14]
Let Beauty Grow, performed by Faculty of Arts student Cindy-Marie Small Mack and Andrea Mislan, choreography by Brenda Gorlick, performed to an original piece by composer Joseph Aragon [BSc/99]
Desautels Faculty of Music alumna and student, a wonderfully talented performer, lyric soprano Lynlee Wolstencroft [BMus/14], accompanied by alumna Lisa Rumpel [MMus/15].
The Sarah Sommer Chai Folk Ensemble: Artistic and Music Director, David Vamos [BMus(Perf)/08]; dance direction, Illana Minuk, student, Faculty of Agricultural and Food Sciences; Vocal Director, Sarah Sommer, student, Integrated Bachelor of Music/Bachelor of Education degree program; and Director of Production, Ian Kirk
Horizon Choir, under the direction of Mel Braun, Associate Professor, Desautels Faculty of Music
In closing the evening, Kearsey challenged those in attendance: "…to reflect on the inspiring words we've heard tonight and the lessons we'll take with us, how we will use these messages, act on them and bring them to life… and, most importantly, how we will pass on these messages."
A reception in the Winnipeg Art Gallery Ferdinand Eckhardt Hall followed the program.
With so many U of M graduates whose passion and dedication are making differences in the lives of people all around the world, the 2017 Distinguished Alumni Awards promise to be even more inspiring next year.