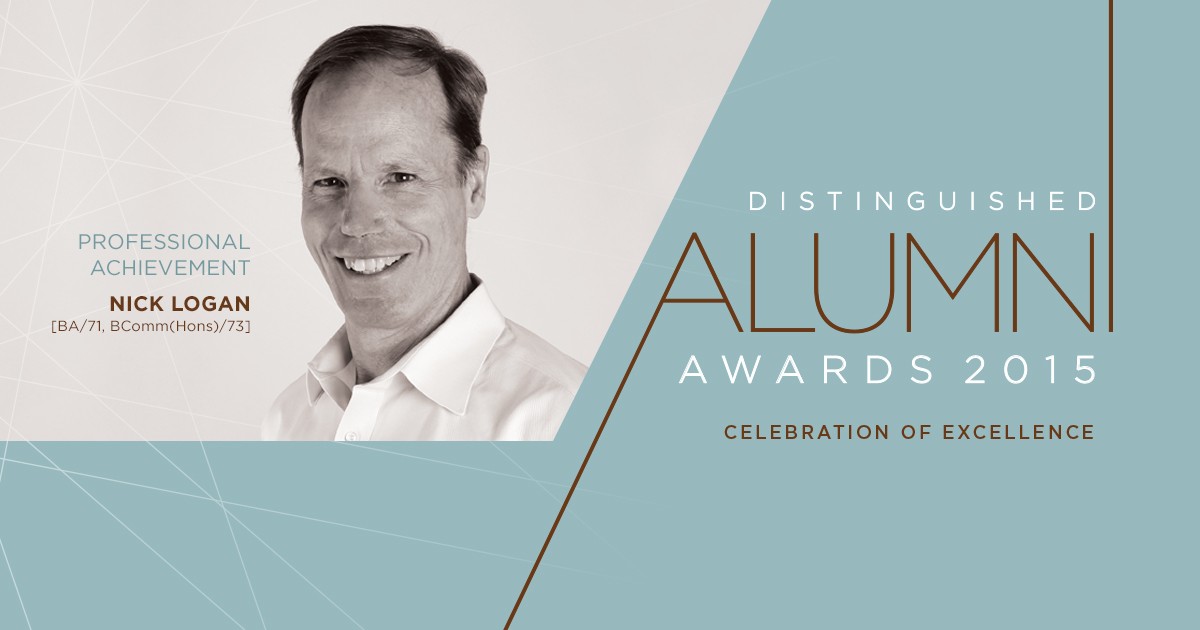 2015 Distinguished Alumni Award, Professional Achievement
Meet the business leader who built a unique culture of success
May 11, 2015 —
Like a true entrepreneur, Nick Logan carved a unique path to success for National Leasing. During his 40 years at the helm as president and CEO, he emphasized the early adoption of technology and an employee-first approach to corporate culture. In so doing, he made leasing faster and easier for clients and he created an environment where people are encouraged to live and have fun while they work.
You might find staff playing a game of shinny in the parking lot with the boss, or taking a break in the designated quiet room.
"I had a realization that people only need to work about 40 per cent of the time to get the job done," Logan says. "They probably spend 20 per cent on personal things, 20 per cent socializing, and there's sorta 10 per cent where, who knows where that goes? But if we could make them really happy to be working at our place, that 40 per cent would be maximized."
Logan's instincts proved right as the two-man shop he took over for the late Bob Chipman in the 1970s expanded into one of the premier equipment leasing organizations in the country with more than 300 employees serving 60,000-plus customers.
Logan's people-first approach extends beyond the workplace as he continues to dedicate countless volunteer hours to local organizations and lend his support to philanthropic initiatives. Giving back is one of his abiding philosophies and a lesson he shares with young people coming up in the business world.
"Find out what's going on in this community and how you can make it a better place," he says.
"The government can do just a piece of what we need to get done. The rest, 90 per cent, is citizens helping citizens."
On May 12, spend an evening with Logan [BA/71, BComm(Hons)/73] and the other four recipients of the 2015 University of Manitoba Distinguished Alumni Awards:
Lifetime Achievement—Marion Meadmore, CM, [LLB/77]
Community Service—Wayne Davies [BEd/91, PB DipEd/07]
Service to the University of Manitoba—Juliette (Archie) Cooper, [BOT/79, MSc/82, PhD/87]
Young Alumni—Tito Daodu, [BSc(Med)/13, MD/13]
The Distinguished Alumni Awards recognize graduates who have achieved outstanding accomplishments in their professional and personal lives, and who have been an inspiration to other alumni, current students and the community, both close to home and around the globe.
Learn more about the Distinguished Alumni Awards at: news.umanitoba.ca/alumni
Thank you to our generous sponsors: Industrial Alliance, Tempo Framing Systems, The Personal and the Winnipeg Free Press