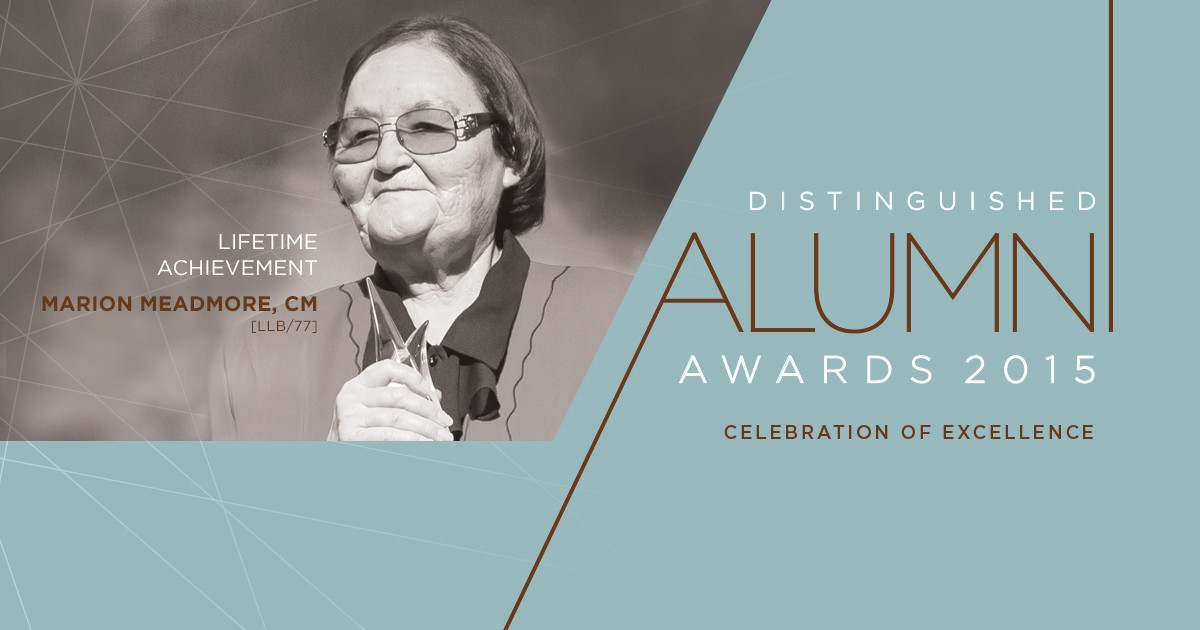 2015 Distinguished Alumni Award, Lifetime Achievement
Growing a legacy by meeting the needs of Indigenous people
May 4, 2015 —
What advice does long-time community leader and U of M alumna Marion Meadmore have for today's students?
"Get as much education as you possibly can and be solution-oriented, not negative. Turn your thoughts away from the negative," Meadmore says. "Just keep learning, be inquisitive and look for solutions."
Meadmore graduated with a law degree from the University of Manitoba in 1977, becoming the first female Indigenous lawyer in Canada. She dedicated herself to creating organizations that build community, equality and independence for Indigenous people across the country.
A Residential School Survivor, Meadmore helped to establish the forerunner to the Assembly of First Nations, and also Winnipeg's Indian and Metis Friendship Centre—a model that has since been adopted nationally, with the opening of more than two dozen centres across Canada.
"When I see a need," explains Meadmore, "I work really hard to meet it."
On May 12, spend an evening with Marion Meadmore, CM, [LLB/77] and the other four recipients of 2015 University of Manitoba Distinguished Alumni Awards:
Professional Achievement: Nick Logan, [BA/71, BComm(Hons)/73]
Community Service: Wayne Davies, [BEd/91, PB DipEd/07]
Service to the University of Manitoba: Juliette (Archie) Cooper, [BOT/79, MSc/82, PhD/87]
Young Alumni: Tito Daodu, [BSc(Med)/13, MD/13]
The Distinguished Alumni Awards recognize graduates who have achieved outstanding accomplishments in their professional and personal lives, and who have been an inspiration to other alumni, current students and the community, both close to home and around the globe.
Learn more about the Distinguished Alumni Awards at: umanitoba.ca/distinguishedalumni.
Thank you to our generous sponsors: Industrial Alliance, Tempo Framing Systems, The Personal and the Winnipeg Free Press.