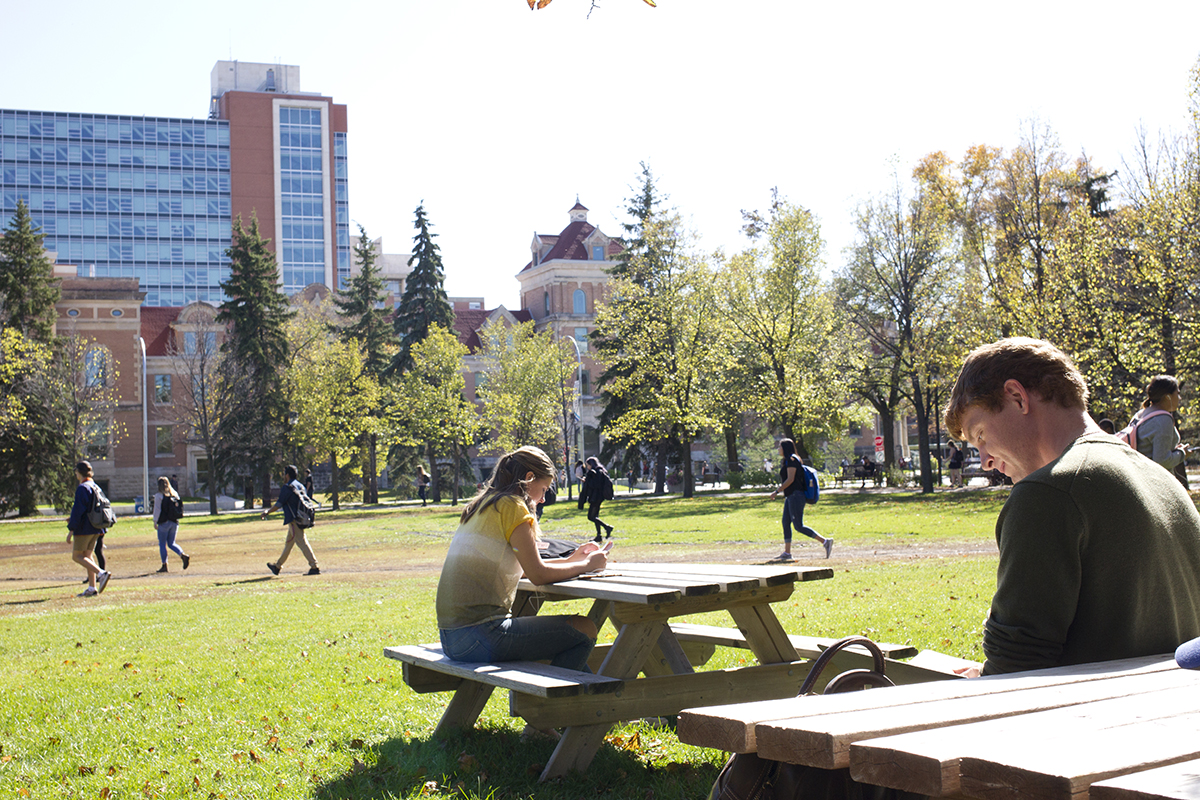 Welcome to Summer Term, Bisons!
Learn about COVID-19 protocols, student supports and other campus activities
May 9, 2022 —
A message from Laurie Schnarr, Vice-Provost (Students):
For those of you studying over Summer Term, we are beyond excited to welcome you back! We have missed your energy on campus these past two years and are looking forward to seeing you in person.
Whether you are a new student joining us for the first time, or a continuing student looking to get ahead in your degree, there are some important things to know for the return to in-person classes.
COVID-19 Protocols
Wearing a mask is still required for Summer Term. KN95 masks are highly recommended, but 3-ply medical masks (ASTM Grade 2) will be the minimum acceptable. UM will supply all necessary masks.
Masks must be worn in all indoor spaces, including all common spaces, classrooms, labs, doorways, corridors, workspaces, libraries and study spaces. Masks are not required when you are alone in a closed-door space, when consuming food or beverages in a location designed for food consumption (no food or drink is allowed in study spaces), or any outdoor space.
Proof of vaccination is no longer required on UM's campuses for Summer Term, however, vaccination is still strongly recommended as the best way to protect yourself and others from COVID-19.
To ensure the continued safety of our campus community, please stay home when you are sick and work directly with your instructor to seek reasonable accommodation.
Supports
University is an exciting, challenging time. If you are a new student, a current student, or are taking a break from your studies for Summer Term, there are resources available to support you. The Student Supports web page features a diverse range of resources to help you succeed, including those focused on health and wellness, academic success, and supports for everyday life.
On that website you will also find specific resources for Indigenous students, international students, new students, graduate students, and military members and dependents. I encourage you to check it out!
Weekly Wednesday Conversation Group for International students
The International Centre is hosting a weekly conversation group for international students during the summer and all students are welcome. This is a great opportunity to learn about Canadian culture and how to adapt to your new home, get tips for making connections on campus, and practice your Canadian "small talk". The sessions are every Wednesday from 1:30 – 2:30 p.m.. Meet at the International Centre, Room 541 UMSU University Centre, and set off to explore campus with new meeting locations every week.
Manitoba International Student Health Plan
International students, I encourage you to attend the International Centre's Manitoba International Student Health Plan information session on May 12, where you will learn about your health coverage and how it works before you need it.
Stay active with Rec Services
Don't put your health and wellness on hold this summer! Even if you're not taking courses, you can still access the UM Sport and Recreation facilities during the Summer Term. Contact rec_services [at] umanitoba [dot] ca for more information or visit the Recreation Services website.
Check out employment Opportunities with Mini U
Looking for an exciting summer employment opportunity on campus? Mini U Programs has a number of positions available for July and August. If you are a passionate leader who thrives in a fast-paced, team environment, have an interest in physical activity, and have experience working with children, visit the Mini U Programs employment page today.
Maclean's Student Satisfaction Survey
This is your opportunity to show your UM pride by sharing your student experience! Every year, Maclean's magazine rates post-secondary institutions across Canada and a key part of their assessment is based on student opinion. Take the survey and you could win a $500 Visa gift card!
Convocation
Celebrate the success of your fellow students. Spring convocation is happening on the Fort Garry Campus from June 7-10. There will be separate ceremonies for graduating students from the Bannatyne Campus on May 19.
I will be in touch again as Summer Term progresses. Meanwhile, be sure to check your UM email, read the Student Weekly e-newsletter, and follow UM Student social media channels like @umstudent and @umfirstyearcentre.
I am wishing each of you good health and much personal and academic success this term. And remember, don't be afraid to ask for help if you need it.