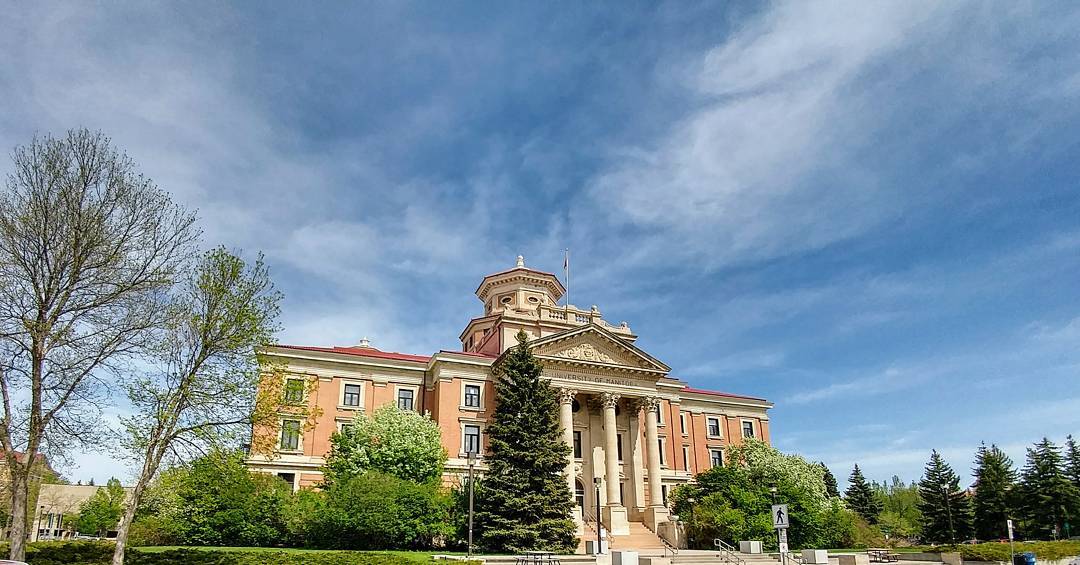 Update on COVID recovery plans as phased, safe return continues
Limited reopening of FG Bookstores, Libraries, Joe Doupe Recreation Centre (Sept. 8)
August 12, 2020 —
Detailed unit recovery plans are being prepared for approval by the COVID Recovery Working Group as units across UM work together towards a coordinated and gradual safe return of activity on our campuses.
Read more about the Recovery Working Group and phased approach to recovery of approved activities. Also see more information for students, staff and faculty on the COVID-19 webpage.
Phased approach so far
The phased approach has a strong focus on health and safety. Phase 2, from June 1 to August 31, has so far included remote delivery of summer term and the return of limited, approved research activities.
July 27 saw the successful reopening of the Active Living Centre (ALC) at approximately 25 per cent capacity. Health and safety of members and staff are top priority in order to meet and exceed government regulations.
The Fort Garry Bookstore reopened on Aug. 4, with careful safety measures and optional in-person order pickup; the Health Sciences Bookstore continues to offer online order placement. Dining services is open for limited capacity dining from 11 to 2 for lunch and 4-7 for dinner at the Pembina Hall Fresh Food Co. location only; however, staff and students may order food through the Hey Chef app from 11am to 6pm, Monday to Friday. For more, see umanitoba.campusdish.com.
Read more about what's open at Fort Garry campus as of July 27, or consult the University Centre website.
Coming up: Two Libraries and Joe Doupe Recreation Centre to open with limited capacity
As of Monday, Aug. 17, two UM Libraries at Fort Garry campus are open with limited capacity and detailed safety protocols, in order to provide quiet study space for students only. Elizabeth Dafoe Library provides study space on a drop-in basis; while the Sciences & Technology Library requires advanced booking, with space reserved for a full day. Learn more about booking and accessing available student study space.
Libraries continues to have staff available to provide one-on-one and other online help.
Libraries can retrieve materials for you for pick-up.
Other libraries help options:
The Joe Doupe Recreation Centre will offer a limited reopening for members on Sept. 8. To ensure physical distancing, the centre will operate at limited capacity of approximately 30-40 per cent, a 45-member capacity in the facility at any one time. Members will be offered 90-minute workout blocks on a first-come, first-served basis, which must be pre-booked to guarantee your workout time.
Group fitness classes will also be offered on a reduced basis. Facility entry will occur through the Brodie Centre main door. Members will need to show their ID card and to have a mask when entering through the Brodie Centre. Signage will be in place to ensure everyone is in compliance with safety protocols, and cleaning and disinfecting will take place between time blocks.
Further information will be sent directly to members, with updates provided on the Joe Doupe Recreation Centre website.
Prevention and safety are paramount
UM COVID-19 Guiding Principles and Prevention Measures inform all recovery planning.
All on-campus activities and plans are reviewed and approved with priority given to supporting UM's teaching and research mission. The process for resuming activities is also informed by the stated principles and plan.
Safety measures such as hand-washing, physical distancing, and enhanced cleaning and disinfection processes for individual workspaces are required to ensure your safety and the safety of others. Caretaking Services is working diligently to provide enhanced cleaning in common areas, washrooms, hallways and elevators. Every person that comes to campus also has a role to play in keeping the community safe by following the safety and prevention measures put in place.
Specific safety protocols are also reviewed for each activity and facility.
Please refer to the COVID Recovery and Prevention webpage for UM recovery plans and health and safety guidelines, including COVID-19 prevention.
Remember: Please stay home if you are feeling unwell. Students, staff and faculty should use the Manitoba Shared Health self-screening tool before making arrangements to return to campus.
See the COVID Recovery and Prevention webpage for more information.
Also see more information for students, staff and faculty on the COVID-19 webpage.