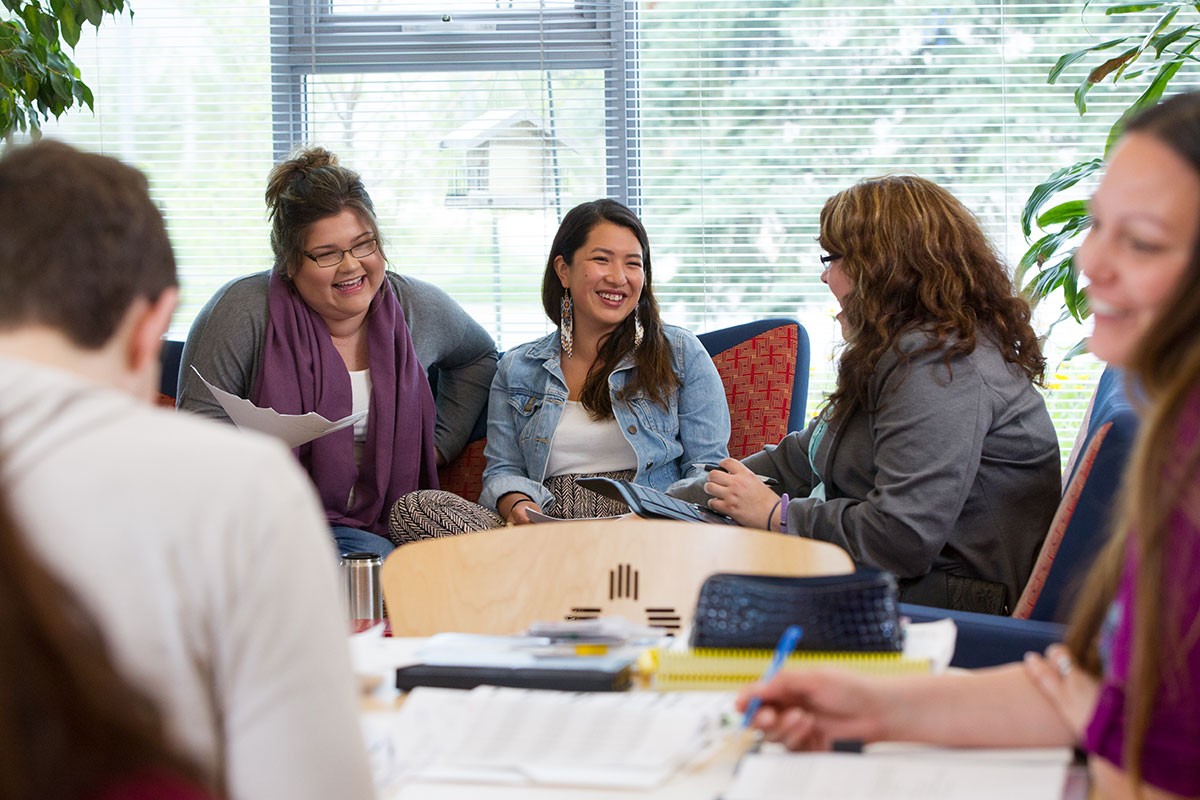 UM's new Indigenous Career Mentor Program
Register for the Indigenous Career Mentor Program today!
October 26, 2022 —
In fall of 2022 UM Career Services launched the UM Indigenous Career Mentor Program (ICMP). The program matches Indigenous students with Indigenous career mentors in the community. Mentors provide career guidance and industry information and share their experiences.
ICMP is currently overseen by Jordan Robinson, the new Indigenous Career Consultant in Career Services. His predecessor Cathy Lund was instrumental in developing the ICMP. Here's what she has to say about the new program:
Interview with Cathy Lund, former Indigenous Career Consultant
What is the ICMP? What is unique and special about this program?
We are pleased to announce the Indigenous Career Mentorship Program (ICMP) as a sister program or extension of the Career Mentor Program which has been matching students to the employment community for 30 years. What's unique about ICMP is that it is comprised of Indigenous Mentors who have volunteered their time to support and have meaningful conversations with Indigenous students about their Career journey and workplaces. We are happy to have engaged mentors from Aerospace, Finance, Not for Profit, Social Services, Heath Care, Government, and Post-Secondary Institutions and we are just getting started!
Tell us about yourself?
I am a proud member of the Red River Métis Nation and to have enjoyed a career in HR with RBC, CAHRD and University of Manitoba (ICC). My primary focus has been connecting Indigenous Students with employment in one way or another. This meant, bringing teams, employers and students together to create meaningful experiences and careers. The most rewarding aspect of my entire career is staying connected with my clients/students and seeing them thrive in a variety of careers across Canada. I have witnessed firsthand, the magic that happens when you bring people with a common passion together. Everybody wins!
What are the benefits for students participating?
Exploring your options is an education itself. This is a student's chance to ask an Indigenous Career Professional questions about a career in a specific industry or about someone's career journey. Ultimately this help them make decisions about their academic and graduate strategies. One thing all of these mentors will tell you, is that they wish they had accessed a program like this long before their last term (but it's never too late)! This program allows Indigenous students to meet for an hour with an Indigenous career mentor who may have walked in their shoes to arrive at their current destination.
What are the benefits for mentors that participate?
Our mentors have told us that they wish they had this opportunity as students, and they are all passionate about giving back to our community. It can be deeply satisfying to know you have made a difference in a student's life. Learning about the journey of those who have gone before us is priceless. It could be the difference that keeps someone focused on their studies, apply for internships, co-op, part time opportunities or completely change direction before they graduate. Participating also has its benefits in that you may find yourself a new colleague at graduation!
Why do you want to be a mentor?
As sense of belonging is important, I want to be there for my community and provide students with the support they need to make more informed decisions about their career path. I want to create a safe environment for students to ask questions they are truly curious about as it relates to HR Recruitment and Career/Employment Counselling careers.
What does mentorship mean to you?
The ICMP is unique in that it is a one-hour commitment, in a student's busy schedule this can be a bit of a gift! As a mentor, I can say that it is a privilege to have someone give me their trust to answer their questions without judgement and provide them with insight to help inform their future.
What do you look most forward to as you mentor students?
I love meeting students and hearing their stories as well as sharing the parts of mine that will provide them with the inside scoop! It is so important for students to learn how their values, skills, talents and lifestyle fits into the career they are considering. Lastly, I enjoy helping to answer questions they didn't even know they had.
To register for the Indigenous Career Mentor Program, complete the form on the program website or connect directly with Jordan Robinson, Jordan [dot] Robinson [at] umanitoba [dot] ca.