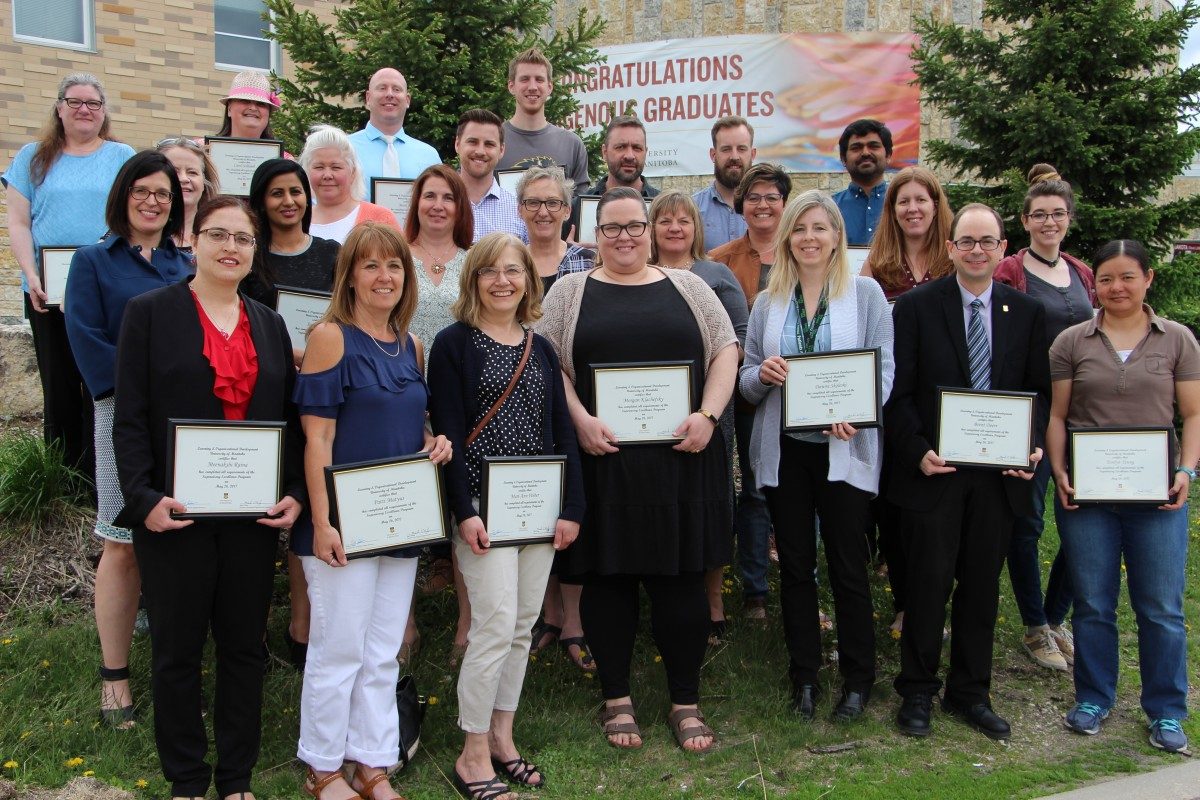 U of M celebrates life-long learning
Fifty staff complete professional development programs
June 16, 2017 —
This spring, 40 staff completed the Supervisory Excellence Certificate program and 10 faculty and staff completed the University of Manitoba Leaders Learning Program (UMLLP). Participants come to the programs from a wide variety of roles and diverse faculties and units at both the Fort Garry and Bannatyne campus.
Both programs run just under a year with monthly workshops led by internal and external presenters and are coordinated by learning and organizational development, human resources.
"U of M faculty and staff are our most valuable asset and the university is dedicated to supporting and engaging all community members in their professional development," says Greg Juliano, associate vice-president, human resources.
Participant Kevin Oliver, student life coordinator, office of student life, enjoyed the chance to network with others in the supervisory program.
"It was extremely beneficial to speak with others from across the university who are dealing with the same workplace opportunities and challenges," says Oliver. "We openly shared and talked about our office environments; it's good to learn from each other. All of the instructors were knowledgeable and welcoming."
Participants in the UMLLP had an extra assignment — to present an initiative, which tied to U of M's strategic plan, to panel members President David Barnard, Vice-President Digvir Jayas (research & international), Vice-President John Kearsey (external relations), former Vice-President Joanne Kesselman (administration) and Associate Vice-Provost Diane Hiebert-Murphy (academic).
Participants pitched the following ideas:
Multi-generational play structures throughout campus to encourage activity and a welcoming community
A summer work experience program for Indigenous youth to create pathways to Indigenous achievement
Electronic forms, such as the weekly timesheet, to improve our administrative functions and make them more efficient
An online interactive map of U of M to better guide students, staff and visitors around campus
"Senior administrators enjoy hearing about possible new initiatives to enhance and improve our university," adds Juliano. "The participants asked questions and were fully engaged in the presentations, it was a dynamic exchange of ideas!"
For information on the Supervisory Excellence Certificate program, contact David Grad, facilitator & program coordinator, learning & organizational development, 204-474-8468 David [dot] Grad [at] umanitoba [dot] ca
The next UMLLP cohort starts in September. For information or to apply contact Sandra Woloschuk, Associate Director, Learning & Organizational Development 204-474-8279 Sandra [dot] Woloschuk [at] umanitoba [dot] ca