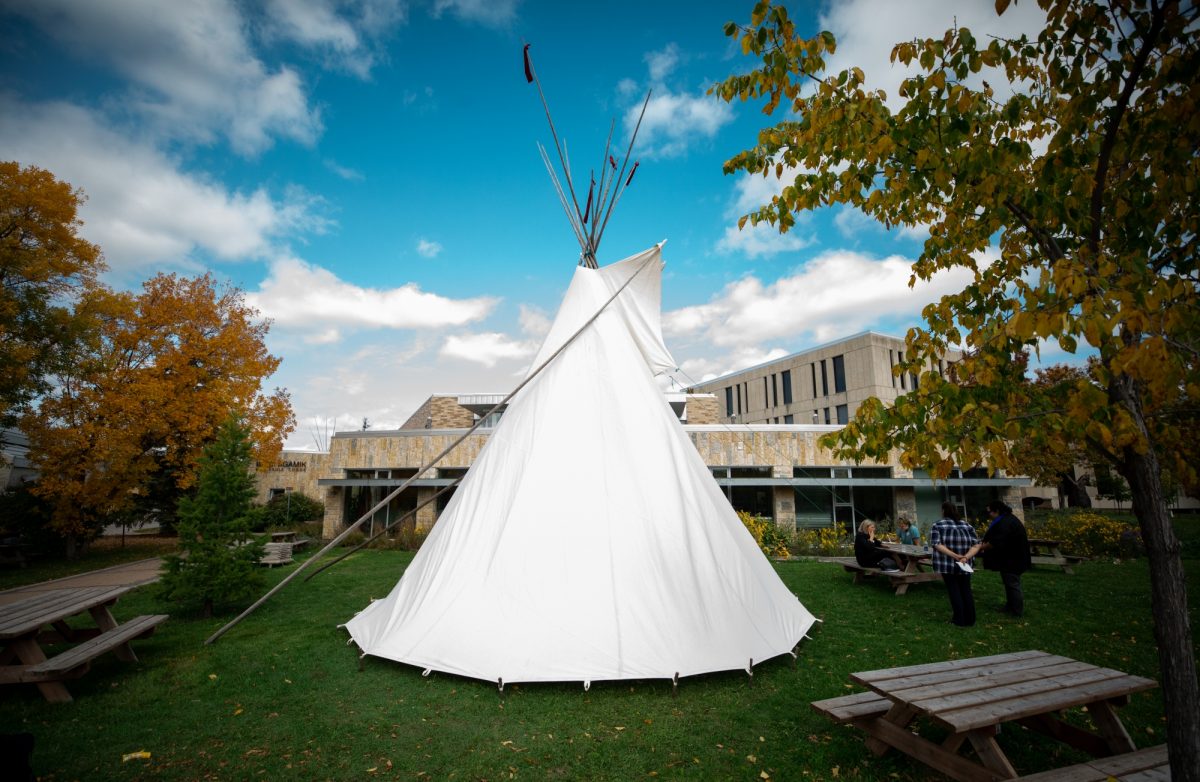 Three Indigenous retirees reflect on their influential careers
June 11, 2021 —
The Indigenous community at the University of Manitoba will see three powerful women begin a new chapter in retirement. Audrey Richard (Ojibwe Anishinaabe), Dr. Wanda Wuttunee (Cree) and Dr. Yvonne Pompana (Dakota) have all left a lasting impact in their respective fields and will continue to be an inspiration for staff, faculty and students for years to come.
"The entire UM community has benefited from the commitment and leadership of each of the retirees," says Dr. Catherine Cook, Vice-President (Indigenous). "Throughout their years of service, they have been mentors to Indigenous students and colleagues, created safe and inclusive spaces, and centred Indigenous knowledges, perspectives and experiences in their work. In doing so they have broken down barriers for future generations of Indigenous learners, educators and researchers. We wish them a wonderful, well-deserved retirement."
UM Today asked each retiree to share important moments on campus, accomplishments they were most proud of and a reflection on the students that helped shape their careers.
Audrey Richard, from Camperville, Man., and a member of Sandy Bay First Nation, will wrap up her role as a student advisor and counsellor with the Mahkwa omushki kiim: Pathway to Indigenous Nursing Education (PINE) program (previously Aboriginal Nursing Cohort Initiative) in the College of Nursing, Rady Faculty of Health Sciences. Her work over the years also extended to the Aboriginal Focus Programs, Access Program and many community organizations.
A stand-out moment: 
Over the years, there have been a number of stand-out moments for me. Everything from travelling to rural and northern Indigenous communities and working with the students there; to celebrating the opening of Migizii Agamik — Bald Eagle Lodge; working with Elders and Knowledge Keepers; and my nomination by the College of Nursing and receiving the Indigenous Award of Excellence: Community Builder (staff).
 What you are most proud of: 
I am most proud that during my time at UM, I have witnessed more Indigenous presence on campus while making space for Indigenous research and curriculum. I have seen an increase in supports being provided to Indigenous students, as well as other efforts including anti-racism and equity. It has been my honour to be a part of efforts, which my colleagues and students will continue to carry on.
A reflection on students:
In my work, I am grateful for the relationships built with many incredible and passionate students who I have had the pleasure of meeting and working with. Indigenous students from various backgrounds and life experiences, with many personal and academic responsibilities, applied hard work and resilience and were able to successfully navigate their post-secondary studies. They are now taking on leadership roles and making a difference in their families and communities.  
Dr. Wanda Wuttunee, a member of Red Pheasant Cree Nation, will finish her role as professor in the department of Native studies. Wuttunee was previously the director of the Indigenous Business Education Partners (IBEP) (formerly ABEP) for 20 years. She has spent the last few years raising the profile of the Aboriginal Governance Program, which combines course work in business, Native studies, economics and political studies.

A stand-out moment: 
After 27 years, there are so many. I was particularly happy when I was department head of Native Studies and director of Aboriginal Business Education Partners in the Asper School of Business and for all the great students, staff and colleagues I got to work with. Many wonderful memories!

What you are most proud of: 
I am most proud that I got a chance to make a difference at an awesome university alongside so many caring people that go the extra distance just because that is what they do. 
A reflection on students: 
No matter what I asked my students to do with my challenging assignments, I was so proud of what they shared of their learning journey with me. Future Indigenous leaders, allies and accomplices crossed my path who moved on to create wondrous, impactful changes in our communities. Such a blessing!
Dr. Yvonne Pompana, a member of Sioux Valley First Nation, will end her role as the director of the Inner City Social Work Program (ICSWP). Pompana has had a long career with the program, including time as an instructor, assistant professor and associate professor. In 2013, Pompana was a recipient of the Queen's Diamond Jubilee Award for her outstanding contributions to the social work community.
A stand-out moment:
Stand-out moments for me were when the Master of Social Work based in Indigenous Knowledges (MSW-IK) Program was approved by the UM Senate and Board of Governors and then funded by the province. The creation of the program was a personal and professional investment of myself and other Indigenous faculty, students and staff, or the Indigenous Caucus within the Faculty of Social Work. MSW-IK became a reality after we had already created the Indigenous Caucus and the Indigenous Helpers Society Inc. Of course, these firsts could only come into existence by each of us collaborating with each other: Indigenous faculty, students and staff and a few allies.
What you are most proud of:
What makes me most proud is that I have served as a role model and mentor for Indigenous, immigrant and refugee students, primarily from the ICSWP. Students and graduates across nearly three decades have witnessed my journey from a MSW student whose first employment opportunity was with the ICSWP in 1992 as a student counsellor. They saw me add to that role, as an academic advisor, instructor, assistant professor. They saw me complete my PhD followed with a promotion to associate professor and being granted tenure. The icing on the cake was when they witnessed my appointment to director of the ICSWP. To each student I say, "With hard work and good, supportive people around you, anything is possible!"
A reflection on students:
Becoming a university student — most often the first in one's family — is both scary and exhilarating. Without students of the ICSWP, I would not have had the most rewarding experience of my life. While I taught many courses across the years, the course that stands out for me most is my 10 years of teaching Introduction to University to first year students. From seeing very scared first year students, and then four years later, watching them walk across the stage to receive their bachelor of social work degree, is the proudest moment of my life. The investment into the success of the students and the program have netted me 29 years of working with the best faculty, staff and students. I hope, like many other Indigenous faculty members, I have created a safe space for students to discover themselves, their passion, and to be empowered to make a better world for themselves and the people with whom they will live and work.