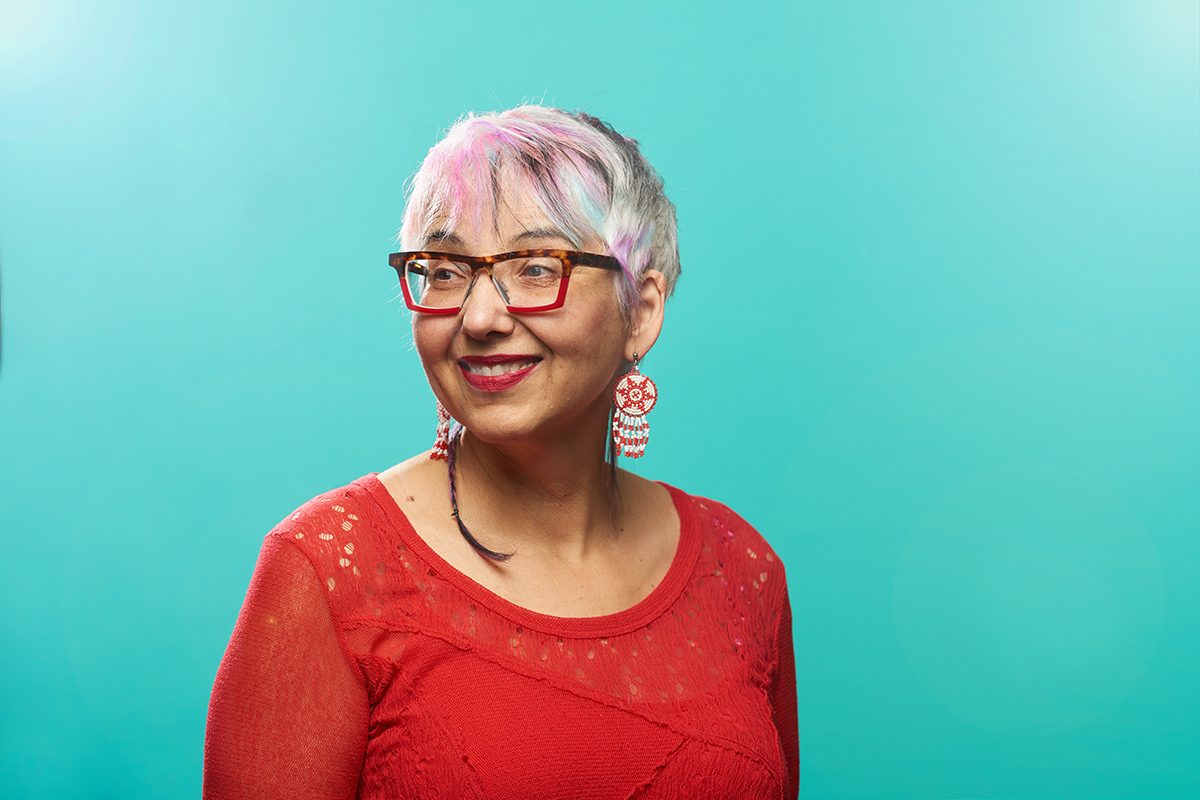 Native Studies professor sees a big future for Indigenous business and economy
Meet Indigenous Scholar Dr. Wanda Wuttunee.
April 15, 2019 —
Dr. Wanda Wuttunee is a professor in the Native studies department and a member of the Red Pheasant First Nation. Though she never lived on reserve, she focuses her research on community decision-making around economic development in Indigenous communities throughout Canada.
"I didn't really have a clear career path," she says, but excitedly adds, "This research makes me jump up every morning and look forward to my day."
Wuttunee describes Aboriginal economy as a subset of mainstream economy. "Most Canadians don't realize that Indigenous people are included in almost every aspect of the economy," she says. Indigenous contributions includes infrastructure, goods and services, production and business. It also includes band-owned businesses, cooperatives and social enterprise. "We have diversity in economic participation and we are active in every major industry."
With such expansive participation, Wuttunee suggests that Indigenous people engage with capitalism in varying ways. She describes ventures that follow more of the conventional business model, but also acknowledges those that reflect a traditional practice. In particular, she notes the hunters, trappers and women who sew out of their homes for a living. Although land-based economics may not mirror mainstream capitalism, they remain a flourishing and vital means of exchange within Indigenous communities.
Wuttunee says age can be a determining factor in values that influence business decisions. "Tradition plays a huge role in our community, and younger generations keep that in mind in business, but things change with technology and resource development." Environment has a major impact on economic choices and is on many minds, including young people venturing into business.
Location also plays a key role in business growth and opportunity, says Wuttunee. "There are communities, such as Peguis First Nation, who are encouraging their members to start businesses and make things happen in their community." Of course, not all communities are able to support, encourage and produce in ways that others can due to varying access to resources, but as Wuttunee puts it, "There can be success on their own terms or it means that creative leadership could help make positive changes [in business]."
As for Manitoba's economy, CBC reported that Indigenous people contributed $9.3 billion dollars in 2016. The report – which based its figures on total spending by Indigenous governments, businesses and households – was the first of its kind and was conducted by the Manitoba's Southern Chiefs' Organization, the Rural Development Institute at Brandon University and Manitoba Keewatinowi Okimakanak.
Just as the report findings suggest, Wuttunee believes there is room to flourish within Indigenous and non-Indigenous business partnerships. Both Indigenous and non-Indigenous communities know their own struggles or problems, and she believes there is a strong benefit to coming together and addressing those issues. "Because we are active in all elements of the economy, collaboration and partnership could really help communities grow and work strength-to-strength."
Another trend that has inspired Wuttunee is the growing investment in education for Indigenous people working in business and economics. "So many people are moving back to their communities with their education," she notes. Because of the higher enrolment rates of women to men, Wuttunee sees this as a great opportunity. "Women now have choices for positions," she says. "Opportunities [for Indigenous women] are present in ways they may not have been before."
Outside of research and teaching, Wuttunee says she and her colleagues are hoping to raise the profile of the U of M's Aboriginal Governance Program. The program – currently under revision – is a four-year stream that includes course work in business, Native studies, economics and political studies.
Wuttunee sees a big future for Indigenous business and economy. When asked what advice she would give to Indigenous students pursuing an education, and eventually a career in business, she recommends getting involved with the Indigenous Business Education Partners (IBEP), of which she was director for 20 years. Wuttunee also stresses the importance of clarity and commitment. "Be clear on your values and beliefs and lean on them to give you the strength to live your life in the rough-and-tumble business world."
Dr. Wanda Wuttunee obtained a bachelor of commerce, a bachelor of law and a master's in business administration in Calgary, Alberta. In 2001, she earned her PhD at the University of Manitoba, and has been a Faculty member in the Native studies department for nearly 25 years.