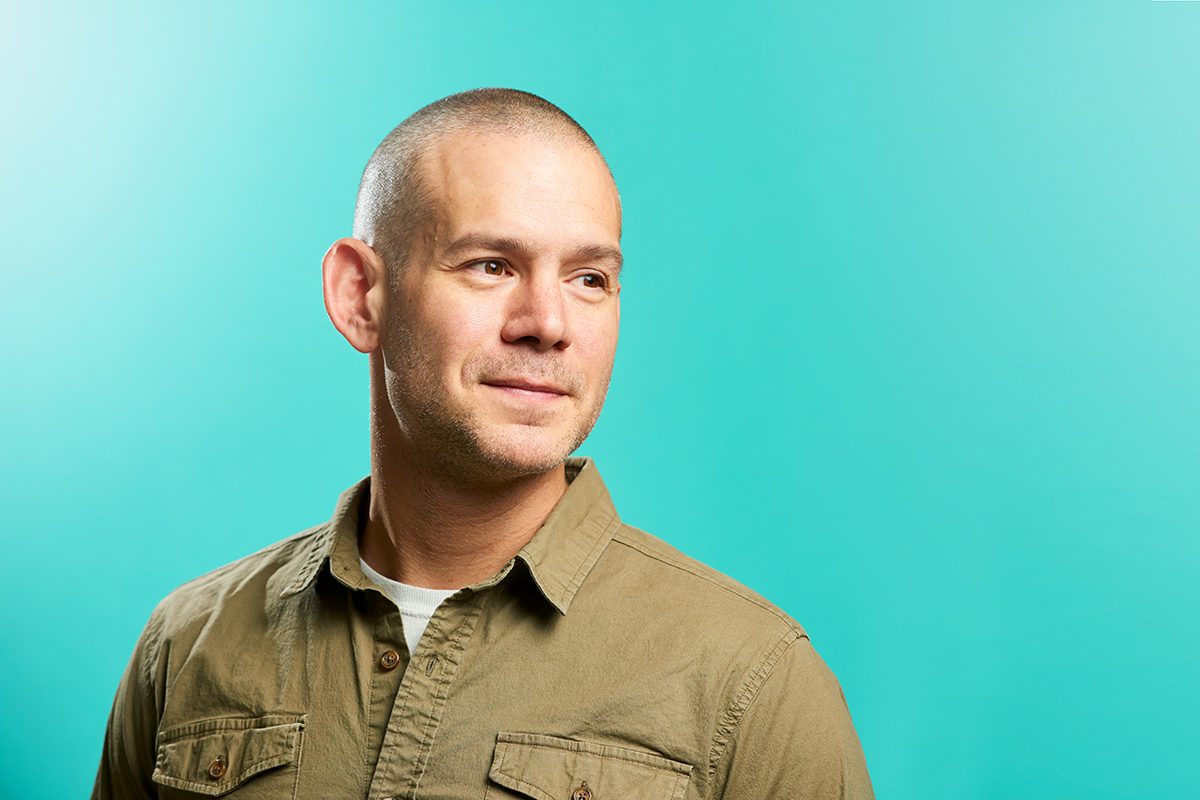 Bridging Indigenous and non-Indigenous world views in architecture
Meet assistant professor and Indigenous scholar Shawn Bailey
March 25, 2019 —
From burning a piece of wood to foraging for pine needles, Shawn Bailey [M.Arch/14] takes a holistic approach to designing a new structure, drawing inspiration from all of a site's natural materials.
"I think the design process is a very play-based process," says Bailey, a Métis architect and assistant professor cross-appointed in the University of Manitoba's faculties of architecture and engineering. "It's sort of letting go of preconceived notions and following your intuition by using elements within the landscape."
Bailey attributes his connection to nature – and ultimately, his work style – to his upbringing on a remote island in Lake of the Woods, Ontario, where he often sought inspiration from the natural landscape.
"I was always interested in how the built environment interacts with that landscape – that's what drove me to look into architecture," he says.
While completing his master's in architecture at the U of M, Bailey began to follow his intuition more and more – and in doing so, reconnected with his Métis heritage. "I'm still learning about it," he says.
Following the completion of his master's degree, he established Boreal Architecture Studio with two partners, working primarily on cottages in the boreal forest and most recently, focusing on Indigenous projects. The opportunity to work on a design build with Eduardo Aquino from the U of M's department of architecture led Bailey back to the university for his first teaching position – and in 2018, as an Indigenous scholar.
Communication and meaningful engagement with Indigenous communities have been integral to Bailey's work, both in the design studio and the classroom. As part of an Indigenous Initiative Fund, he works with Shoal Lake 40 First Nation on a new project that sees architecture and engineering students collaborate with the First Nation to design and build a pavilion for community feasts.
"Even though we're designing away from Shoal Lake 40 right now, we still engaged our students within the community," he says, noting the students participated in a pipe ceremony and tobacco tie early in the course. "Through the ceremony, [community members] gave us some visions of what the ceremonial structure would be."
In addition to providing context on Indigenous design principles and concepts on his projects, Bailey plays a key role in bringing together Indigenous and non-Indigenous perspectives and how they can collaborate to work toward a common goal.
"[Indigenous culture] is a really nice holistic way of seeing the world and how it's interrelated," he says. "I'm interested in how architecture can respond to that notion. I find that Indigenous ways of thinking are just honest and pure and lighthearted, and I believe that [many] can learn a lot from that."
The importance of that reciprocal relationship was captured in Bailey's design thesis, which examined, in part, how Indigenous and non-Indigenous world views can complement each other in architecture. As part of his project, Bailey burned a piece of wood, inspired by the way the light shone off it. After carving the wood and placing it in plaster, he considered how a built assembly could replicate the structure – a process that helped guide the project's masonry work and was eventually adopted by Bailey's thesis advisor and used in workshops at the Massachusetts Institute of Technology (MIT).
"It ended up as a masonry building with timber structures that really responded to the beauties of what the world can allow in – paying attention to the light and the light coming off materials, being sensitive to how the natural world interacts with the building and providing experience as you manoeuver around the space," he says.
The interplay between Indigenous and non-Indigenous world views is not only an essential component of Bailey's design work, but also in his teaching style and efforts to bridge the two in the classroom.
"I had the students read Seven Fallen Feathers: Racism, Death, and Hard Truths in a Northern City [by Tanya Talaga] before we started, and it's always a really great feeling when a student comes back to me and says, 'You know, I've been reading Seven Fallen Feathers and last night, I had a conversation with my children where I explained the stories and how sad they are – and it made a difference,'" he continues. "Making those conversations come apparent is really meaningful."
Working alongside other design studios at the U of M has also been rewarding for Bailey as he continues in his role as an Indigenous scholar.
"It's really fun to see everyone's work and projects, and their excitement," he says. "The faculties [at the U of M] are really amazing and have been so supportive of me, and I'm really thankful for that."
That support has allowed Bailey to help guide students to find their own connections and meaning in the design process. He advises students interested in studying architecture to "let go of preconceived notions of what you think and use your intuition to develop your own individual process."