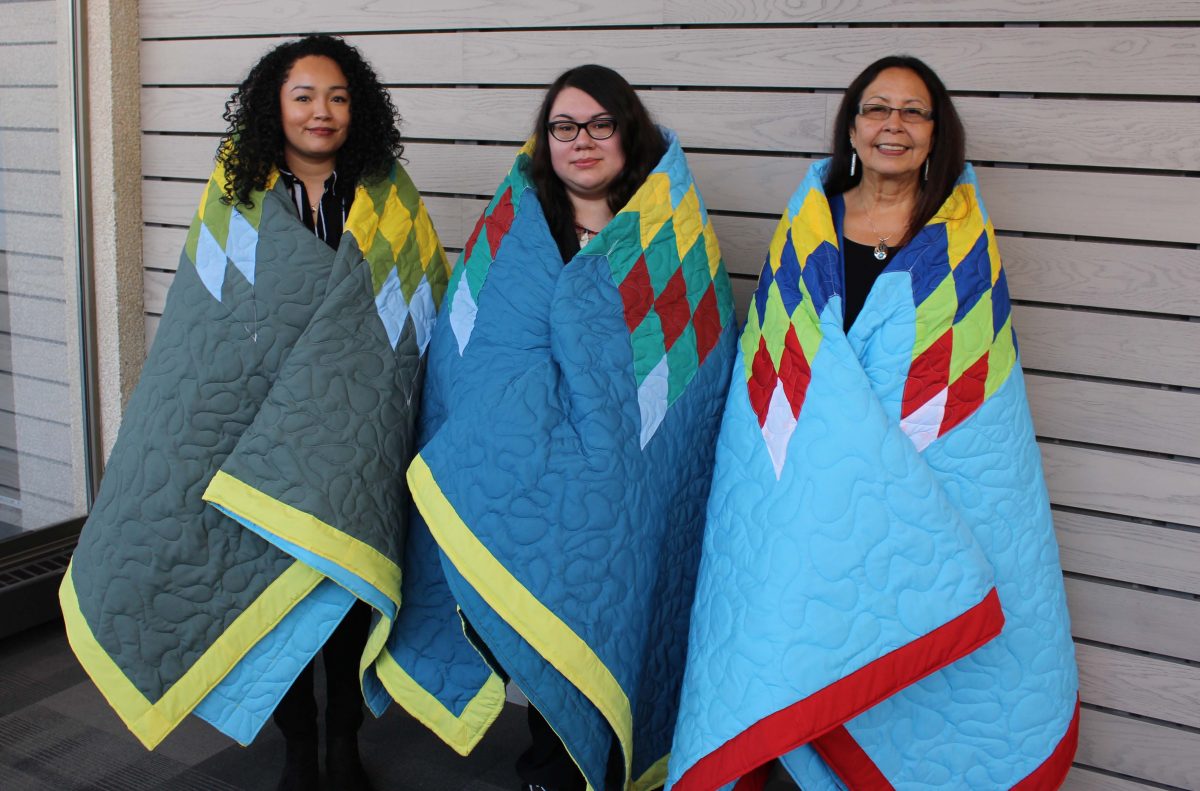 College of Nursing trio honoured at Indigenous Awards of Excellence
March 14, 2019 —
Two fourth-year students and one staff member from the College of Nursing, Rady Faculty of Health Sciences were among 10 award recipients at the third annual Indigenous Awards of Excellence, presented by the Office of Indigenous Engagement on March 11 during Indigenous Awareness Month.
"I am delighted to congratulate our two nursing students, Chantelle Chartier and Lauressa Garson, as well as our student advisor Audrey Richard, on receiving the prestigious Indigenous Award of Excellence," said Dr. Netha Dyck, Dean, College of Nursing. "We are very proud of their leadership, initiative and exceptional contributions in creating a positive learning environment and supporting student success. Their passion and active engagement related to cultural safety is inspiring to their student colleagues."
Chartier received an award in the Outstanding Achievement category for attaining a high academic standing while advancing Indigenous engagement at the university. She was honoured for her participation in such initiatives as Orange Shirt Day and the Rady Faculty of Health Sciences' Habitat for Humanity build, as well as mentoring inner-city youth at the Rady Faculty's Biomedical Youth Summer Camp.
Chartier travelled in for the ceremony from her hometown of Thompson, Man., where she is completing her senior practicum in the Northern Health Region's diabetes program.
"I am honored to continue strengthening the spirit of resilience as embodied by the Indigenous community on campus," she said. "Being recognized by them is an affirmation that I am on the correct path to becoming both a healer and leader within my community."
Garson, who calls Tataskweyak Cree Nation home, was honoured in the Community Builder category for promoting a positive, respectful learning environment.
Garson is a research assistant for a project that focuses on mental health promotion and suicide prevention in northern Manitoba. She also contributed to strategic planning for the Aboriginal Nursing Cohort Initiative (ANCI), volunteered for the Graduation Pow Wow, and was a key leader in the organization of Orange Shirt Day.
"I put my efforts to what I hold to be important, and for me that is contributing time and effort into building a stronger U of M community with Indigenous inclusion and partnership. This award reaffirms that my efforts toward this goal have been on the right path, and I look forward to continuing this work throughout my future," Garson said.
Richard, an academic advisor, was given a Staff Community Builder award for her work with students in the College of Nursing. Richard is instrumental in organizing orientation week for new ANCI students and Orange Shirt Day. She works closely with the Access Program, Indigenous Student Centre and Ongomiizwin, the Indigenous Institute of Health and Healing in the Rady Faculty of Health Sciences.
According to Tyla Turman, coordinator and academic coach with ANCI, Richard passionately supports students through their academic and personal challenges.
"In many instances, these students come to Audrey with tears and frustrations, leaving with a plan and a greater sense of belief that they can overcome their obstacles," Turman said.
"It is truly an honour to receive this award and to be recognized by my colleagues," Richard said. "And it really is a privilege to work with these students, amazing students like Chantelle and Lauressa, to see them succeeding and working so hard."